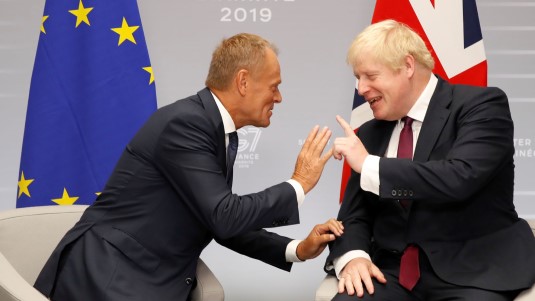 Remember when Brexit dominated everything? It has vanished down the collective memory hole for some, obviously lubricated by the nothing-has-changed transition period, but it hasn't gone away. Far from getting Brexit done as per the tedious Tory mantra, we're now at the beginning of the process in which both sides set out their negotiating stance. Today was the turn of the British government, and what did we learn? Sound and fury signifying ... cynicism and political point scoring.
In his statement in the Commons, Michael Gove talked tough. The objective is a comprehensive free trade agreement, which happens to be the European Union's goal too. However, there can be no alignment with EU laws because that represents an unacceptable infringement of British freedoms. Indeed, the document guiding the talks lays sovereignty down as the reddest of red lines. That also means no jurisdiction for EU law nor the European Court of Justice, and fisheries are going to have to wait for a separate deal. And if by June it looks like little to no progress has been made, then the government are prepared to walk away and revert to WTO terms at the end of the year. In other words, our old friend the no deal Brexit is back with all the calamity it might bring. Prepare for an Autumn as almost as excitable as the last.
A closer look, however, suggests something else is afoot. If we scroll down the government's document to chapter 26, we find the UK does not want to "weaken or reduce the level of protection offered by labour laws and standards in order to encourage trade or investment." Chapter 27 says "The [Brexit free trade] Agreement should include reciprocal commitments not to weaken or reduce the level of protection afforded by environmental laws ...". If it sounds like and reads like regulatory convergence, then perhaps ...? And Chapter 21 on competition policy says both parties need "to maintain effective competition laws, covering merger control, anticompetitive agreements and abuse of dominance, while maintaining the right to provide public policy exemptions." "Effective" in these terms means the same. In other words, from the off Boris Johnson has made huge concessions to the EU while going hard on the prospects of no deal and walking away from negotiations. It's just like a trip down memory lane - you promise apocalyptic hellfire and scuttle back with a meek capitulation dressed up as anything but. It's almost as if their announcements for public consumption are driven by headline grabbing.
This isn't to say a deal is a foregone conclusion. Johnson throws about a Canada-style free trade agreement as if the retired gents down Wetherspoon's talk about nothing else. And the EU wants a closer relationship because, well, our economies are already integrated. Some way to go then, but the best indicator of future behaviour however is past behaviour. And this is why fisheries are compartmentalised away from the main talks. The Tories need some political theatre, and the EU's Council of Ministers understand this. In the grand scheme of the British economy the value of the fishing industry is, if you'd pardon the pun, a minnow. Yet it is emotive when you consider how the right have exploited the decline of port towns, and fed off lurid headlines about evil French and Spanish sailors despoiling coastal waters while plucky Brits are stranded in dock because they're over quota. It's a perfect set up for some Johnson breast beating, and if Spanish threats to Gibraltar are dragged in too, so much the better. Assuming Keir Starmer is the new Labour leader as per expectations, a bit of contrived jingoism is exactly the sort of stuff that could wrong foot him should he stick with the "forensic detail" of technical and process arguments. What is to be sure, the fate of a £980m sector isn't about to derail Johnson's efforts at preserving the City and its profits - the crucial lynchpin of bourgeois power in these islands.
You can never be too wary about making predictions, but having learned nothing from the last five years I'm going to venture one. There might be some contrived moments of brinkmanship, tough talking, and panics about the no deal abyss, but ultimately Johnson wants to walk away from this waving his bit of paper. And in all likelihood, that is what's going to happen.
Image Credit