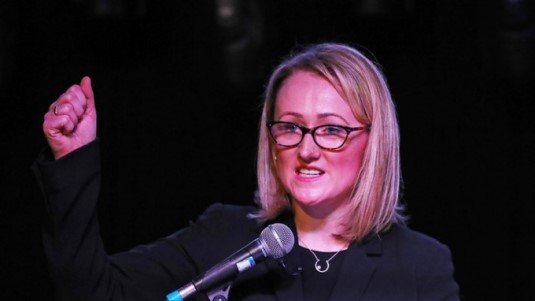 Despite the recent guest posts making the case for the three leadership candidates, it will come as no surprise to readers that I'm supporting Rebecca Long-Bailey. But let's start off with a conciliatory tone. The truth of the matter is whoever wins the contest, they could win a general election in 2024, which is why I find the overwrought concerns about electability based on what happened in December a bit puzzling. The power of the right wing press as a means of cohering older voters will have declined five years hence. Brexit as an issue will be dead and buried (well, we'll see), the polarisation we see around class cohort lines expressed as a generational war is not disappearing anywhere fast, and with the consequences of decades of climate inaction becoming increasingly obvious, all three Labour contenders are electable. Which is why this leadership contest is so important.
As far as I'm concerned, Lisa Nandy is a non-starter. There's the equivocation over backing workers against bullying bosses - you know, one of the reasons why the labour movement was set up in the first place. Her slippery approach to political commitments, like simultaneously arguing for and against the abolition of tuition fees. The "friends" who have gathered around her campaign, among whom number the very worst of Labour MPs, recent past and present. And then there is the small matter of habitual dishonesty. To face a liar with an inveterate fibber of our own is just stirring up trouble. This is a real shame, because Lisa is not without commendable qualities. During the campaign she has occasionally offered thoughtful positions, such as this on BBC reform and refloating the notion of the foundational economy. And she's undoubtedly an accomplished media performer. Her supporters are right to laud her interview with Andrew Neil - she breezed through it. Nevertheless, a Lisa Nandy-led Labour Party would be a huge step backward. On party democracy, on understanding the relationship between it and the wider labour movement (and movements beyond that), hers is a recipe for insulating Labour from the currents in society that nourish it, look to it, and expect it to act in their interests. The shiftiness of her campaign and her unease with politics outside of Westminster is a brew from which a new, grey managerialism can emerge. One that could be enough to win an election, but not face up to the challenges that cannot be ducked.
And as we're talking about elections, we have the frontrunner who is, apparently, uniquely electable. What exactly this "electable" is supposed to consist of I'm waiting for an answer except, of all Labour's recent leaders, Keir Starmer resembles Tony Blair the most in coiffure and style. When we examine some of the reasons, two others immediately crop up: an ability to be the unity candidate or, if you're feeling ungenerous, the all-things-to-all-people pick. Corbyn supporters love him, as do the soft left, as do the less unhinged members of the Labour right. With a membership weary of almost five years of non-stop internal warfare, you can understand why his appeal, well, appeals. The second strand is continuity remainism. As well as not pushing for mandatory reselection when he was at the peak of his powers, Jeremy Corbyn's second big mistake was not using his authority to push hard for an acceptance of a (soft) Brexit in Labour's ranks. Instead, remain ran riot - abetted by the likes of Keir, Tom Watson and, I'm afraid, other senior shadcab members on the left like John McDonnell and Diane Abbott. The cultivation of remainism means there's now a ready constituency for the ploughman-in-chief, and they can project whatever they want on to him, whether it's a (sensible) close post-Brexit relationship with the EU to the completely daft desire to campaign to rejoin. Unfortunately, both these impulses are inherently conservative - rather than forge something new, for many Keir promises to wind the clock back to pre-referendum times. Rather than consolidate the Corbyn revolution, for many Keir offers a respite from having to fight new and unpleasant battles, even if ultimately it means folding everything in on itself. The policy platform Keir offers appears superficially attractive, but one question his advocates have failed to answer is if he was so radical, why as Director of Public Prosecutions did he advocate for banging up those convicted of benefit fraud for 10 years? Or getting in the way into queries about the activities of undercover cops in protest movements? Or announcing MI5 and MI6 agents will have no case to answer if they were found to be involved in extraordinary rendition or torture during the Iraq War? The appalling errors made during the John Worboys case? The ludicrous attempt at prosecuting someone who joked about blowing up an airport on Twitter? There is no explanation for any of these unnecessary or baffling decisions, and given how lukewarm Keir has showed himself on matters democratic inside the party, there are not sufficient grounds to believe his position taking in this election is sincere or will resist pressures coming from the right. Perhaps this is where Keir's really stood politically all these years. But then why is he happy to talk about stuff from decades ago, including past Trottery, and not what's happened between the years of 2008 and 2013? Such reticence does not bode well for the coming years for Labour, in or out of office.
And there is Rebecca Long-Bailey. Variously criticised for not announcing until late in the day, punting controversial pitches, getting attacked for Stalinist/Vatican influences, and not, it seems, suddenly emerging from nowhere and repeating an inspiring insurgency as if it was the summer of 2015 all over again. All while simultaneously getting ruled out for being continuity Corbyn. There are fair and there are unfair criticisms, and it's clear to tell which from which. But there are three very good reasons to support her candidacy. The first, on the terrain of conventional politics, is charisma. She might not be a sharp as Lisa Nandy in an interview, or have the Blairish eminence conferred upon Keir Starmer, but RLB is more relatable than both. She comes across as warm, funny, but competent and on top of her brief. And as we have years before the election, she doesn't need to be over-polished from the off. There is room for her to grow into the role of leader, and having been tempered in the ridiculous failed coup of 2016 and the vicious infighting since she has the requisite ruthlessness Corbyn lacked. A RLB-led Labour Party won't have its energy sapped because the scorched earth tendency in the parliamentary party will find themselves squashed - if they don't recuse themselves first. And also, while the Tories and their friends will try pinning the continuity Corbyn tag on her it's much more difficult to do. Some comrades might not like her positioning on nuclear weapons, the royalty, and anti-semitism but she's moved quickly to stop these lines of attack from being amplified. It won't stop them of course, but this and a distinct lack of a Corbyn-style baggage caravan might prevent such stories running away and running amok.
The second, which we haven't seen enough of, is thinking about the leadership pitches in terms of class politics. Alone among the candidates, RLB understands not just the party's relationship to the labour movement, but the wider relationship it must have with the emergent new working class. Nowhere does she demonstrate this better than in her taking up mandatory reselection. If the party is to grow more and become embedded in the lives and communities of our class again, the barriers of entry and participation have to be lowered and its role as organiser, educator, articulator, and servant emphasised. This road begins with the thoroughgoing democratisation of the party, the subordination of the parliamentary party and council groups to the membership, the devolution of policy making. The effective de-institutionalisation of Labour as an instrument that stands over our people and condescends to its electorate every so often - the model favoured by the Blairite die-hards and implicit to the pitches of Lisa and Keir - has to be the aim, a party that is the movement of movements that understands politics to be much more than Westminster, and be a means of capturing all aspects of life in its rich molecularity so we can collectively swarm over and swarm out opponents. This isn't just a nice way of organising. To quote Keir Starmer's wonkish mantra, we have to model the behaviour we wish to see. The party then is a microcosm of the kind of society we're working towards, and RLB pre-empts this much better than either of her opponents.
And there is the programme. No ifs, no buts, the climate emergency has to be front and centre. RLB and her support have said enough times she was the one who literally wrote the Green New Deal - now sensibly restyled as the Green Industrial Revolution - and Lisa and Keir both have tried annexing it to their pitches. But the GIR is not some stand alone piece of work, it was embedded in Labour's 2019 programme for renationalising and democratising the utilities and public transport, increasing the economic footprint of the state, renovating public services, and tackling poverty, insecurity and low pay, building enough houses to meet demand, and so much more. Again, this propsectus is not good because ideological reasons but because it meets the requirements of Labour's base: the desire for a good, unhurried, and fulfilling life and a habitable planet to enjoy. RLB's vision builds on the currents of hope Corbynism stirred up, and provides a means of realising them.
As I said atop this post, this election isn't about picking an election winner. All three candidates are capable of winning in 2024 and having the pleasure of seeing off Boris Johnson. But it is about who is most likely to win, and what they do once they get there. I'm sure Lisa or Keir would prove to be perfectly competent leaders and Prime Ministers in their own terms, but their programmes fall short of what needs to be done and don't think about politics outside of vote-catching. This means the pair of them are unlikely to bed down the possibility not just of future Labour victories but throw away the possibility of the party's utter dominance of the 21st century. This does not apply to Rebecca Long-Bailey. She wins the Labour leadership, we all win. And when she takes Number 10, we all go through the door with her. Why should we and all those our party speaks for settle for anything less?