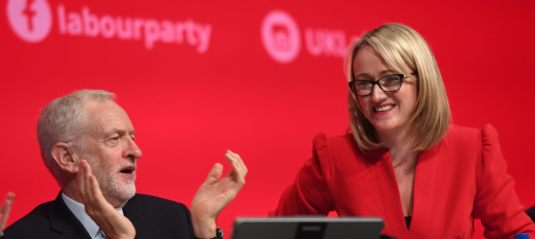 In the latest guest post in this mini-series, Naomi Waltham-Smith (@auralflaneur on Twitter) makes the case for backing Rebecca Long-Bailey. Naomi is an Associate Professor at the University of Warwick and a member in Keir Starmer's Holborn and St Pancras constituency.
The case for Rebecca Long-Bailey rests upon the three Es or what I want somewhat cheekily to describe as an up-to-date alternative to that traditional training ground for the ruling class, PPE, and one more fit for the global grand challenges we face today: Political Education, Environment, Economics. Together these add up to a clear, decisive response to the most urgent and intractable obstacle facing centre-left parties today: the crisis of democracy. Of the three candidates, only Rebecca has a cogent analysis of the backlash against the market-liberal consensus found across rich democracies today (see the excellent work by Jonathan Hopkin and Mark Blyth on this) and, crucially, a compelling narrative about how to forge a return to politics from a place of anti-political disaffection.
After 40 years of Thatcherite deference to the market and entrepreneurial subjectivation, we need an economic and political revolution on the same scale as 1979 to give back power to those who justifiably feel they have lost control over their own lives. This is how you knock down "Get Brexit Done," and not, as Keir Starmer has suggested, by calling into question the credulity of Tory switchers and, by implication, their appetite for change and empowerment. This anger, difficult to assuage, will need to be channelled, as Rebecca acknowledges and as the more insurgent Corbyn of 2017 did, but it is Bernie who is giving the future Labour leader a masterclass in this.
When Rebecca spoke enthusiastically about wanting to see members debating economics, it was music to my ears and not only because, as a lecturer, I have skin in the game. After a bruising defeat in which Jeremy's leadership was seen as a significant factor, much of the debate in this leadership campaign has centred on the issue of electability. We are witnessing the forceful re-emergence of the false choice between principle and power. In 2012 Stuart Hall bemoaned that "the left has no sense of politics being educative, of politics changing the way people see things." Laura Pidcock was right to argue recently that the ambition of politics ought not be to adapt your principles to what is popular but "to make popular your principles." If Labour doesn't, it will cede the ground to the right—with disastrous consequences.
To galvanise the electorate around a socialist vision, popular political education — not simply for but organised by the grassroots — will be essential. Lisa Nandy's positioning as the candidate who's listening came spectacularly unstuck in her interview with Andrew Neil: "I'll empower you but only to do what I judge to be empowering." Rebecca, by contrast, recognises that there's no point in listening without making room for debate and disagreement, and without ensuring that there is equality when it comes to the power of voices heard. This is why one should not fall into the trap of assuming (as figures on the left including Andrew Fisher and Laura Parker have done) that the apparent policy convergence around the 2017 manifesto means that there's little to choose between the candidates. On democratisation, Rebecca is the only candidate unafraid to give members a say in selecting candidates and in policy-making. When Keir and Lisa argue against open selections and in favour of empowering councillors instead of members, the electorate will see this for what it is: holding onto the reins of power by meting it out to the lower rungs of middle management (who can be easily managed) out of fear that unleashing the power of grassroots might shake things up — and they'll vote again for the Eton-educated racist who is promising to do just that in their name.
Keir makes the same mistake on political education by reducing it to a training "college" for the next generation of councillors, MSPs, AMs, and MPs. Of course, we need to foster more working class talent and break down the obstacles to holding office (as the Ashcroft report confirms, the perception is that too many Labour councils, mired in inertia, are not on the side of the people they were elected to serve), but a top-down approach flies in the face of this ambition. The rhetoric of accreditation also capitulates to the profoundly undemocratic marketisation that is eroding education in this country and its capacity to be a vehicle for social change. Trickle-down education doesn't work any more effectively than its economic counterpart. Rebecca's vision for democratised political self-education is about restoring a deliberative, agonistic dimension to public debate, responding directly to calls more direct forms of democracy as faith in institutions has crumbled. One cannot hope to beat a right populist with moral paternalism.
This belief in the mobilising power of political education underpins Rebecca's strengths on environmental and economic issues. There is no doubt that, as one of the authors of Labour's Green Industrial Revolution, Rebecca far outstrips the other candidates in her commitment to rapid decarbonisation, ecological restoration, and climate justice, as well as to the industrial strategy and extension of democratic public ownership required to achieve these goals. The climate emergency is the single most urgent issue facing the world today and, as Labour for a Green New Deal's scorecard confirms, Rebecca is head and shoulders above the pack on this. Nothing more really needs to be said, except that communicating this urgency and the power of her proposals to make a real difference remains a challenge. It wasn't just that the 2019 campaign failed to put the GIR front and centre, as Rebecca has rightly observed. As Alex Wood points out, if the GIR is to bridge the cleavages in the coalition Labour needs to build, its potential must grasped by all its elements for it to make good on its promise to promote a new socialist common sense and this will be most resilient if communities are able to cultivate for themselves an understanding of how the just transition will materially benefit them. Again, Rebecca understands that the GIR needs to be embedded in collective, democratic struggles for power and for a reinvigorated, socialist notion of the good life, rather than emanating from a moralistic injunction to do the right thing.
To defeat the Tories, education in economics is also solely needed to wean the electorate off old wives' tales now engrained as common sense. The tide is already turning against austerity — which is why an anti-austerity platform isn't going to cut it against Johnson's gestures towards greater state interventionism and investment — but there are lingering misconceptions around affordability and credibility. In 2019, Labour undoubtedly got its messaging wrong, but it also failed to tackle the false, yet widespread, analogy between state and household finances and the zero-sum conception of the economy. Similarly, a recent survey showed that, while voters want fairer taxes, the myth of the deserving rich persists in the national psyche. Bernie is challenging this by teaching the American electorate about the labour theory of value! Only when Labour's potential voters can articulate for themselves the measure of their exploitation will the movement from below needed to propel Labour to victory below take off. Rebecca gets this.
To take on Johnsonomics at a time when the hegemony of neoliberalism is wobbling and offer compelling alternatives to his economic nationalism will require rigour, agility, and a willingness to listening to the most forward-thinking economists. Rebecca hasn't got the attack lines on this quite right yet, but she alone among the candidates has demonstrated the intellectual curiosity and aptitude for learning about economic policy needed for this task. She's enquiring enough to revive the Economic Advisory Committee convened by John McDonnell, but not every member and certainly not every potential Labour voter is going to read Ann Pettifor or Marianna Mazzucato, so grassroots self-education will be key.
It may be that Keir should be taken at his word, but the case for Rebecca doesn't depend on distrusting him. Without the big vision and analysis, defending the policy platform of 2017 or even 2019 won't be enough. Nor will competence. Bland talk of unity effectively dilutes politics into the technocratic management against which electorates are rebelling. Rebecca's imagination and capacity to grow can reignite collective politics when it's most needed.