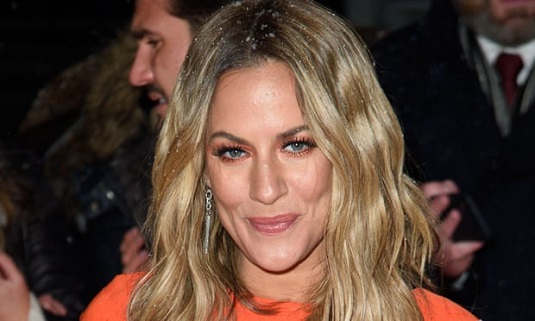 To read about the circumstances surrounding the sad passing of Love Island's Caroline Flack is to learn it was entirely avoidable. Flack was dropped by ITV from the show and its spin off, After Sun once the story emerged that she had been involved in and charged with assaulting her partner. She was banned from any contact with him prior to the trial next month, despite his opposition to the CPS decision to proceed. By any token, Flack was a troubled woman who needed help and support. But instead, she suffered the usual gossip, character assassination, and vilification from the gutter snipes of the tabloid sewer. Take The Sun as a particularly egregious example. As a number of people on Twitter have pointed out, Rupert's minions have spent their Saturday afternoons busily deleting what they've written about her. These deletions include a story from Friday reporting how a "jokey" Caroline Flack-themed Valentine's card had gone on sale. Imagine if you were her, getting trolled day after day by the country's best selling newspaper and one of its biggest celebrity news sites. It wouldn't do your mental health much good either.
And then you have the disgusting hypocrisy of self-identified friends. Consider Dan Wootton, who's spent his afternoon tweeting out his horror at what has happened to Flack. Quick to blame ITV for their shabby treatment of her, quick to tweet about how she had lost everything, and quick to retweet support from Boy George blaming this on "others" who enjoy their pound of flesh, and the Brexit Party's David Bull who's pinning it on social media. Wootton has protested his "complete loyalty" to Flack and talked about their "regular contact", but this isn't any old Sun hack. He's a columnist and the paper's executive editor. Or to put it another way, this vile shit of a human being was making her troubles worse by giving stories the go ahead that only could only have contributed to her misery. And if you want the measure of the man, just scroll down his Twitter feed. Literally the last thing he put out before tweeting a broken heart emoji was something by Julia Hartley-Brewer mocking Jameela Jamil's experience of mental illness.
I expect this won't trouble his conscience too much. He comes from a press culture that saw nothing wrong with hacking the phone of a murdered teenager, after all. But creatures like Wootton and the content he decides on preceded him, and will no doubt post-date him now his buddies are secure in Number 10. Moving into the impersonal, as we noted on the occasion Peaches Geldof passed away prematurely, celebrity is individually and collectively experienced. The media creates a simulated collapse of social distance where it is possible to have a relationship of sorts with a pantheon of celebrities. Complete strangers appear close and distant simultaneously, and with the coming of social media this effect is both amplified and shortened further. Not only do celebrities now enjoy a means of communicating directly with fans, they are also forced to endure "feedback" - some of it adulatory, a lot of it abusive. And especially so if celebrities are women, are of colour, are disabled, or are lesbians or gay men. And none of this takes place in a vacuum. You don't need tabloid press coverage to be an arsehole online, but when stories are dredged up about foibles and failings, relationships and affairs, selfishness and revenge porn at the behest of these papers, and then get the first dabs on the stories, decide the edit and the consistency with which they are reported on/revisited, and so a monster is fed. Their coverage sets the tone and determines the contours of the feedback a celebrity is likely to receive.
Writing in the 1840s, Fred Engels noted how substandard housing, poor food and sanitation, overcrowded districts, and dangerous working conditions contributed to the premature deaths of thousands. The builder responsible for the housing, the authorities responsible for the built environment, the shopkeepers and bakers responsible for adulterated food and worse, and the employers whose wages barely covered the necessaries while forcing people to work in the shadow of permanent injury or death, these were not accidents of fate. It was in their gift to do something about an infrastructure that conspired to send workers to early graves, and yet they didn't. As Engels puts it, if these authorities and business people "knows that these thousands of victims must perish, and yet permits these conditions to remain, its deed is murder just as surely as the deed of the single individual ...".
This is the situation we're in when it comes to our mental health crisis. Leaving aside the wider issues of the relationship between it and social media, in the narrow case of celebrity, the opinion formers - the gossip columnists, paps, and editors who shape showbiz coverage - know they are constantly heaping on the stress and misery, making public what should stay private, and helping drive people to drink, drugs, and despair. And, on occasion, someone takes their life. Like Caroline Flack and two previous Love Island contestants, Sophie Gradon and Mike Thalassitis. When this happens the media sometimes shakes off its convenient short-sightedness and accepts culpability - as we saw following the axing of Jeremy Kyle. But mostly it's brushed away with the sort of touching tribute they would never have printed while the person in question was still alive. Celebrity coverage therefore is structurally harmful, and yet it carries on as it does, grinding out the money and conferring profile to commentators and editors who determine its comings and goings. When tragedy strikes repeatedly, we can only conclude social murder is still very much with us - updated and thriving in a set of media practices utterly toxic to the mental health of its subjects. And like their 19th century forebears, those in charge don't give a damn about the people they destroy.
Image Credit