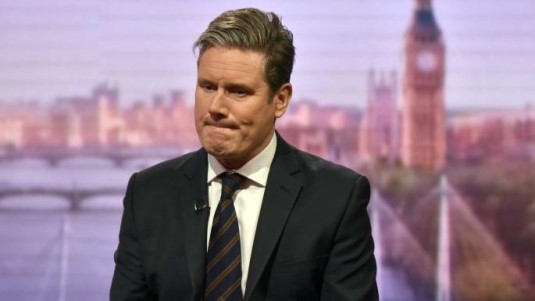 Comrade Keir Starmer? Some folks have been advocating for him on the basis of past Trottery, and not least the good works his campaign have heavily promoted from before his time as Director of Public Prosecutions. Peculiarly, his plans to hand out 10 year sentences to people done for fiddling social security isn't so highlighted. Realising he can't live off past glories forever, or "borrowing" material from Rebecca Long-Bailey's campaign, Keir's campaign have released 10 pledges of their own.
What do we have? Increasing income tax for the top five per cent and a clamp down on avoidance. Abolish universal credit, defend universalism and the NHS, and abolish fees and keep with the life long learning programme. The Green New Deal and tough action on air quality. The introduction of a Prevention of Military Intervention Act(?) and a review of arms sales. Common ownership (qu'est-ce que c'est?) and no to outsourcing. Defence of free movement for EU citizens, a compassionate immigration system and a call to close Yarl's Wood and similar. Repeal the Trade Union Act. Abolish the House of Lords, a properly federal system with devolved powers, and localised investment banks. A pledge on equalities. And lastly, a united party, a mass membership, and forensic opposition to the Tories.
I know some comrades have cast a critical eye over the pledges, locating this as a (cynical) attempt to shore up support among leftist members who are unsure about RLB and like the cut of Keir's jib. And yes, his proposals are less specific than her positioning and give him plenty of wriggle room later on. Nevertheless, this is much better than Lisa Nandy's offering, and at least he doesn't have to lie about his opponents. Anyway, I'm sure we'll return to these over the coming weeks and, if he wins, the next four-five years. What is interesting is, despite Keir being a centrist-friendly candidate, how a little bit of leftism has brought actual centrists out in a rash. For James Bull, this is pale pink Corbynism destined to lose. For David Aaronovitch, abolishing universal credit and tuition fees "are plain dumb" and will bring Labour difficulties on the doorstep. And for the ever-bloodthirsty John Rentoul, Keir's military pledge is "spineless". Considering a left programme twice got more votes than the centrist efforts of 2005, 2010, and 2015, you might think this elementary fact would give them pause.
This needs situating in relation to the slow rewrite of the election result by the Labour right and their chummy hacks. Instead of a ruinous intersection of Labour's pitch to remainism and the monstering of Jeremy Corbyn, an unforgivable slandering of a good man they had no small part in, the real reason for Labour's loss was its being too left. What the electorate really wanted was a distillation of purist Blairism. Yes, because that is exactly why millions of former Labour voters supported Boris Johnson's Tories with its promise of "change", and why canvassing team after canvassing team returned with tales of enthusiasm for "public sector reform", increasing the retirement age, and keeping hospital car parking charges.
This is so self-evidently stupid. With increasing polarisation along the lines of property (or lack thereof), growing private debt, blocked career aspirations, a different experience of being working class, and the small matter of global heating, a centrist prospectus that offers nothing but backward-looking nostalgia is so pathetically inadequate to the moment that even the Tories aren't touching it with a barge pole. That and the small matter Labour's new base won't vote for it, nor would it win back the former Labour leavers who find wonky, technocratic politics repellent. Say what you like about Keir Starmer, he at least seems to understand this basic fact of contemporary electoral politics.
The other aspect of this is less a reaction to Keir's pledges, but the opposition of assorted Blairist riff-raff to the idea Labour should do something different, like community organising, building the party as a movement and, as per Richard Burgon's suggestion, setting up a free paper. They just don't get it. But then again, it's not surprising. These people got their moneyed positions thanks to a previous generation's factional manoeuvring in the party. They not only lack the first clue about organising, as Change UK reminded us, they just assume everything clicks together. Having glided into their seats via the helpful efforts of others, from their point of view politics isn't about organising and struggle. It's a matter of marketing. Hence why we get idiocies like we want to win power, not spend time protesting. Or that organising communities is a waste of time.
News flash. While it might be the case Labourism has, from inception, been quite accepting of its role as the B Team of politics and has preferred to pretend there is no relationship between its roots in the organised working class and the kinds of things it should do in office, those days are long over. Or they have to be over if Labour is to ever have a sniff of power again. When the party is locked out of politics, which demographic imbalances, Tory institutional advantage, and the coming gerrymandering will do their best to cement, the only thing the party can do is organise. Only by linking up with community groups, listening to what's happening in areas we need to win, campaigning on the concerns that matter, produce our own media work-arounds of the anti-Labour monopoly, contest the political terms of our predicament and, unusually for Labour, offer political leadership on the key issues of the day instead of capitulating to Johnson and his mates in the editorial offices, this is the only way Labour will get anywhere. The prospectus offered by the likes of the ludicrous Ian Murray is, well, the utter failure the Labour right have manufactured in Scotland. Now that's what I call an inspiring vision.
Before the last election, we heard a lot about how know political party has a God-given right to exist. In their hostility to Keir's pitch, let alone RLB's campaign, what we see is the kamikaze willingness of Labour's idiot tendency and the party's false friends to test this - and us - to destruction.
Image Credit