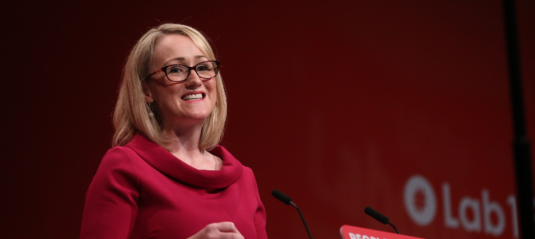 Stoke Central Labour Party met up this Saturday morning to make its nominations for the leadership and deputy leadership contests. Spoiler alert, we voted to endorse Rebecca Long-Bailey and Dawn Butler. When you consider how in 2010 the local party endorsed David Miliband, in 2015 it gave Yvette Cooper the nod and, despite voting to endorse Jeremy Corbyn in 2016, selected Gareth Snell over a Corbyn supporter in 2017 for the Stoke Central by-election, how did the party move to nominate two left wing candidates this time? Without the time nor the inclination for another blood and guts analysis of local politics, we should have a goose at what happened on the day.
In all, 61 voting members turned up, which was significantly more than the equivalent meeting in 2016. And the politics? With the leadership debate up first it was clear there was a mood for unity ... against Keir Starmer. Regardless of who was speaking, criticisms came from all corners criticising him for bouncing Labour into support for the second referendum. In the end, the fall out of Brexit for Stoke Labour proved too much and overrode the conditions of support that's causing him to scoop up nominations hand-over-fist in CLPs elsewhere. With a desultory three votes to his name, he at least managed to triple Emily Thornberry's tally. And so it quickly became apparent - folks were either speaking for Lisa Nandy and Rebecca Long-Bailey.
The arguments for Lisa came in two batches. For some, there was genuine enthusiasm. One comrade who was originally more favourable to Keir found Lisa's diagnosis of Labour's malaise compelling, and thought she performed very well in front of the media. Especially her Andrew Neil interview was assured and despite his best efforts, never managed to trip her up. Another comrade suggested her socialism was just the ticket because she offered a bridge between the north, where we suffered, and the southern (London) seats. He also said that she listened, which is a sign of a good leader. One suggested she was less likely to come a cropper in the media, and has that elusive (and nebulous) swing appeal.
The second set of arguments were motivated by what we'll clumsily refer to anti-Long-Baileyism. A recurring argument praised RLB for her contribution to the manifesto and that comrades liked her socialist ideals, but we have to row back from that (a position some disappointing melt used in 2015 to help secure the nomination for Yvette Cooper). Another comrade argued we needed someone who wasn't divisive and can unite the party, which is something Lisa can do and Becky (apparently) cannot. A couple of other comrades were more blunt. There's no point the left blaming the hurdles if that's the race you're in (though, it might be said, said athlete might be annoyed if members of their own team had put ground glass in their running shoes beforehand), and RLB will face the same. Another said Jeremy Corbyn was no good and we heard it time and again on the doors. The truth of the matter is people wanted sensible, centre policies, and as RLB carries on where Corbyn left off she won't be able to win.
In the arguments heard for RLB, one comrade pointed out that had the party united behind Corbyn as its members expected the MPs to then we wouldn't be in this situation, because Labour would have achieved even more in 2017. The fact of the matter is politics is now a clear case of them and us, and we have to stand up for us. Another emphasised the importance of the green new deal and, quoting Tony Benn, how we should never let the media choose our leader because it's only a hop, skip, and a jump from them determining our policies. Taking some sound advice, I held back until all the main arguments were heard and then had my three minutes emphasising three points: rebutting the nonsense about Labour needing to be more centrist ("didn't hear any arguments on the doors demanding benefits be cut and more of the public sector sold off"), criticising Lisa's pitch ("can't support someone who misrecognises a stark age division for a problem with working class voters and towns"), and endorsing RLB as the only candidate who gets this and has a strategy to win ("we don't need to build a red bridge between the north and the south, we need to build it between the generations").
The first round of voting gave us, in addition to the figures already mentioned, Becky 29 and Lisa 28. And following distribution ... RLB scooped the nomination by 31 votes to 30. Tight but a win is a win.
The deputy leadership debate was a less polarising affair. Again, there was an outbreak of consensus in terms of the brick bats the erstwhile deputy leader received, and how the next office holder must support and not undermine the members' choice. A few comrades wryly observed that they thought the field for this contest was stronger than the leadership. Again, applying the wait-and-see advice before speaking it seemed like Angela Rayner was going to walk it. Member after member got up to talk about her qualities, nous, fighting spirit, and roots in the union movement. Another comrade said he was particularly impressed with the performance of Dawn Butler and Rosena Allin-Khan, whereas Angela seemed a bit on the flat side. And another said this was a bit of a blind contest because we don't really know who the candidates are and what they might be like in position.
This is where I spoke in favour of Dawn Butler. As some members might not know who they're voting for, it's perhaps worthwhile opening out the contest for a decent debate. As Richard Burgon and Angela have already made it onto the ballot, I suggested that comrades might consider lending her their votes. I also said there were sound political reasons for supporting Dawn too - the Tories will be looking to scapegoat minorities so we need someone in the leadership that can call out Boris Johnson's racism and champion equalities. Also, Dawn isn't a factional player - she supported Gordon Brown and Ed Miliband while they were leaders, and stuck by Corbyn when the rest of the parliamentary party tried to come for him. If we want unity, here we have a candidate who has practised it throughout her Commons' career.
After hearing other members speak, we went to the vote. This time it was more emphatic. In the first round, Dawn was well out in front with 24 to Angela's 18. But then the joys of Labour proceduralism intervened. After eliminating those with fewer votes, on 27 to 26 respectively neither had 50% and after "redistributing" Angela's votes to Dawn she was left with 30, one vote under the threshold for endorsement. How annoying!
In all, not results I was expecting the CLP to come up with but welcome nonetheless. I hope other comrades looking to make the case for Becky and Dawn find this post useful.


NB Dawn Butler's nomination was accepted by the regional office.

Image Credit