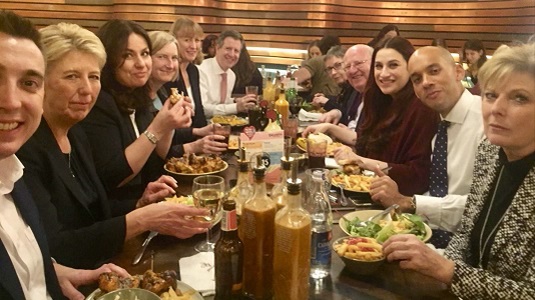 Dear Change UK,
A year has flown since you came into my life. You were a mould-breaking gun slinger of centrism, fresh as a daisy and pregnant with mucho newness and changeable changeness. And I was, and still am, a no-mark politics nerd blogging from the back streets of Stoke-on-Trent. As your star ascended, you didn't cast a glance in my direction. And when your brilliance faded, affecting nothing but indifference among those minded to vote in the EU elections, I still kept the faith. You never amounted to much, but I was a loyal fan and you provided good fodder for half a dozen blog posts. For that, accept this love note as a demonstration of my gratitude.
Unlike those who use today, the anniversary of your foundation to rub salt into the wounds of your demise, or josh about on Twitter with phrases like "Chuka who?" and allusions to funny tinges, I want to celebrate you in the best way by recalling your accomplishments. For while you might feel bitter about the hostile environs you were born into, and how once sympathetic journalists no longer return your calls, you have made three important contributions to British politics.
The first is no political party can spontaneously come into being. You, dear Change UK, were ill-served by your parentage. Your founding MPs didn't know the first thing about organising, having either had their seats engineered for them by old fixers who had done the requisite moving and a shaking for them, or spent so long on the back benches marking time, drawing salaries, and leaving their constituency parties to seed - until the tidal wave of Corbynism rolled in and put them on notice. Nor were you helped by defections from the Tories, all three of whom, Sarah Wollaston, Heidi Allen, and Anna Soubry, were similarly assisted by the party apparat earlier in their careers. Because they had everything done for them, from their point of view politics was a heavily mediatised world. Building support for parties were neither the fulcrum of articulating or representing interests, but an exercise in smart marketing - just like jolly old Macron, across the Channel. Build it and they will come, but this ain't no Field of Dreams. And thanks to their absence of basic organising nous, you had to suffer the indignity of two name changes, an ultra-bland logo after the original was rejected by the Electoral Commission, and your being forced into a broken party model. Sadly for your fate, you were hobbled from birth.
The second lesson, much to your disadvantage, was the absence of a political space for you. Your founders misread the polls that consistently returned huge majorities of voters who self-defined as inhabiting the centre without interrogating what this means. A sign of millions upon millions hankering after a centrist hero, or those same millions don't know (nor care) what professional politicians understand by 'the centre', and so interpret it according to their common sense? There are plenty of slightly racist Tory voters who think their politics are in the centre, simply because they might also agree with nationalising the privatised utilities. Or because low level bigotry is, to them, commonsensical. If that wasn't bad enough, you were launched while another self-defined and properly-established centre party was a going concern, and who managed to gobble up the lion's share of remain votes during your first - and only - electoral outing. Who knew being accepted as the authentic third party in British politics, and the one most closely associated with pro-EU arguments would prove an insurmountable obstacle to a half-formed party whose best known members were strangers outside the thin layer of Westminster watchers? What you were to prove was the impossibility of a centrism independent of the fringes of the two main parties, and the Liberal Democrats. And thanks to your example, the idea another bunch of MPs might try and emulate your singular example is poppycock and deserves taking seriously by precisely no one.
And last of all, your best achievement, and one I am raising a toast to you for, is your conveyance of some of the worst Labour MPs of the 2017-19 parliament out of politics. Whether they lied about the party, repeatedly scabbed on collective efforts, briefed against the membership to the press, made stupid and self-serving arguments, or later became a laughing stock, it is an unalloyed good that none of these people sit in parliament any longer. It's almost as if they created you and treated you cruelly, and you wreaked upon them vengeance by terminating their careers. One hopes, in time, the Tory party will prove as effective in immolating the Commons careers of its own MPs.
There we have it. Change UK. The Independent Group. The Independent Group for Change. You made my heart sing during an otherwise dark year in politics, and it pains me to know history will forever counter-pose your farce to the old SDP's tragedy, a cautionary tale of knowing what not to do. Yet for me, and a peculiar band of leftists, you did more than render a service and off some terrible MPs. We feel genuine adoration, one that has shades of pity, but adoration nonetheless. You scorned our affections but we will never spurn the admiration we have for you. And so tonight I light a candle, knowing it will be a very long time before we see your like again and that just perhaps, those who plotted your emergence but were too cowardly to join the ride have learned some lessons. Especially about the fragility of MPs without a proper party to support them, and how no one is bigger than the collective.
Yours with tenderness,
Phil