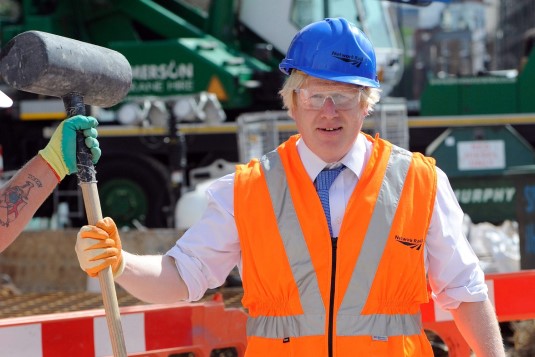 Who hasn't looked over the edge of a tall building, a cliff, a canyon, or a hole and found themselves filled with a vertiginous feeling? Well, a a week into Boris Island and we find this discomforting sensation is the basis of the new Prime Minister's Brexit strategy. Consider the developments that have taken place since we last expended some words on Boris Johnson. He's visited the regions and the nations of the UK, bringing with him everywhere his boundless optimism and booing crowds. He met with Nicola Sturgeon in Edinburgh and revealed to her his Brexit plan was, well, keep your fingers crossed. He went to Wales and said a no-deal Brexit will be the EU's fault. And his visit to Northern Ireland was less than a roaring success, with attempts to get Stormont talks moving again falling flat and Sinn Fein raising the prospect of a unity referendum in the event of no deal. For those of us who'd like to see a united Ireland, every cloud.
In no uncertain terms it has been made clear to Johnson that, as plenty of people have said all along, a no deal Brexit could lead to the break up of the UK. And, of course, he has seen the confidential Whitehall briefings - like the one just leaked to Sky News talking up all kinds of problems, such as consumer panic, shortages, civil disorder. For someone who definitely isn't a details man with a cabinet full of ideologues, this is a nightmare scenario for the Johnsonian feather weights.
Want more bad news? While the PM stalks the land playing down the prospect of no deal, it turns out some of the backbenchers are unhappy and will vote down any withdrawal agreement, regardless of whether the Irish backstop is retained, modified, or scrapped. Not great when your majority, according to bookies and by-election watchers, is likely to be reduced to one come Friday morning. According to Mark Francois, the ornery ERG vice-chair and self-styled combat veteran, some 60 MPs are prepared to prove as much as a headache to the new regime as they were to the old. Excuse me for an aside, but it's almost as if Brexit for the ERG was never about the specifics of Theresa May's withdrawal agreement and something else was in mind the entire time.
Even worst news is the latest coming from the United States. Donald Trump's warm words for Johnson were very helpful from Number 10's point of view - not that Trump is going to win the Tories any votes, but because he reiterated the desire for a trade deal that would increase the volume of trade "four or five times". This is the holy grail for UK finance capital and the disaster capitalists, and is why the ERG are proving so intransigent. Who cares if agriculture and manufacture take a body blow, animal welfare standards are reduced to the non-existent, and the NHS becomes a tax-payer backed cash cow for American insurance companies if the City have unimpeded access to the US property, domestic credit markets, and becomes the offshore banking centre for the US capitalist class? And it comes with a hefty political bonus too: the perpetual disciplining of UK governments by the protocols of a free trade agreement. Wave goodbye forever not just to Corbynism, but also the possibility of mildest social democracy, digital wealth taxes, and state aid. Unfortunately, this cracked vision has, um, a crack in it. Regardless of what Trump says a trade deal can be blocked by Congress, and given the huge amount of capital the US political establishment sunk in getting the Good Friday Agreement signed, understandably many are horrified by Johnson's cavalier attitude to it. And so if Johnson's Brexit interferes with the Irish border, understood as unimpeded commerce and movement back and forth across the border, there will be bipartisan house backing for blocking a free trade agreement. Not what the Brexiteers want.
And how has Johnson responded to these raft of difficulties? By barely acknowledging them. In the dawn of Britain's new golden age, there cannot be room for negativity. So today's announcement from Sajid Javid, that extra money is available for addressing the exigencies of a no deal Brexit, as if this sum - pitiful in the grand scheme of things - can insulate the country from the shocks coming our way. Nevertheless, while doubling the cash is a tacit acknowledgement by the government that the previous preparations were not enough and it's going to be rough, this will still play well to the Brexit/Tory crowd. Here we have a Prime Minister doing what it takes to shore us up before leaving. The demonstration of seriousness of intent, if you like.
Yet it's a gamble. Johnson and friends have long pedalled the line that the UK has to be serious about no deal to strengthen its hand in negotiations with the EU. The justification for this stance is utterly nonsensical, if not farcical. When a supplier enters into contract negotiations with a supermarket, do they say "you'd better give us the contract otherwise we're laying off staff and not selling as much in the future"? No. Johnson's hope is the EU will be alarmed at the damage such an act of self-harm will cause Ireland and the heartland EU countries that somehow Brussels is going to ride to his rescue. He'll take the credit for his hard nosed approach, while effectively a new deal is sub-contracted to the Commission to draw up. Who thought this is what taking back control might end up looking like.
The stakes are high then, and like his predecessors Johnson has bet the house on a whim. He might not personally intend to take the UK out of the EU without a deal. Indeed, he's said it enough. But by ramping up no deal preparations while, in the mean time, effectively waiting for the EU to sort Brexit out for him is reckless in the extreme. And any deal anyway looks doomed thanks to the Brexit irreconcilables on the back benches. In sum, it doesn't look like giving Brussels a dose of vertigo is going to work. Johnson, by his laziness and career-before-country opportunism isn't so much offering a way out of the impasse, but contriving a situation where a deal is next to impossible. And for what? Like Dave, it's to ensure the political threat to the Tories' right, then UKIP and now the Brexit Party, is neutralised and they remain a viable party of government. What a pathetic state of affairs.