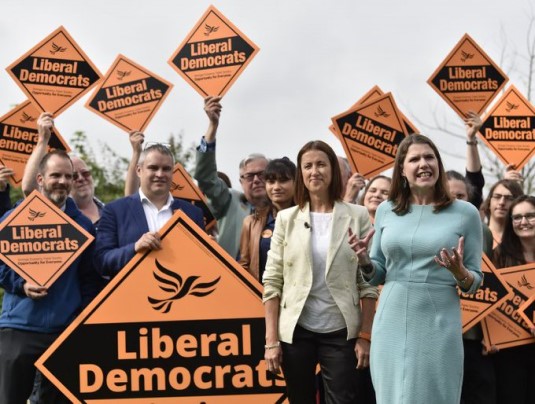 In his best possible universe, Boris Johnson's zipping up and down the country and going hard on no deal would have seen the Tories romp home with barely any effort in the Brecon and Radnorshire by-election. Unfortunately for them, their safe seat is now a Liberal Democrat gain and sundry Tories are going to have to spend the day putting a brave face on things. Did no one think about poor James Cleverly before voting?
By-elections, as second order elections, see all kinds of things come into play. It is quite normal for voters to register a protest and go against their usual inclinations, or allow local issues to sway their choice. And so by-elections either say very little about the state of national politics, or a great deal. Stunning insight, eh? Brecon and Radnorshire, usefully for the purposes of this write up, is an interesting one. But before we go anywhere, let's deal with some of the silliness put about by the Liberal Democrats on the Labour vote. As folks can see, it was badly squeezed as the tally dropped 12 points on 2017 and we limped in with 5.3%, falling behind the Brexit Party's 10.5%. Apocalypse ahoy? Not really. In any by-election in a marginal seat, parties that stand no chance of winning are always likely to be squeezed. For instance, in the 2016 Richmond Park by-election Labour's vote plunged as the anti-Tory vote coalesced around the LibDem candidate. That happened here too, with LibDem canvassing teams urging Labour voters to lend them their votes to give Boris Johnson a bloody nose. It's the height of bad faith therefore to pretend you're the "real opposition" and Labour are finished, but what do you know. Snakes are gonna slither.
Is this a triumph for the LibDems then? Well, turning an 8,000 Tory majority into a 1,400 vote cushion for your own party isn't to be sniffed at. Their "remain alliance" with Plaid Cymru (1,299 in 2017) and the Greens (1,261 at their last outing in 2015) was very helpful, but also the Brexit Party's intervention which garnered 3,331 votes, undoubtedly creamed mostly from the Tories, didn't harm their chances. Because it worked well here, or at least appeared to, I'm sure Jo Swinson is going to look for its repeat across Tory/LibDem marginals. Of the 20 most marginal seats where LibDems came second in 2017, 12 (after yesterday) are currently held by the Tories, and all of them require a swing lower than the one we witnessed. Hence in many of them arrangements (or "dirty backroom deals" as James Cleverly put it on BBC Breakfast) on a remain basis would suit the LibDems to a tee. Note, however, what is being sought is a remainer pact and not an anti-Tory alliance. Nevertheless, the party is acting rationally in pursuit of where it's most likely to pick up seats. As long argued here on the basis of by-election results and watching Tim Farron flail and fail with his emphasis on Labour, it's obvious richer pickings for them can be found concentrating on the Tories. Especially those liberal-leaning Tory voters who supported Dave in 2010 and 2015, and have recoiled from the turn the party has taken since are up for grabs. In other words, for them, the LibDems look like they'll continue drawing the right lessons.
The Tories? Perversely, it's likely they'll see Brecon as a justification for sticking with their strategy. Though, to be honest, they ran a bad campaign. Apparently, the incumbent Christopher Davies is/was fairly popular and has/had a relatively high profile in the constituency, but to run him again after getting convicted for a dodgy expenses claim was an unnecessary error. Would it have made a difference if the Tories had ponied up a fresh face? Who can say, but the point is it's stupid to make the task harder for yourself, so from the standpoint of bad campaign management alone the Tories deserved to lose. Yet it's possible, just like Richmond, that the result could reverse itself under the circumstances of a general election. The same dynamics do not apply as a polarised by-election frame is not the same as assuming a nation-wide viewpoint, so for one it's likely the Labour vote would go back up and those who voted tactically this time to keep the Tories out won't automatically do so in future. But more crucially the Brexit Party threat nowhere threatened the precarious Tory hegemony over leave. And while it arguably cost the Tories the seat, the fact of their depressed vote vs the EU elections, its recent showing in opinion polling, and the second placing in the Peterborough by-election, means Number 10 are going to take that as their steady-as-she-goes is justified. Johnson might be alienating remainy Tories, but in a fragmented political system they're looking to repeat Theresa May's 2017 trick and soak up right wing voters. It might be enough to get one over the line in a general election, but it's not the stuff, to coin a phrase, strong and stable majorities are made of.
Yes, General election. Does last night's result make one more or less likely? Having been hoodwinked before, I'm not about to make a firm prediction. But in terms of the probabilities, the likelihood of one taking place prior to 31st October has reduced. While BXP's vote was squeezed, the LibDems are very obviously making inroads into Tory territory (a trend backed by council by-election results), and Corbyn's Labour has the proven capacity to surprise. If politics was rational, there won't then be an election until the other side of Brexit. And yet.