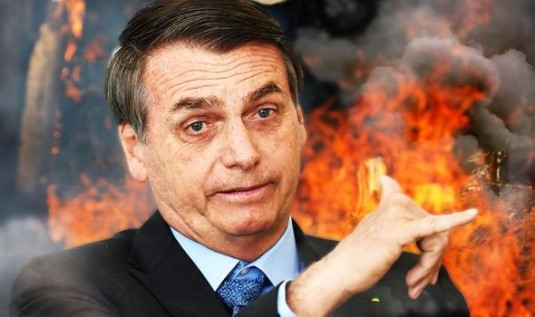 There isn't much more depressing than watching the Amazon burn. And is there anything more infuriating than watching Jair Bolsonaro trolling the world about it? The crooked, clownish creep has argued NGOs are torching the jungle because he cut their funding, and feeding off the blowback he's moved in to false contrition. Brazil doesn't have the resources to fight the fires he claims, and that's that. The sun rises in the morning, and rain forests are getting reduced to ash. Such is the order of things and he can't do anything about it.
It's tempting to blame Bolsonaro for all that is rotten in Brazil, as if this uniquely evil/stupid individual turns everything to shit with his touch. Tempting, but far too simplistic. Like his many analogues elsewhere - Trump, Duterte, Orban, Netanyahu to name several - Bolsonaro and friends will, if there's any justice, get their time in the dock. Yet they cannot be separated from the power bloc who put them there and the political project they're determined to wage. In Brazil's case, it's not to bring fascism back: Bolsonaro's election is an opportunity for capital and state cadres to reinforce authoritarian rule, tilting power decisively toward business and its satraps, and creating a new Wild West where the writ of profit is the bottom line and the only law is the law of value. And so the culture of impunity Bolsonaro promised at his inauguration so the police can roll up their sleeves and get on with eradicating crime without rules or accountability before the law is the setting for every other constituency who backed him. It's open season on LGBTQ+ people and indigenous people. For corruption and dodgy deals. And for logging companies, land owners, and small scale farmers to clear forest for short-term profits - and long-term consequences for the rest of us. And in case you forgot Bolsonaro was elected on a clear class prospectus, privatising state assets, throwing regulations into the Amazon bonfire, and attacking workers' pensions are as central to his coalition as climate change denial.
Taking out Bolsonaro as I've seen some muse aloud about in recent days wouldn't change the situation one jot. The vice president, Hamilton Mourão is just as authoritarian as the president, and has similar semi-fascist, semi-conspiracist politics. Though, in one of those grim ironies of which history is often fond, he is now also the most senior ethnically indigenous politician in the country. And the power bloc itself, an allied assembly of agricultural capital, finance, the metropolitan middle class, small business not only has deep roots within Brazil but is simultaneous allied to and a dependable friend of global capital. Who invests in the logging companies? What role does Western capital have in mineral right exploration of cleared forests? And considering Bolsonaro's determination to rip up the thin gains of the Workers' Party years, how much do our banks, our hedge funds, and our pension funds project to gain from swooping in and turning a quick bunk from Brazil's privatisation programme? Quite a bit one would suggest, seeing as the soft coup that turfed the Workers' Party out of office and gave the hard right their run to power got the seal of approval from liberal hero and all-round nice guy, Barack Obama.
Nevertheless, this is where there is a political opening. Seeing the flames eating the jungle is thoroughly dispiriting and underlines the ten-a-penny apocalyptic and catastrophist forecasts for the future. It's over there, so what can we do over here? The outrage and anger elicited is simultaneously stymied and amplified by our powerlessness and impotence, but far from a fatal acceptance there is, in fact, plenty to be done. Protests and actions against institutional investors with Brazilian interests in their portfolios can throw a spanner into Bolsonaro's works, and no doubt this is something Extinction Rebellion and environmentalist NGOs are thinking about. More importantly, we're at one of those crossroads moments where the left have a realistic chance of taking power both in the UK and the United States. As green industry and climate justice is central to both programmes, the left is in a position of harnessing this anger not just to put pressure on the culprits but to ride it into office. And if it's serious about holding power, the City and finance capital have to be taken on - and part and parcel of this would be curbing the role "our" capital is playing in the destruction of the Amazon, and forcing the pace of climate change.
In other words, you can have continued degradation and the barbarism of starvation and global heating with capitalism, or a sustainable, better future with socialism. With every day that passes, the way ahead gets ever more stark.
NB Cheers to @AliceAvizandum for providing the title.
Image credit