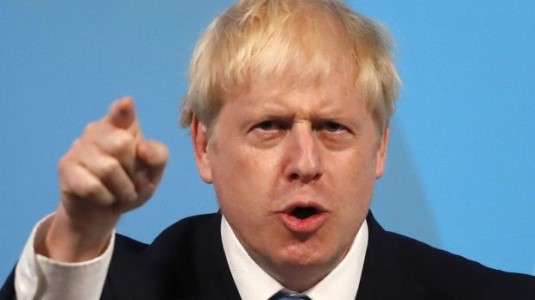 Can Boris Johnson's proposed suspension of parliament be described as a coup? No. But is it a very serious matter? Yes.
Effectively what the government are trying to do is extend the parliamentary recess for conference season. Which has the added bonus of reducing sitting time and the possibility the honourable members will throw a spanner into the Brexit works. Which, at the moment, is looking like we're odds on for the idiocy of a no deal exit.
This is a response to the widely-reported success of Jeremy Corbyn's meeting yesterday with other opposition parties. After a summer of posturing, bad faith demands, and mind-boggling weirdness, everyone involved came round to a common position of looking at legislative means of preventing a no deal Brexit. Readers will recall from the indicative votes early on in the year that there is a majority in the Commons against no deal, but not for any other flavour of Brexit. However, the two proposals that came the nearest to succeeding, which were permutations of a deal keeping the UK in a customs union with the EU, only fell because the remain ultras of what was then Change UK voted against, Vince Cable and Tim Farron were absent doing other things, and the usual Labour suspects rebelled. This time with all the parties on board the danger is for Johnson and his schemes that they will succeed and his hands would be tied. He knows full well, given how he's painted himself into a corner, extending Article 50 and not leaving the EU on 31st October is curtains for him and curtains for the Tories.
Hence reducing the amount of time the Commons can sit chokes off this possibility. As Tory "rebel" Dominic Grieve observes, this makes a vote of no confidence in Johnson more likely. Indeed it does, but he's chill with the prospect. Again, after a summer of wrangling and the public display of Corbynphobia from recalcitrant Tory MPs and all the opposition parties save the SNP Johnson thinks he has more chance of surviving this than seeing off legislative assaults on Brexit. And he has a point. A no confidence multiplies the chances of a general election, and the likes of the various independents and pro-EU Tories aren't about to vote themselves out of existence.
This is the game Johnson is playing. It's not without risks. Again, it is not a coup and is well within the bounds of constitutionalism, but it does smack of desperation and shows the government is spooked by its opponents. He's provided a rallying point for all the forces arrayed against him. As Stephen Bush notes though, by putting all his opponents in one place he can go for an election in which his Tories are the voice of the people vs elite MPs riding roughshod all over the referendum's democratic will. And with no Brexit Party breathing down his neck, as per Nigel Farage's comments yesterday, if the opposition is divided he can win big. That is, assuming, Labour and the SNP support his attempts to call an election. In all other circumstances, they would, but at this hour and in a situation in which Johnson appears to be going for one from a position with every advantage? Who can say.
Hold on to your hats. Politics is getting interesting again.
Image credit