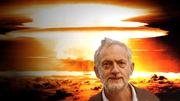 Writing last October, I argued that a chunk of the so-called People's Vote campaign were motivated less by the case for a second referendum and reversing Brexit and more about driving a wedge between Jeremy Corbyn and the (mostly) pro-EU base of Corbynism. And this argument has been conclusively proven over the last few days. Not only have the Liberal Democrats so thoroughly exposed their opportunism and posturing to their newly-won layer of voters, so Chuka Umunna and his former ex-Labour colleagues grouped in whatever the two sides of Change UK are calling themselves today have also shown their opposition to Brexit is subordinate to their (failed) factional aim of deposing Corbyn. Pathetic.
What's the root of this? After all, think about it for a moment. In his open letter to other parties, independents, and "rebel" Tories, Jeremy Corbyn proposed a temporary caretaker government. This wouldn't implement any Labour policy, and be limited to requesting an extension to Article 50 (which the PM can do without a Commons vote) and organising a general election. What. Then. Is. The. Problem? Dismissing idiot suggestions Corbyn's sojourn in Downing Street would end in the Russians parading down The Mall, and the violent overthrow of the capitalist class, their reasons for preferring a no deal Brexit are as self-interested and tawdry as you'd expect.
First off, there is normalisation. As Chris Dillow suggests, having Corbyn in position automatically makes him Prime Ministerial. The great taboo is broken and as the sky won't fall in, his stature grows. It gets people used to the idea of Corbz in the top job, even if he's there for a few weeks and sticks by his word, and that is a weapon Labour must never be allowed to wield.
Again, why? Looking at Labour's 2017 manifesto, while it was a welcome departure from the programmes of preceding decades it didn't portend the liquidation of private property. Nevertheless, it marked a change in political climate by offering a strategy aimed at rebalancing capitalism. Forget the nonsense Osborne used to trot out about public/private, London/the regions, manufacturing/finance, the only balance that truly matters is between labour and capital. If implemented the whip hand employers have enjoyed over employees would be reversed. The looting of public property stopped. The subordination of all to market logics ended. Add to this the Corbynist programme of renationalising the utilities and the rail on the basis of mass participation, and you can grasp the horror this presents capital and its satraps. In order to save and rejuvenate British capitalism, not only is making inroads to prevailing class relations necessary, Labour's institutional blueprint presents a launch pad for the further erosion of bourgeois class power. You don't get to be the longest lived capitalist class in the world without instinctively having a feel for existential threats, even if you can't articulate it in anything but the crudest, red-baiting, Cold War-nostalgic terms.
How is this sense of threat sublimated through the rest of the mainstream body politic? For the Tories, it's obvious. It's a direct attack on their interests (literally so, seeing as most of the parliamentary party have business and rentier interests of their own) and creates a political economy they'd have a hard time adapting to. Hence the likes of Dominic Grieve and Oliver Letwin saying no to a caretaker government. A pro-EU Tory is still a Tory, after all. But others? Considering the sole service Gordon Brown's photocopier rendered to the labour movement is his summation of centrist/liberal thought it's hard to see where these enthusiasts for cutting social security and privatising public assets would have in a world after Corbyn. Because their careers were handed to them on a plate, they lack the wherewithal and the will to make a political argument and organise accordingly - as the muppet show of Change UK attested. To save their wretched niche in the political ecology, opposition to Corbynism comes first, even if it means a no deal Brexit. Saving their own skin and "ideology-free" ideology is a reactionary medium that serves as well as any type of Toryism.
It was always going to be like this. For the bulk of centrism and liberalism, class interests trump all other considerations. It's their narrow, minority concerns determining their Corbynphobia. A no deal Brexit would be a catastrophe for British capitalism and an international humiliation greater than even the Suez crisis, but is a price these frauds are happy to pay because, well, you're going to pay it. To the contrary the Corbynist programme would transform the country and lift the living standards and life chances of millions of people, but it would be at the expense of the Tories and their centrist mini-mes giving up their overweening power and influence. We can't very well have that, can we?
Image Credit