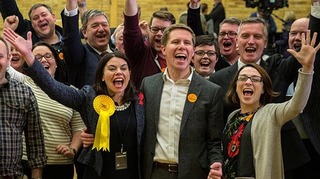 Late to the comment party, but whatevs. Zac Goldsmith thoroughly deserved to have his arse handed to him, even if it depended on the Liberal Democrats to get it done. His "
independent challenge
" to the Conservatives was successfully undermined by his own stupidity. Having the local association back him, making sure the Tory party proper didn't field a candidate, getting all his mates from the Commons to come down and campaign for him and then, the
piece de resistance
, not ruling out rejoining the Tories, the fool didn't so much as get found out as paraded his cynicism.
The by-election raises lots of questions for labour movement, not least so-called "tribalism" and the feasibility (as well as desirability) of a progressive alliance between centre left opponents of the Tories - which would encompass Labour, the LibDems, Greens, SNP, and Plaid Cymru. But we'll leave that for another time seeing as it won't be going away. There are three take homes from yesterday's results, and they are:
1. No early general election, and by early I mean one next year. What happened on Thursday can only reinforce Theresa May's
snail-slow cautiousness
. Going early while tempers are fraying over Brexit and with the initiative lying with her opponents appears foolish. Yes, there were special circumstances in Richmond thanks to being one of the country's most pro-Remain constituencies and having a history of substantial LibDem support before Goldsmith took it in 2010, but there was also
the huge swing in Witney
towards the yellows. And there's LibDem momentum in local by-elections, which also saw them take another council seat off the Tories on Thursday night. If I was looking for excuses to tarry, the idea of the LibDems taking back a good chunk of the seats they lost to the Tories last year cannot be ruled out. And with them goes the majority. May would not stake her future on scooping up more seats from Labour by way of compensation.
2. Sarah Olney's victory definitely breaks UKIP's hold on the protest-party-of-choice franchise. After the last "normal" by-election in Corby, UKIP have consistently come second (or first in the cases of Douglas Carswell and Mark Reckless). Witney broke the pattern, and Richmond rubs it in. Not unreasonably, one might assume these are not natural UKIP territory, but neither was Eastleigh where Diane James
put the frighteners on the LibDems
. What's more, UKIP here stood aside and endorsed Goldsmith. This move that had no discernible impact on the outcome whatsoever, and exactly what you would expect to happen if their vote share was in decline, which it is. Kippers can shrug it off with their claims to be
targeting Labour seats
but having tried it for years, it remains a case of so far, so patchy.
3. More serious are the issues for Labour. It would be ridiculous to blame Jeremy Corbyn for Labour's lost deposit and vote that came in under the local constituency party membership. Even Tony Blair could only muster 12.6% of the vote in 1997. But it points to a danger as well. Labour have to perform a tricky balancing act. Two thirds of Labour voters may voted Remain back in June, but also two thirds of constituencies held by Labour MPs voted Leave. We cannot be seen to be going around appearing to thwart the public's verdict in the same way the LibDems can, but nor should we try and steal the Prime Minister's rhetoric about making everything a success. Labour must stake out its own Brexit scepticism that explicitly states to our core support that the party wants a deal that protects working class interests, and will scrutinise, criticise, and publicise its own positions to this end. A deal that seeks to foist the
costs of Brexit
onto our people is not acceptable, and we should clearly say so instead of shilly shallying about. Keir Stamer's 170 questions was a useful stunt and a good start, but we need to convert that from the discourse of the wonks into the language of the people. If we don't, the LibDems will move to monopolise this territory and reap the benefits, with potentially disastrous consequences for us.