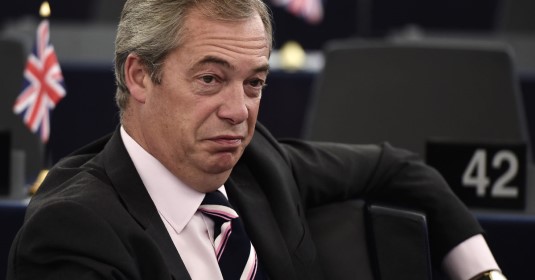 It doesn't matter how Farage spins it, defeat for his Brexit Party in the Peterborough by-election is an unexpected setback for his vanity project. In many ways, he couldn't have asked for a better by-election scenario. It came a fortnight after EU elections in which Farage did very well, cleaning up in those elections in, um, Peterborough, too. It's also a seat where 60% of the voting public supported Leave, and all this took place in a context where Brexit overdetermines all things political. Throw in the supposition the main parties are in disarray, how the former Labour incumbent Fiona Onasanya, was turfed out in disgrace for doing bird, and the revelation Lisa Forbes liked some dodge Facebook posts five years ago, this was Farage's show to lose.
And lose he did. Media domination and hype wasn't enough to get the Brexit Party over the line. They did well, certainly, but second place counts for nothing. Don't buy this "we didn't exist eight weeks ago" excuse. This is UKIP 2.0, feeding off its record and the media personality of its best known figure. Not to have brought home the goods with the best set of circumstances an insurgent party could hope for is bad news and shows up the limitations of thes project. As Stephen Bush notes, Brexit Party "insiders" have resorted to UKIP type by blaming postal votes and heavily insinuating there was something improper about "ethnic votes". By all means, Farage can go down the dog whistle path if he wants but that only throws off potential supporters and makes his outfit less able to pose as the voice for all leave voters. Remember, this project has drawn some (ostensible) left wing votes to it, which aren't likely to stick around if the Brexit Party replays past dalliances with Islamophobia and anti-immigrant scapegoating.
The second problem Farage has is the party itself. Deciding to incorporate the Brexit Party as a company in which there are no members, only a mailing list but ensuring, of course, a place the gullible can send their cash spares Farage from the nightmare of the UKIP NEC meetings or having to tolerate idiots banging on about gay donkeys and necrophilia. But the price of no independent party organisation effectively means no campaign machine. Speaking to comrades who went to Peterborough, the Labour bulldozer came to town, but the Brexit Party itself? It sounded just like the UKIP by-election farce in Stoke Central, but on an even lower level. Haphazard leafleting, little to no canvassing, no identification of supporters. We've already seen one intentionally elitist outfit bite the dust. Clearly, Farage's outfit is not about to fold but for as long as he persists with this top-down cadre model of organisation, the "party" will have little to zero efficacy as an outfit that can help at election time.
Can we discern anything else? The same flattening of the vote we saw in Newport and in local by-elections was very much evident, and we also see that when other issues come in to play Brexit - whether leave or remain - isn't a magic bullet automatically pushing all else aside. Peterborough then reminds one of all the by-elections after Eastleigh in March 2013 and the general election two years later. Regardless of incumbency, UKIP swooped in and took second place. Then, as now, media hype played its role. The persona of Farage as a repository of hope, nostalgia, and empire-tinged Brexit fantasies saw UKIP develop into a catch-all protest party, which was the position occupied by the Liberal Democrats until vacated by them when they went and carried the bags - and the can - for the Tories in coalition. The defection of Douglas Carswell and Mark Reckless saw them resign their seats and re-win them as UKIP MPs, albeit somewhat estranged in the case of the first. Peterborough could suggest a return to this pattern then. What is also brought into play is what was the counter-insurgent anti-UKIP vote, that is a layer of voters who voted tactically to keep the kippers out. If that happened then, and I did speak to some of these people during the Stoke Central campaign, including regular Tory voters(!), it can happen again.
Or perhaps the Brexit Party cannot be the catch-all protest party. The LibDems are no longer stymied by government, and are buoyed after benefiting from some serious vote lending at Labour's expense a couple of weeks ago. It's difficult to believe the Brexit Party would be much in contention if another by-election was to crop up in a Labour-held remain-voting seat. The LibDems on the other hand, who improved their vote in Peterborough but were stuck at the status of also-rans should do better were the seat's circumstances different. And, unlike Farage's mob who are largely passive, the LibDems are no slouches when it comes to campaigning.
Speculation, smeculation. There is an insurgent reactionary project in the land, and Labour gave it a bloody nose. It shows the Brexit Party is not unstoppable, it is hampered by deep flaws of Farage's own making and they're not ones he's inclined to fix. It also shows Labour doesn't have to go hard remain to mobilise sufficient support, and that stressing our regular strengths can smother the Brexit Party, and by extension the LibDems, where they haven't got any answers. Peterborough then is by no means a decisive election, but it demonstrates there is hope. Politics is not inevitably flowing to the right. We can stand against the stream, and we can win.