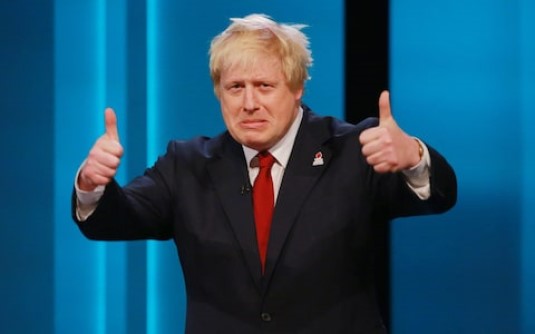 Assuming the Boris Johnson bandwagon is unstoppable, and his numerous equivocations, evasions, and downright lies, how are we supposed to get a handles on his intentions if his utterances cannot be trusted? Getting some Kremlinology in, Paul Goodman over at Conservative Home speculates that if Boris Johnson's cabinet is filled with no deal Brexiteers, then he means to keep his promise about leaving on 31st October. He goes further and argues Johnson's choices must be with an eye to fighting an early general election on a no deal manifesto if the government continues to face deadlock or no confidence. This requires "ruthlessness" and quick movement, apparently, but how likely are we going to see a general election before Brexit?
No doubt some in the Johnson camp, as well as a few Tories, were buoyed by recent polling suggesting Johnson would take the Tories to an overall majority and completely nullify the Brexit Party threat. However, Tory MPs have reason to be wary. They learned much to their chagrin that polls are snapshots, not predictions and perhaps they need treating with a pinch of salt when politics are this turbulent. Therefore all eyes are going to be on the upcoming Brecon and Radnorshire by-election. Nominally a safe Tory seat with a majority over 8,000, even in normal times by-elections can produce the most incredible upsets. Perhaps the last was George Galloway's coming from nowhere and taking Bradford West with a 10,000 majority back in 2012. Since then, by-elections have proven relatively straightforward, with all four contests of this parliament going to the sitting party - so far. Yet events, dear boy, events. The former incumbent Chris Davies has indicated a willingness to stand for re-election, and apparently has top level backing to run as the Conservative candidate. Unfortunately the recall trigger - filling out a false expense claim - is hardly likely to endear him to his constituents. This alone is an anti-politics issue par excellence, and a Brexit Party in need of momentum has said it will stand - even though the chance of taking it is low, if we go by the leave/remain result for the seat (52/48, the golden ratio). The possibility of the 2017 runner up and previous incumbents, the Liberal Democrats, coming through the middle as BXP cannibalises the Tory vote looks very probable.
Nevertheless, while the Tories would like to keep the seat and would be hoping for a Boris bounce, a loss can easily be explained away due to local factors. But how it would impact on calculations for an early general election depends on the size of the Tory and BXP vote combined, versus its opponents. If the LibDems take the seat on the basis of their appearing to take votes from Labour (currently third in the seat), and the losses the Tories suffer map roughly on to BXP gains, the temptation is to interpret the result as continuous with the EU elections result. Therefore Boris Johnson's own punt at rebuilding the voter coalition that powered Theresa May to 42% of the vote appears to be a go-er: rump Tories plus BXP vs an opposition divided among Labour, a resurgent LibDems, the growing Greens, and the Welsh and Scottish nationalist parties. As a paper exercise, it does have legs.
Therefore the decision about a no deal election would likely proceed in short order depending on the outcome of the by-election. However, while the decision might be taken implementing it is far from straight forward. There are Tory MPs who find the prospect of going to the country harrowing, given what happened last time. There are Labour MPs who, uncertain the NEC would mandate automatic reselection again and fearing strong challenges from the Brexit Party and LibDems, aren't about to vote for their demise. Across the Commons there will be politicians who would treat no deal as the central plank of the Tory party's manifesto highly irresponsible and a risk too far. Johnson certainly would not find an easy passage to a general election under these circumstances, unless he moved early to repeal the Fixed Term Parliaments Act. And then there are the unknowns. A by-election is one thing, but a general election necessarily ushers in other issues. It's easy to ignore the state of the hospitals, the pertinence of climate change, and how life is harder for millions in 2019 than it was in 2010 when an election is just about Brexit, but not when it's about who should govern.
A general election then is difficult to produce, even if Johnson wants one. Unlikely, but not impossible. And if the last four years have taught us anything we'd better be prepared for it. Just in case.