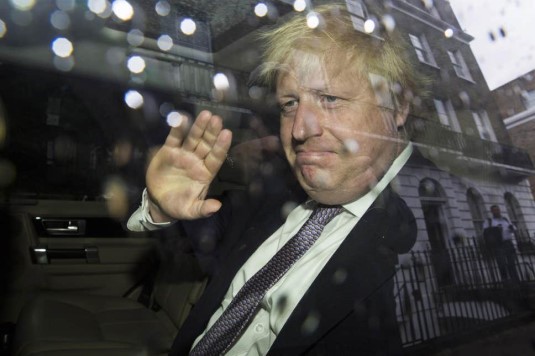 Mark Field must think he's the luckiest man in British politics at the moment. His forcible ejection of/assault on Greenpeace activist Janet Baker made it look like it was curtains for his ministerial career and, by association, embarrass the Jeremy Hunt campaign with which he's closely involved. Then the fates threw a 500-pound dead lion onto the table. The press are wall-to-wall with the news that police were called to Boris Johnson's residence in the early hours of Friday morning following a row, of which the Graun claims to have a recording. Ouch. This will no doubt work its way into the public domain in due course, but we don't really need to hear it. The commentary provided by a concerned neighbour reinforces the impression of Johnson as pampered, thoughtless, and selfish. Exactly the kind of qualities one should avoid in a Prime Minister, and a headache Johnson could have done without as he faces his first hustings in front of the Tory party membership. Which is why he avoided answering questions on this completely.
While this also keeps the unfortunate news that the Tories are facing a by-election in Brecon and Radnorshire following the unseating of Chris Davies for a false expenses claim from troubling the popular consciousness, it hasn't been a kind 24 hours for the Conservative Party. The key question though is does any of it matter? Well, yes, of course it does. If you are a domestic abuse survivor, if the coarsening of public life appalls you, if you are sickened by how our so-called betters get away with awful behaviour while the rest of us are held to much higher standards, if you are angry about how this shit is normalised and trivialised, it matters a damn deal. But is any of it going to change minds about the party and, crucially, shift members' votes away from Johnson?
I very much doubt it.
There are a few of his supporters who look fondly back at how Have I Got News For You launched his career as a post-irony banter politician, but that was 15 years ago. Still, we shouldn't be surprised many Conservatives prefer to dwell in the past. Nevertheless, some find his trying act entertaining and genuinely thinks it connects with people. Their problem is that thanks to his antics in more recent years, you're just as likely to find as many abhor him as adore him. However, Johnson's getting away with it is more than just media coverage being favourable (seriously, would you call this morning's reporting positive for his campaign?). As we've recently noted the relationship a large chunk of members have with the Tory party is entirely instrumental. You see something similar with Trump in the US. Despite behaviour that should have America's waning fundamentalist Christianity community clutching their pearls in horror, they duly trooped to the polling stations and back for him in the belief he'll hasten the coming of the lord or some such quasi-theological nonsense. The same is true of a Johnson-led Tory party and Brexit. Indeed, a chunk of those backers are resigned to the view his no deal rhetoric is just that and a betrayal is coming, but at present he's their best bet.
As such, whatever character defects Johnson has is irrelevant. And for the same reason, revelations about Nigel Farage's commercial activities, dealings with Russians or whatever, and everything else thrown at him bounces off because, in a political sense, both are tools. They are means to particular ends. Johnson's many faults are priced in to the Tory imaginary. The yellowing grassroots think they're getting a step closer to their Brexit fantasy, and those around him get the positions they desire while Johnson indulges the thing that matters the most: himself. As such it's very difficult to see what could possibly stop Johnson from getting in to Number 10, short of him withdrawing from the contest.