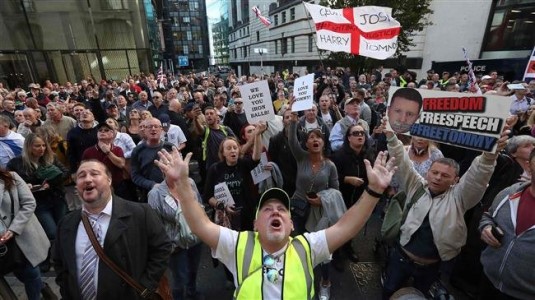 I thought the morning had a darker aspect about it than usual, and lo it turned out Theresa May was in town. No walkabout down Stoke's pearly avenues, it was Wades Ceramics that was the entirety of her itinerary. And her purpose was to push her Brexit deal in what has variously been dubbed the capital of Brexit, and she laboured her point. Either her vote passes tomorrow evening, or we face a no deal Brexit or no Brexit at all. Well, if the UK's membership of the European Union was a technical matter I'd be a-okay with that. But it isn't. Brexit cannot be wished away, and the clock cannot be dialled back to 23rd June, 2016. Still, the idea that Brexit might not happen or, to be more precise, the consequences of it not happening is interesting, because it has the potential of becoming a very serious political crisis.
It suits Theresa May and her lackeys, like the doomed incompetent Chris Grayling, to talk up no Brexit in blood curdling terms because, well, scaremongering is the Tory thing to do. And they don't have any politics left beyond trite soundbites to defend their position anyway. Still, one shouldn't too readily dismiss some of the concerns they raise simply because they raised them. To be sure, casting aside a democratic decision is a serious, if not foolhardy business, even if the argument for doing so is couched in the sophism of more democracy, in the form of another referendum.
Let's set Grayling's observation that thwarting Brexit could prove a spur for the far right in more credible terms. The foundation of our febrile politics is a malaise, and this used to get the establishment hand wringing a decade ago. Long-time readers will remember the moral panic every time the BNP got themselves a councillor, and the applause a succession of New Labour politicians would bask in from sundry editorials as they stated "unthinkable" thoughts about refugees, and talked up the tough treatment of immigrants. Yet no matter how far right leading politicians were prepared to go, they only sanctified and legitimated the BNP's xenophobic bile. A bit of liberal do-gooding here and there about how nasty the BNP were was more than drowned out by the racist sentiments articulated by the press and mainstream Labour. What we now call and is openly described as a 'hostile environment' was the fertile soil that nourished the BNP and, to a similar extent, UKIP, and this culminated in the BNP returning two Members of the European Parliament in 2009.
Success ultimately did for the BNP, they couldn't keep it together. And political fortunes turned against them shortly after Nick Griffin's infamous Question Time appearance. The Tories were looking dead certs to win the 2010 general election, and as Labour collapsed into Brownite decline and recrimination the populist sheen rubbed off the BNP. In Stoke, once described as the jewel in the BNP's crown by Griffin, at the 2010 local elections half of their councillors were lost and come 2011 they were wiped from the council chamber completely. Entirely welcome, but the same deep alienation from official politics didn't go anywhere. With the BNP a busted flush across the country, the anti-politics slack was picked up by UKIP, especially after 2013. Nigel Farage himself spoke about how the party was doing politics a favour by picking up former BNP voters and effectively domesticating them. Yes, but it was enough to put the frighteners on the Tories. In 2014 UKIP won the largest plurality of votes in the European elections and sent to Brussels the largest contingent of MEPs, and in 2015 they polled well over four million votes. At every step of the way, like his predecessors in government, Dave did not take on the xenophobic right: he cleaved to them. And we all live with the consequences of this now.
The problem is there is a mass base for reactionary politics as cultivated by previous generations of politicians and nurtured by a press at the peak of its influence. Cowards and liars have rode it to prominence, and others have tried compromising with it - seldom has it been challenged. The question then for anyone interested in progressive politics is to directly confront and win over its more amenable fringes, while demobilising and politically dispersing the rest. Well over a decade of appeasement has caused the present damage, given us Brexit, caused a surge in hate crime, and seen regular but small mobilisations of the far right. By accepting Brexit but marrying it to a popular programme of the new class politics, Labour was largely able to see off the reactionary bloc in its heartland seats in 2017 while a lot of that vote transferred to the Tories as custodians of Brexit. If then the Tories are seen to be responsible for thwarting it, that poses a big problem for their voter coalition - and an opportunity for the far right.
Unfortunately, many of the people who poured scorn on Grayling's warning at the weekend are the sorts who've spent the last two-and-a-half years telling everyone who'll listen that Leave voters were thick and racist, that the referendum should be rerun/pulled because it was "advisory", and they were manipulated by Russians. In other words, exactly the sorts of people least capable of understanding how reactionary politics can have mass appeal, and therefore the most clueless when it comes to taking it on. It might only be social media knockabout, but remainy/centrist rhetoric aligns with everything the far right have previously said about the liberal establishment, and could prove a boon to mobilising reactionary support in the context of a second referendum or Brexit's cancellation.
There are a couple of other things worth thinking about. Building reactionary support might not trouble the electoral calculus of the main parties. It's hard to see how even UKIP can make a comeback without its best known figures attached to the project. But the price would be paid in even more hate crime, more far right mobilisations, more Tommy Robinson, and other awful political pathologies. Other forms of political violence can't be ruled out either. We saw how Brexit's toxic rhetoric culminated in a fascist murdering Jo Cox, and it could quite easily happen again. Now, none of this is about giving an imaginary far right a veto on how we go about politics now, as some of the self-same clueless centrists put it over the weekend, but it is about recognising that political actions have political consequences. If you are seen to trample on a democratic decision you don't like, don't act all surprised if you end up stirring anti-democratic political forces. If you strike an elitist pose, don't be shocked if right-wing populism finds itself a big audience again. Because in Stoke-on-Trent and many other places like it, the BNP and UKIP may have been and gone but the slab of reaction is there, latent, abiding, and ready to mobilise if it is antagonised and enabled.