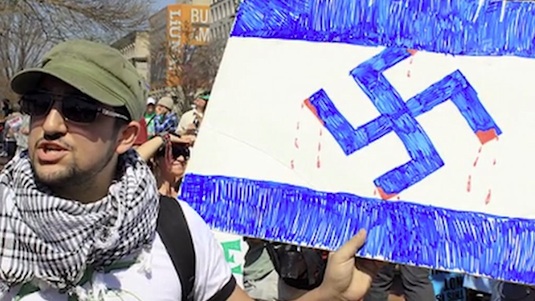 I hate having to write about Anti-semitism and the Labour Party. Because, first of all, it shouldn't be an issue, but it is. And second, the responses encountered online to my last piece on this was nothing less than astonishing. Being told there was no anti-semitism problem in the party because incidences are no greater than found in the rest of society(!) was one response. Being told there was definitely no issue by another with a history of forwarding far right material also served as a sobering experience.
I therefore fundamentally agree with Coatesy about political confusionism and idiot anti-imperialism. There are people who are rightly opposed to Israel's colonialist project in the West Bank, the criminal terror rained down on the Gaza Strip and the shitty discrimination suffered by Palestinians, whether they are Israeli citizens or not. I can understand why some might conclude Israel should be opposed and replaced by a secular, multi-national state. Not because "it's the Jews", but because of its character as a warmongering and institutionally racist state resting on stolen land. The problem arises when opposition to all this bleeds over into the tropes beloved of anti-semites and conspiracy theorising.
As noted previously, there are three varieties of "left" anti-semitism. There is the naive kind, where the line between anti-Zionism and anti-semitism is blurred, and where inappropriate and offensive remarks about Nazis and the Holocaust are made. Yet there is a point at which this ceases as an explanation and becomes an excuse and a cop out, and that is when it carries on despite ample discussion and critique. This is of the hardened kind and entails a doubling down on what is objectionable. Here you see common or garden leftism mixed up with obsessions with "Zionism", of conspiracy theory, Rothschild and Goldman Sachs, of Mossad being behind every Islamist terrorist outrage, and the usage of what would have been anti-semitic imagery and tropes were one to substitute 'Zionist' with 'Jew'. This is beyond carelessness and accident: it is outright anti-semitism. And lastly, we have the cynical variety. These are your social media sock puppets that troll with conspiracy theories and use the language of anti-semitism while posing as Jeremy Corbyn supporters with the express purpose of smearing and discrediting Corbynism, or using it to find a wider audience for their anti-Jewish bilge.
For my liking, too much of the left and the self-styled anti-imperialist movement are located on a spectrum between the first and the second kinds. Because the supporters of Israel a-okay with its crimes frequently and repeatedly turn to accusations of anti-semitism as a means of attacking their opponents, surely that would mean Israel's critics are scrupulously anti-anti-semitic. And yet, time after time, we find ourselves having to go back to this issue - the case of Miko Peled arguing for free speech for Holocaust denialists at a Labour fringe event is demonstrative of the problem.
If "comrades" from this section of the party (and we are talking a small subset of activists happy to carry on regardless of the damage done to the wider movement) aren't going to sort themselves out then the rules voted through by conference to sort out anti-semitism are, regrettably, entirely necessary.