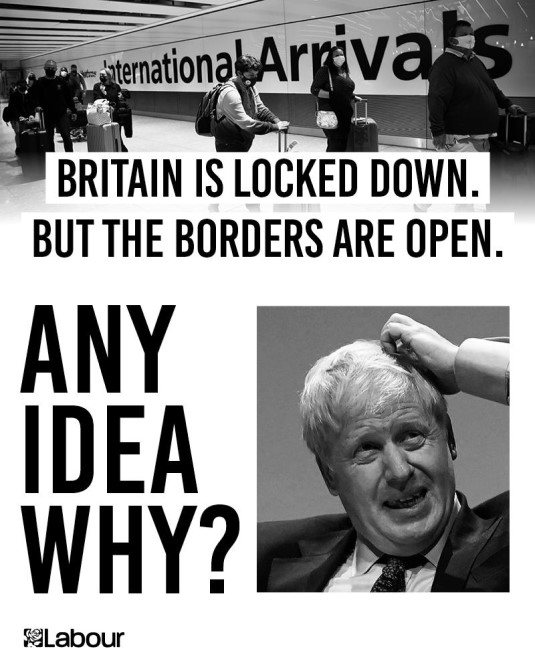 Labour has spent good money to tout this image around Facebook, especially to users living in the so-called red wall seats lost to the Tories. Just the tonic if you think people living in places like my very own Stoke-on-Trent have stopped supporting Labour because the party isn't racist enough/too liberal/lacks patriotism. It's straightforward pandering, is it not?
Yes, but because this is Labour the party can't openly accommodate reactionary positions without festooning it in progressive garb or swathe it with some other alibi. And this is what has happened in this case.
Readers know frustration with Keir Starmer's leadership is out of the bottle. Lefty grumblers like me are one thing, but
disquiet among establishment supporters
is quite another. Rumours and promises have abounded for a while that we're going to see the Labour leader do some policy and strike out some political ground for himself. This evening's defeat of the government over
fammable cladding
could be seen in this light. Though by "defeated", I mean to say the Tories didn't bother turning up.
More broadly, concerning politics or rather
the necropolitics
of the moment, Keir Starmer's biggest mistake (delete or underline the most appropriate) is his failure to contest the Tory framing of the Coronavirus crisis. Whether it's trying to appear more gung-ho for schools opening (
bugger what the teachers thought
), or confining criticisms to "incompetence" or process issues, this will come and bite Labour in the backside. And no, if the actual deaths of 100,000 people
isn't fatal for the Tories
, an independent inquiry a year ot two down the line won't either.
Where the Labour leader has been careful is giving his criticisms plenty of cover. Labour came out for the second lockdown only after SAGE recommended it. Labour only supported the holiday hunger campaign once Marcus Rashford led public opinion against the Tories. And same with the third lockdown too (though, notably,
not
on schools). Keir is keen to avoid a wedge issue lest he be accused of politicising the crisis or scoring points. Not that this bothers Boris Johnson, who is happy to hurl his usual lies back across the despatch box every Wednesday and pointedly accuse him of doing just that. Nor, it seems, the punters who participate in Labour's focus groups. Any criticisms, according to whispers making their way to
Andrew Rawnsley's ears
are "not fair." Apparently, according to an unnamed frontbencher "the more we attack the government, the more people don't like it." If Keir is allowing himself to be cowed because a little bit of politics is deemed too political, we now know why a third of people asked about his performance as opposition leader are unable to answer the question.
This brings us to the borders issue. Criticising the government for a major omission in its Covid strategy is a departure for Labour, and would otherwise be risky. Yet going all in on borders is probably the least wedgey of potential wedge issues Keir Starmer could, theoretically, have the Tories on. For the last fortnight, Keir has harried Johnson on control over the borders. He
made hay
with Priti Patel's admission she wanted to close them last March, but was overruled. This came a week after denouncing border checks "
a mess
", and finally
forcing a vote in the Commons
on this. Once news came down the pipe that Johnson was instructing Tories to abstain, the LOTO Zoom call must have hooted with glee. For here we have a sensible Covid public health demand - border checks and isolation for travellers - that can, nudge, nudge, wink, wink, double up as Blue Labour fortress Britain bollocks. To top it off, the Tories choose to refuse a public opportunity to play to their strengths.
How do we know this is about flag waving opportunism and not a regrettable but serious measure to fight Covid? Precisely because it's the most politically advantageous and low cost critique the party could have mounted. As Lewis Basset
rightly notes
, if Labour were contesting government strategy in other areas fair enough. But as Keir Starmer isn't ... well, the Facebook ads and who they're aimed at speak for themselves.
Here then is the Labour Party in early 2021. It refuses to back the interests of its coalition of voters, is terrified of its own shadow and now its critique of the Tories is determined not by public health, but scoring socially conservative "values" points that won't do anything to shift the polls. What a distance travelled in so short a space of time.