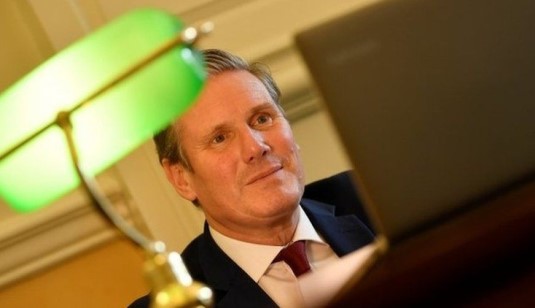 Last week was hardly a disastrous week for Keir Starmer as some headlines pretended. Mildly awkward is a more accurate summation of events. Reinstating 50 suspended members? Having his
plastic patriotism
highlighted? An affectation of standing up to Boris Johnson's lies and forced to apologise when, for once, it turned out the Prime Minister uttered a rare truth? If this is as bad a week he can look forward to, I'm sure the Labour leader can live with more of them. But there was something of interest among our tempestuous teacups. And these are the doubts. As observed here
two weeks ago
, the jitters were abroad among the parliamentary party and the centrist commentariat, and so Keir's "worst week" was really their frustrations coming out into the open.
Does he have much to worry about? Not on this occasion, but the panicky response by the leadership has been noted. To stave off the doubters on the right, he immediately talked up how pro-business Labour was and in the cretinous traditions Keir
happily affirmed
back in October, ordered the Labour Lords not to block the Spycops Bill.
Only 18 defied him
. And there was a Zoom call with shadow cabinet members this afternoon that affirmed his "vision". So much for facing outwards. Yet the greatest take home for those quietly grinding the knives for when the time arrives was the absence of the left. While much smaller pre-2015 and having their own criticisms, the Labour left stood up for Ed Miliband when attacks appeared and rumours of ham-fisted shenanigans abounded. And this was, somewhat remarkably, the case when Gordon Brown was in the firing line from a succession of clown car Blairites. But not this time, and this shows Keir has less of a hinterland who might rally to his defence when similar difficulties crowd around him.
Looking ahead to the inevitable revolt on the right, is there a way Keir might bring the left back into his big tent to defend him? Well, whatever happens certainly not all. The ship has sailed for many comrades and they're either out of the party, or implaccably opposed to his
ruthless
but blundering internal management. Some might be up for working collaborative for nothing in return, but without enthusiasm for the leader and mainly to get shot of the Tories. If Keir wants to cultivate some support on the left, and he should if he wants his leadership to survive (and avoid left voters
going elsewhere
), then he needs to start acting like he wants them on board.
The first thing preventing this is the semi-expulsion of Jeremy Corbyn. When this comes to court, Jeremy's action has, on the balance of probabilities, got a better chance of succeeding than not. Before then his suspension from the PLP is due to expire. In fact, it is set to be reviewed around the 19th of this month. If Keir has any sense he'd let it go and readmit him. This would remove a major bone of contention not just for some on the left, but among his own support who came to Labour after 2015 and went for Keir on Corbyn-lite grounds. The question is whether he values an episodic nice piece in the
Telegraph
and the
Mail
more than stitching back together the coalition he's busily disassembled.
Second, with the quiet reinstatement of 50 suspended CLP officers who defied the diktats of our unelected general secretary, there is an opportunity to turn over a new leaf. He could spend time focusing on the complaints process and finally introducing the rule of law into the party's structures, and seek to improve members' democracy instead of
wasting money on consultants
who, by all accounts, know nothing about political parties. Keir won't do this because his project is
entirely top-down
. The little people are there to push leaflets, not have thoughts or expect a say. The ball, however, is in his court. This is his choice. If he wants to carry on haemmhoraging members and their capacity to mobilise voters, then he should carry on harrying the left. It's his career to destroy.
Third is opposition, and here Keir is floundering. Focus groups are bunk and should be taken with a pinch of salt, but even if the information gleaned is true, that people don't like criticism of the government and politicians shouldn't argue, this must absolutely be ignored. Leadership - something managerial types love fetishising - means changing people's minds. This shouldn't need saying, but if an opposition party isn't contesting how
Boris Johnson
defines the crisis of our times, there's not much hope for thriving in the politics that comes afterwards. Robust opposition means offering an alternative leadership, not quibbling about the details or labouring the incompetence theme.
This
is why Keir's criticisms look like carping and attracts complaints, because
it does
look like nagging. The strategy, as we have seen, is entirely misconceived and is in fact running scared of the politics. Changing tack, talking about deaths, corruption, cronyism, mismanagement, this might actually start directing the helpless anger stalking the land at the people responsible. And it might have the happy consequence of firming up the Labour left and left voter support for Keir Starmer.
Good opposition is worth nothing if it's not allied to a vision of the future. This isn't the same as announcing detailed policy, like some jokers on the Labour right suggest, but about the line of march. Where is Labour going? How might it change things? How will people live better under a Labour government? Just very simple stuff, but what we've seen so far is dismally uninspiring. Flag waving without substance or conviction, no alternative Covid plan, supporting the worst parts of the state. The positive stuff Keir has said, that the party is still against austerity, wants a green industrial revolution, and the scrapping of tuition fees stays is reserved for Facebook live chats no one pays any attention to. We hear hints the Starmerist vision is going to get made in short order during a set piece speech, but given everything we've seen, we can look forward to a thoroughly Fabianised, top-down iteration of the 2017 manifesto. A pale pink and wonky accompaniment to
the emerging Tory programme
. Inspiring to some used to thin Labourist gruel, but the bulk of the left? It would have to retain key planks of the manifesto's radical democratic elements to bring them round.
I don't expect Keir Starmer to do any of these things. In his short time as leader he's shown to be tin-eared, an inept political manager, and not know the first thing about the party he affects to lead. In this he's no different than many Labour MPs, except he's the one in charge calling the shots. He might surprise, strike a conciliatory tone and reach out to the left. He might do some opposition. And yet, while very strange things have happened to politics in recent years, this won't be one of them.
Image Credit