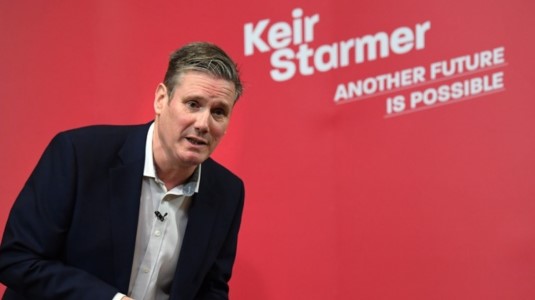 The first poll putting Labour on evens since before Boris Johnson became Tory leader, Keir Starmer will take that as Labour's (online) conference opens this weekend. Hopefully further inroads into their support are imminent, thanks to Tory incompetence and
studied callousness
. How to mark the milestone? The pointy heads at Southside have spent a few weeks beavering away and came up with a slogan. Unfortunately, it's of the "bread, peace, bland" species of sloganeering, sharing the same space with gems like "forward, not back" and "Ambitions for Britain". The party's new strapline, "A New Leadership" is, well, a bit nothing, amirite? Let's try channelling their brainstorming session to tease out what the hell is going on.
The first, evidently, is to punctuate Jeremy Corbyn's tenure and emphasise the difference between Corbynism
and Starmerism
. Considering Keir's off-hand remark at Prime Minister's Questions about Labour being "under new management" back in July upset some, the new slogan has a similar effect but without the immediate connotation of rubbing the left's nose in it. But the vacuity and inclusion of the word 'new' would certainly set Blairist hearts a flutter, of insipid sloganising recalling the memory of better times and saying to them the Starmer project is
their
project. Additionally, as the leadership question was central to four-and-a-half years of bitter factionalising and scorched earth scabbing by the right, it is well known and widely accepted on the left that Jeremy's chief fault was an absence of decisiveness and a preference for consensus. In the conditions of mainstream politics in normal times, let alone a highly charged moment of political polarisation, this was fatal to the party's prospects and put the brakes on making the left's revolution in the Labour Party permanent. Therefore, talking about leadership signals a break from indecision, though
in favour of what
is anybody's guess.
The best slogans and soundbites hit multiple targets at once. In his 2008 Labour conference speech against the backdrop of economic catastrophe, Gordon Brown uttered the words "
this is no time for a novice
". It worked as a sideswipe at Dave's rapid rise without a trace but was a particularly well-timed barb at the blessed David Miliband who was primed by assorted malcontents as a would-be challenger to Brown if the moment arose. Why Labour decided to put out billboards of Dave on a Quattro instead of using this line beats me, but such was the wisdom of the higher ups. "A New Leadership" possesses a similar double meaning. Confronted with the
catastrophic political management
of the crisis, the slogan implies Labour have, if you will, an "oven ready" leadership ready to take over from the discredited, cynical leadership of the Tories. The "new" here resonates in much the same way as it does for Blair's
epigoni
in the party. Not that masses of Blair fans exist out in the real world, but the fact New Labour were capable of being decisive. Blair got criticisms for all kinds of things before and after the Iraq War, but failing to be "prime ministerial" was not one of them. The slogan invites comparison between Johnson now, Labour under Blair, and Keir Starmer's steady-as-she-goes approach. The stress on competence and the
colourless way
of going about politics is a way of playing the personalities game, of opposing serious Starmerism to jibbering Johnsonism.
The use of this slogan is redolent of something else too. It can tick so many boxes because of its blandness, but it also sums up a direction of travel. There is plenty to be gleaned from Keir's
shadow cabinet appointments
and occasional, semi-cryptic statements about economic policy, but in the immediate future, at least for the next 18 months, the ambiguity of what "Starmerism" stands for will be allowed to stand. Ambiguity is here to stay. Long-time readers might recall Ed Miliband went on a policy-free holiday for the first couple of years of his tenure. Likewise, unless political opportunity requires the adoption of an eye-catching, low political cost policy, there is a likelihood of seeing much the same. Since his shopping list of Corbyn-lite leadership pledges, Labour has been a policy-free zone beyond a few weak coronavirus management and getting children back into school demands. You start as you mean to go on, as the old saying goes. The new slogan's emptiness also complements the leadership's non-positioning by not getting in the way of projection. As Johnson's refusal to adopt any policy this time last year apart from Brexit allowed him to pitch successfully to former Labour voters who wanted to see Brexit over the line, Keir's team are banking on his person acting as a blank canvas for discontented Tory voters as well as Labour people and those whose heads are turned by other parties. If they make the emotional investments in his vaunted abilities now, they are less likely to withdraw them later.
Will it work under the present conditions of political polarisation? Possibly, though it's
not without dangers
. If it does stand a chance of success, timing for its abandonment is crucial. Labour certainly won't be going into the next election with "A New Leadership" festooning every shadcab podium. But even more important than timing is what follows next. Are we going to get a Corbynism without Corbyn, which Keir's campaign promised? Or, as is more likely, can we look forward to capitulating on establishment redlines over work, the environment, housing, and health? Let's just say if you're hoping for the pulling of a socialist rabbit from a centrist-looking hat, I can forecast a deal of disappointment in your future.