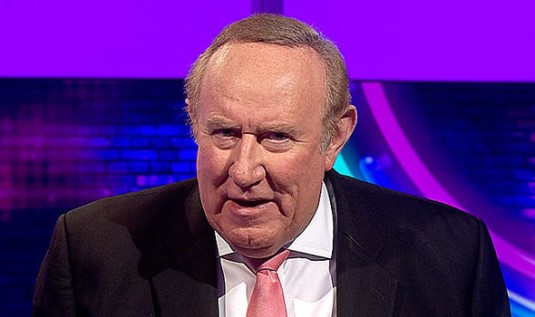 With a "heavy heart",
wrote Andrew Neil
, "I will be leaving the BBC ... As for the future, I'm delighted to announce I have accepted the post of Chairman of GB News, a new news channel to be launched early in the New Year bringing new perspectives to the news." Backed by the US Discovery corporation, the aim is to challenge the BBC, ITV, and Sky in the broadcast news market - leaving many anticipating a British iteration of Fox News. Not as overtly right wing and frothing perhaps, but the "new perspectives" aren't about to feature excluded voices from council estates or left wingers critical of this pathetic government. If the Tory press is anything to go by, those deemed marginalised by "
leftist media bias
" are going to be the Douglas Murrays, Melanie Phillips, Isabel Oakeshotts, and Rod Liddles of this world.
Founding a right wing news channel is interesting because it says a lot about the political ecology of the Conservative Party and its hinterland. One thing we need to remember is, despite its record and institutional political advantages, the Tories are not invulnerable and, if anything, are finely balanced on the precipice of crisis. They have so far weathered the Coronavirus crisis
without sustaining
heavy political damage, but with growing numbers of cases and far larger numbers of people disapproving of their handling this is not a hook they can wriggle off forever. One thing sustaining their healthy vote intention numbers is Brexit, and
doesn't Boris Johnson know it
. The problem is their custodianship of leaving the EU is also time limited. The UK has left and whether there is a deal or not by the end of the year, it goes from an emotive issue wrapped up in national fantasies to a hobbyist pasttime. There might be some mileage over the next year blaming Brussels for picking on little Britain or, as per the politics grapevine, pinning withdrawal agreement chaos on the
EU's
lack of preparedness, but nothing to excite in the same way as 2017 and 2019.
Why is this crucial to the Tories and what has it got to do with GB News? The party's mass base is almost entirely dependent on older people generally and the retired in particular. There are two ontological reasons disposing them toward the Tories. The first is the estrangement from working life and a relative detachment from the social mainstream the fact of retirement entails. The discipline instilled from selling their time for a portion of their week gives way to an individuated freedom from work, albeit a freedom conditioned by the extent of one's pension. Priorities change and the brute compulsion of economic necessity largely disappears, replaced by other priorities and obligations. Yet retirement is potentially precarious. Pensions do not go as far as salaries, and are largely fixed. With limited options to make good income shortfalls, it is a social location prone to anxiety and fear.
The second exacerbates the characteristics of the first. The retired are, disproportionately, property owners. They own their own homes. They're more likely to own more than one home and rent out their "spares", have index-linked pensions, and own a modest quantity of shares. Structurally, there is little separating them from the archetypal small business person. They are their own boss, but are dependent on impersonal forces beyond their control for prosperity or misfortune. This antagonises the general unease underpinning the pensioner position and turns them, politically speaking, into nervous wrecks. These anxieties and fears sublimate into lashing out against things exemplifying uncertainty and change, like young people, the socially liberal trajectory of popular culture, and people traditionally positioned as outside the mainstream and used as scapegoats: sexual minorities, travellers, and immigrants. The flip side of anxiety is a longing for surety, and what provides this better than the smack of firm government? Parties with dynamic leaders who whill "do stuff" while shafting the sublimated stand-ins for one's fears has floated the petit bourgeois boat for over 200 years, and as retirement has ever more approximated this class location so we see a decisive shift to the right expressed along age lines. And it's not just authoritarian leaders presenting themselves in beguiling terms: simplistic ideas cutting out uncertainty while justifying selfishness and self-indulgence, such as the
right wing slant
to face mask panic, a propensity to nostalgia seeking to reassert the cetrainties of an imagined past, and a weakness for nationalism and the monarchy because they represent certitude and continuity in an uncertain, discontinuous time.
Conservative Party politics is deliberately and cynically calibrated to keep this constituency in a state of permanent excitement. Johnson's policy agenda attacks their
bêtes noires
, waves the flag, and shields them from the consequences of his wrecking ball government. And when they're not, the Tories are a proven dab hand at depoliticising issues that should be central to British politics, such as the delapidated state of public services and the slow starvation of the NHS. The problem the Tories have, however, is that Brexit can't do the heavy lifting for much longer and whether banging on about Brussels, demonising liberal elites, and victimising scapegoats will cut the political mustard indefinitely is doubtful. Realities will intrude sooner or later. This is more acute as Keir Starmer is equally consciously nullifying Labour as an antagonistic other by going
completely bland
. However, an even greater threat to the Tories' ability to whipping and jabbing their core constituency to vote the right way is the falling salience of their institutional power. The Tory press, which has done more to gift their party more elections than any amount of campaigning, is in deep trouble and long-term audience decline. Switching to online might save them
as businesses
but not as opinion formers. It's difficult to see readers clicking through to
The Sun
website's political coverage in anywhere near the volumes who
presently
consume editorial content as they casually flick through the print edition. How to meet this looming disaster?
Broadcast journalism. The permanent Tory attack on the BBC is nothing to do with fairness and balance, and everything to do with muzzling it as a potential source of criticism and accountability. The immanent appointment of the silver spooned Charles Moore, Thatcher hagiographer and hard right propagandist as BBC Chair is the logical end point of years of attacks. Likewise appointing former
Daily Mail
editor and notorious racist Paul Dacre to run Ofcom, the broadcasting watchdog, gives the government extra powers over what gets broadcast and what is sanctioned. And, of course, Andrew Neil's GB News, adds more right-wing, Tory-friendly content into the media mix. As the newspapers whither, television grows in importance as a means of cohering the Tory base, feeding them news coverage, programming, and framing the day's talking points in ways advantageous to, well, the Tories. This institutional shift in television might also prove important for reaching beyond the army of Tory retirees as, by its nature, broadcast journalism can manipulate and frame issues in more complex and subtle ways than the printed word.
Here is the Tory game. If Autumn 2019 was about winning power, Autumn 2020 is about keeping it, and the Tories can always be relied on its dogged, single-minded pursuit, even (especially) if it means stamping on liberal niceties and openly playing a most cynical hand. Under the present circumstances of polarised politics, it's not going to cost them support - in fact, they're affecting a pain-free benefit. Even if this does not save Johnson in the long-run, they can help box in and discipline a future Labour government to stick to the rules laid down by Hammond and Sunak, and cohere the Tories in opposition. Keir Starmer's eagerness to
appease the media
now doesn't bode well for a possible future scenario where Labour sets aout dismantling this cosy Tory arrangement. And so, despise the Tories by all means. Feel real venom if you have to. But pay attention to their efforts at rigging politics. If we don't, only then do we deserve to lose.
Image Credit