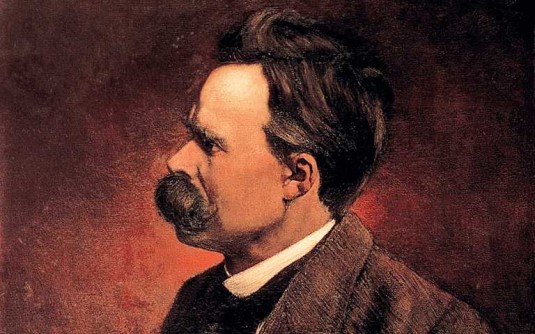 In the summer of 1996, letters were exchanged between a Derbyshire pit village postcode and Weston Super Mare. The contents of this correspondence ranged over weighty matters like the meaning of truth, the Smashing Pumpkins, and whether joining the SWP was ever justified. The scribbler who later spent too much time scribbling was an identifying Marxist ploughing through Lenin's
Selected Works in One Volume
, and dipping into Marx's
Capital
inbetween shifts at Morrison's. The other was resolutely anarchist and tried his damndest to sell Nietzsche to his uncomprehending interlocutor. In this epistlery blizzard, the Nietzschean expounded the doctrine of eternal recurrence, which he interpreted as cyclical history. Everything was doomed to repetition: the present will recycle itself somewhere down the line, while we shuffle along an unoriginal course revisiting the same experiences and thoughts of previous generations. It has always been thus. It will always be thus.
This happy episode came to mind while thinking about the writer's block that has descended this last fortnight. Casting an eye over Keir Starmer's leadership and you could be forgiven we're living 10 years in the past.
Crap slogans
are back with 11th dimensional reasoning performing an Emporer's new clothes' job on vacuous banalities. And we have a rapid distancing from anything remotely smacking of progressive politics. Yesterday it was a failure to oppose the Tories on exempting military personnel from war crimes prosecutions. Today Labour Lords abstained on a
mortorium on 55,000 evictions
. Even mentioning the
Covid dead
is out of bounds. Like Ed Miliband, Keir Starmer won a Labour leadership contest on a soft left platform. And like his predecessor, he's busying burying his pledges because the geniuses around him think alienating core support is the only way to win.
Then we have the appalling nonsense of the Tories. With a pathetically needy Prime Minister getting the brick bat treatment, the dead cat distractionism of
withdrawal agreement posturing
is so Autumn 2019 and all the more indecent for it. Continuing the theme of pillaging the recent past, Johnson's announcements of new Covid-19 restrictions are so tissue thin we can look forward to infection rates galloping higher and higher, just like the start of the outbreak. And what do we have here? Rishi Sunak offering an economic support package that leaves culture workers out in the cold again, will compensate workers for only upto £700/month, and incentivises employers to dispense with full-time workers. It's enough to remind one of the economic support packages announced earlier in the year with all the inadequacies plus a few new ones.
These egregious examples of eternal recurrence are the root of my writerly malaise. Different day, literally the same old shit. The thought of repeating myself over and over as the same things keep happening doesn't appeal, so I'm taking it a bit easy. Get the old book finished (first draft done, now editing), read some more to stop the brain rotting, and write when the block is blocked out. It could be tomorrow, next week, or next month. And so, until then.
Image Credit