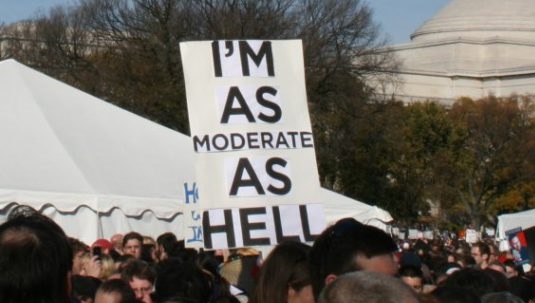 When your idea is universally pooh-poohed, chances are it isn't a very good one. Such is the announcement of the imminent (still) birth of yet another centrist party, vying for the mantle of mild social democracy while being for "entrepreneurship" and "immigration controls". Sounds pretty much like the Labour Party under Ed Miliband, and we all know how that turned out.
In theory. at least according to the venerable Andrew Rawnsley, he opines that there is what you might call an "objective" constituency for such a party. Polls show high numbers of 'don't knows' when asked to pick between Theresa May and Jeremy Corbyn. Apparently, 45% of people think there needs to be a new centre party, and some 56% believe existing parties don't represent them. Rather than auguring the dawn for a rejuvenated centre, these can mean all kinds of things. After seeing the collapse of the Liberal Democrats over the course of the coalition government, it is quite possible large numbers of people *did* see the need for a new centre party (this figure is from 2015) once the existing one became a busted flush. That doesn't suppose they would be prepared to support it. Likewise, poll after poll shows that the majority of the electorate define themselves as being in the political centre. Not because they identify with Labour melts and Tory wets but, sadly, not a great many people are au fait with the difference between left and right and so identifying yourself as centre is non-committal and sensible without letting on your ignorance. Face it, if you were uninterested in politics would you take the time to understand the gradations of difference between left and right?
And then we have the issue of representation itself. There are large numbers of people who believe there isn't a party for them because none 100% agree with them, and/or do not talk about the things they believe are important. Here is why the pull of Nigel Farage and Jeremy Corbyn has proven so powerful, because they articulate outlooks that were/are excluded from the political mainstream. Thinking about exclusion now, in 2018, Corbynism has pulled in large numbers hitherto outside the mainstream politics game, while the collapse of UKIP into the inconsequential has taken one party identity away from millions of voters. Yes, they might find succour with the Tories, but that doesn't mean they identify with them. As Paula Surridge points out, it's the "authoritarian" voters (particularly those who are left wing, economically speaking) who are under-represented. Think they're game for a touchy-feely/immigration-bad/free-market-good "centre" party?
When you're in Westminster, or at the top of the business/third sector tree like our network of guilded centrists with £50m to burn, it can appear as if the only politics that matters is what happens in the chamber, the committee room, the lobby, the editorial offices, the broadcast studios and the think tanks. Indeed, this is why the post-Brexit coup against Jeremy Corbyn failed - because the PLP majority bought into the illusion that only they mattered, while his base was in the wider party: the membership and the trade unions. From this point of view, having sympathetic MPs, journos and think tankers on side, a policy platform, full-time "researchers" and cash in the kitty, this simulacrum of a party can appear a real goer to its wealthy backers.
What they don't understand, what most in and around politics fail to understand is that politics is a social phenomena, it'd about relationships and interests. Parties are machines, but they cannot simply be called into existence as per one's accountant conjuring up a shell company when taxes are due. Parties become successful because they articulate demands that chime with the experiences of large numbers of people, and they don't do it just the once, it has to be repeated day in, day out. The Conservatives and Labour are the top political dogs in Britain because of their roots in the most salient relationships in which a society like our depends: the wage relationship, and what they have to say speaks in a variety of ways to the collective experiences of millions. When Labour and Social Democratic parties "forget" where they're from, they begin actively disorganising the class base they organised in the first place, and more often than not fall apart. PASOK, Scottish Labour, the French Socialist Party, the Dutch Labour Party, the SPD - how many more dead and dying parties will it take before self-described centre lefts notice how common actions have common consequences?
Talk of new centre parties are among Westminster's most frequently indulged fantasies, because self-described centrists have nowhere to go and no strategy to get them out of their hole. The LibDems are barely viable, May panders to her cracked hard right, and now members expect more of MPs and expect them to be accountable, life inside Labour is chafing. If only centrists could have the politics they deserve! In the unlikely event of a new outfit attracting big names, it will be shortly before the next general election and will launch with the express purpose of grabbing enough votes from Labour to prevent it from forming a government. Fancy the sound of such a scenario? I pity you. If this is where your bewilderment toward and hate of the resurgent left is taking you, why not do the honourable thing.