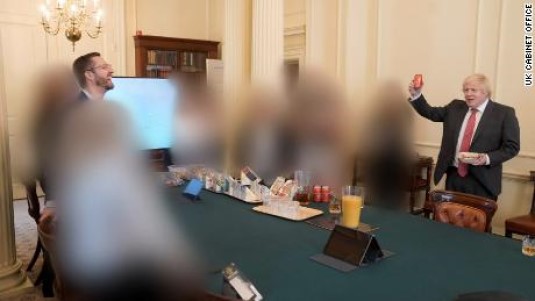 There was vomit, there were fights, there was red wine spilled on the carpet. Sue Gray was unsparing in the detail highlighted in her long awaited report, but when all is said and done Boris Johnson remains in situ. His high risk strategy of kicking PartyGate into the long grass worked. First, Gray was appointed to investigate the goings ons in Number 10 during national lockdowns, giving Johnson breathing space. And when the issue was still hot, he sought to cool if off by getting his mate Cressida to investigate the rule breaking. Unsurprisingly, he was let off with very serious questions hanging over the police investigation. Which are now facing a legal challenge. Johnson doesn't care though. His premiership is safe and the most deadliest danger of his political career averted.

He should also be thanking Sue Gray too. This "unimpeachable" civil servant that Tories have flattered with praise in every interview given since her review got underway also did the Prime Minister a solid. Yes, the detail was excruciating. She did paint a picture of an arrogant operation at the centre of the state behaving as if the rules they thought up and implemented did not apply to them. That the Downing Street's director of ethics brought a karaoke machine to an illegal shindig is almost poetry. There were emails from officials telling staffers not to be seen in flagrante with bottles of wine and party gear. Johnson was present and master of ceremonies at several gatherings, showing without any doubt that he lied his head off from the dispatch box when he claimed "not to know" what was going on. Indeed, he tried the same old shtick during his statement to the Commons this afternoon, pointing out what a warren of corridors and rooms the Downing Street complex is. While Gray reported on the serious failings of the political and official leadership and emphasised their responsibility for this culture, it's hard to disagree with Owen Jones, for instance, that her investigation was anything other than a whitewash.

As with all things, what is not said can be as significant as what is. Like the Met, Gray did not investigate the most egregious case of rule breaking: the ABBA-themed party held to mark the departure of Dominic Cummings. This was organised in the Downing Street flat by Carrie Johnson. It cannot be brushed off as staff exuberance, and the Prime Minister's explanation for his attendance - "conducting a job interview" - is as thin as all his other excuses. But no investigation, commentary, or photos. Gray, who we must remember is a subordinate of Johnson's, steered clear. If one was of a conspiratorial turn of mind, one might link the report's outcomes to Gray's receipt of effusive plaudits.

Johnson is safe for now, and it's unlikely any Tory MP will change their mind once the Privileges Committee delivers its verdict about his lying to the House. But the damage is done. The local election results point to shifts under the surface that could doom the Tories, and a much more serious crisis of legitimacy is gathering strength. To try and put the whole PartyGate business to bed, not-at-all coincidentally the government are announcing a package of measures on Thursday that are supposed to address the cost of living crisis. Which, apparently, will include Labour's windfall tax scheme on the oil companies or something like it. But coming so close and having stubbornly resisted providing help so far, whatever they announce won't erase the memory of Johnson partying while people were stopped from comforting their dying loved ones.