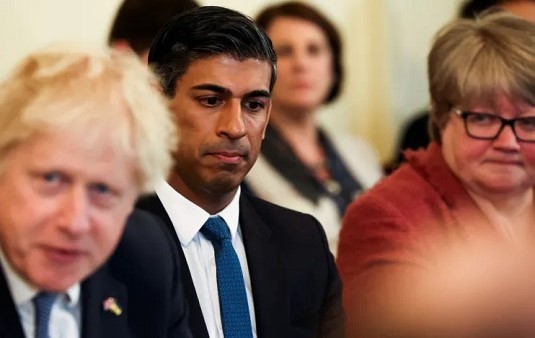 Of late, the chancellor has had a brusing time. How to get back on top of the ratings? We don't know the findings of his half-a-million pound focus groups aimed at improving his image, but perhaps doing something to address the cost of living scored more highly among their priorities than photos in his casual clothing. I'm not saying Rishi Sunak announced his package of measures to ease energy price rises to put him back into contention for the Prime Minister's job, but like unveiling it the day after Sue Gray's report the timing was politically fortuitous.

No one's going to turn their nose up at seeing their bills depressed by at least £400, but let's not play kiddum here. With the energy price cap galloping upwards from £1,971 now (itself a rise of £700 on the previous figure) to £2,800 in October, when those bills come in all households are going to be out of pocket. Sunak's "largesse" won't stop some from going to the wall, even though the poorest household qualify for more support with "grants" worth £650. Welcome upratings to pensions and other social security support are due next year as well, but they have problems too.

So when is a grant not a grant? What Sunak and the Treaury team are desperate to claim Labour, with its own windfall tax policy, had nothing to do with bouncing them into this position. But some serious thought has gone into ensuring this "giveaway" is entirely consistent with the Tory politics of offering nothing. That is the consistent strategy they have employed since Boris Johnson was elected to say a great deal, but ensuring any popular concession is begrudging and cannot be a handle for either empowering those below or encouraging them to ask for more. Sunak's ill-fated energy bill loan was very much of this character, yet even he was alive to the difficulties of it adding payback to living costs in the long run - just in time for the general election. The loan element has gone, but the method is the same. Deducting the "windfall" at source removes any agency on the part of the populace, and while it will provide relief for some the fact it's going to get smothered bill increases anyway just reinforces the sense that nothing can be done: that politics and political decisions are things done to us, not something we can articulate and prosecute ourselves. Sunak gets the headlines but the fundamentals of Johnsonian statecraft remain unperturbed. And what do you know, for their pains and as a big thankyou the Chancellor has given the oil companies a very generous tax break - a 91p saving - for every pound invested in the UK. Jolly decent of him.

The problem Sunak has is reverberations among the Tory ranks. There are reports of bank bench muttering about "socialism", others doubting the Chancellor's small state credentials, and the concern the Tories have too readily given in to Labour pressure. There are worries it could stoke inflation, because it's always caused by people having too much money and never price setting by the bosses. And where there's high inflation, the pressure piles on the Bank of England to raise interest rates, which then damages mortgage holders and all of a sudden the Tory strategy of basing everything on property owners starts looking shaky. Unlike Johnson's levelling up scheme, which is accepted by most Tory MPs because it's amounting to nothing, Sunak has actually done something and they don't like it. Whether this will add to the restive mood among some of the backbenchers remains to be seen, but it can't do his leadership ambitions any good when the time comes.

Sunak's reputation with his honourable members isn't great then, but has his announcements repaired his image with the wider public? There are two difficulties here. First, after his ridiculous "computer says no" argument that he can't uprate social security immediately has unnecessarily created the perception of meanness at the moment of danger for millions of people dependent on these payments. This contrasts with the timeliness of the job retention scheme and other support packages as Covid took off. When they do come through next year, few will turn around and thank the chancellor for his generosity. Second, precisely because of his preferred method of deducting the money from the bill, because they're rising anyway the windfall tax will get missed. When the bills are hiked again in October, the increase will obviously be noticed - not the intervention aimed at depressing the charges. Let Sunak enjoy the warm bath of the Tory editorials for now, the electorate will pour a cold shower in due course.