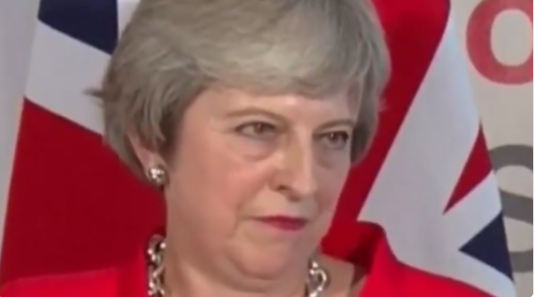 Sooner or later, all political positions come into contact with reality. Some do much better than forecast while others, well, others have a rude awakening. Judging by the expression on Theresa May's face after learning that her Chequers plan hasn't survived contact with what she surely now views as the enemy tells you all you need to know.
What now, then? Never the most adroit of politicians, the message coming from her press conference was nothing has changed. Yes, really. Her first instinct was to dig her heels in and pretend Chequers was still a go-er. "They're just playing hardball!" she blathered. "It's their negotiating strategy!" Except it isn't. Since unveiling the Chequers deal Michel Barnier said no. Jean-Claude Juncker said no. She and her ministers have been hopping around the presidential palaces of Europe all summer, and the answer was the same every time, everywhere. Had he been asked, even the man from Del Monte would have said no. You'd have to basically be impervious to human interaction to sit through so many talks and still not get the hint.
I mean, you can almost empathise with May's frustrations. Almost. She has gone from walking on water to the political equivalent of getting dragged through a hedge backwards. But the person responsible for making a rod for her own back was, well, herself. In the full flow of her imperial pomp she didn't have to tell the world she was looking forward to a hard Brexit with relish. She didn't have to waste precious negotiating time by calling an unnecessary election, nor destroy her authority and decimate her majority. But she did and Nemesis duly followed Hubris. And rather than cleave to the hard right by placating them, her government could have come up with a plan much sooner and the whole Brexit process might have been a bit smoother these last 18 months. Sure, not many Prime Ministers have as ghastly a time at Number 10 as May, but she's the author of her agonies. The difficulties are uniquely hers.
Which, again, is why Labour was absolutely right to not listen to the siren forces arguing for it to come out in favour of a second referendum. It prevents May and the Tories from fomenting their own stab-in-the-back myth, of presenting Labour as in cahoots with Brussels and therefore undermining the UK's negotiating position. They will say it anyway, but minus the ring of truth it will fall flat and not allow the Tories to re-triangulate the hard kippers nor peel off Labour leavers.
Where next? May wasn't expecting to be so comprehensively dumped on, and no doubt her spinners are currently thinking hard about how to wring some marginal advantage from it. On the podium she reiterated her "this is the only credible plan in town" shtick and try and play the hard-done-to card. After all, the last time she okayed this card in the early days of the general election campaign her opinion poll ratings peaked. She must hope more of the same could accrue in future, so don't rule out a late walk out from talks yet. The one thing we can rely on is the Tory party's concern with putting favourable editorials above all else.
Yet, when all is said and done the basic position of the UK is it wants a deal, and ditto for the EU. And there are only two things that possibly stand a chance of getting through the Commons. The first is watered down Chequers. The ERG and fellow travelling Brexiteers will oppose, but May's got to be banking on enough Labour rebels who, by hook and by crook, would like to turn the clock back. As well as Tory backbenchers who view Jeremy Corbyn as Stalin's second coming. From that standpoint, this really is the only game in town. The other would be a pause of the Article 50 process as May is forced to throw the towel in and British Toryism falls into another round of leadership paralysis. My view is the first scenario is the most likely. May doesn't want to go down in history as the UK's worst Prime Minister (she's up against tough competition), and she wants to cling to power for as long as possible. As long as she's there she provides the Tory factions a focus - she goes and the party could possibly fall apart as its numerous tensions come to a head. And also if she's in, some miracle might come along and she'll be able to salvage something to show her years in Downing Street weren't entirely wasted.
A deal or, to be more accurate, a capitulation is still likely then. However, as recent history has shown the interests of the Tories and even the class they represent rarely coincide. A no deal catastrophe could still happen and while May and her party will pay a heavy political price, it won't be them who suffer the real damage. It will be us.