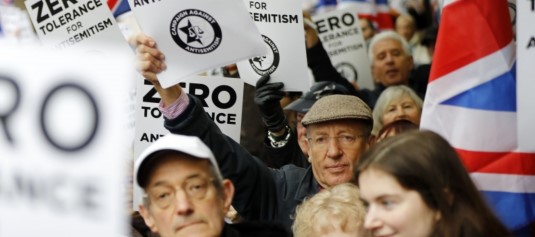 The left took all nine seats in the 2018 NEC elections, and 38 out of 42 positions on the National Policy Forum. However, some cannot accept defeat with good grace. Particularly as Pete Willsman, he of the recorded NEC comments fame, got in ahead of the "independent" candidature of Eddie Izzard - though with significantly fewer votes than the other comrades who retained Momentum's endorsement. As matters Labour Party are somewhat febrile, can you tell what happened next? Ah yes, as night follows day there came the claims Labour is institutionally racist.
This is an absurdity that doesn't stand up to scrutiny. There are pockets of anti-semitism, certainly. Out of a mass membership of 550,000 we're bound to attract some people with unpleasant views. A party is only as good as the society that hosts it, after all. Yet consider this, is chucking out members for making anti-Jewish comments evidence for institutional anti-semitism? Would such a party find its complaints process crammed with hundreds of cases? Would an anti-semitic party sit down with establishment Jewish organisations, outfits who've already made their hostility to its left wing political turn pretty clear, to try and tackle anti-semitism? Is it a sign of extensive anti-semitism that the party has investigated the issue, produced a report with recommendations and saw them adopted by conference last year? And was Jeremy Corbyn cleverly misdirecting critics of his leadership when, well before 2015, he sponsored EDM after EDM condemning anti-semitism even though there was no political expediency in doing so? You have to be seriously misinformed or just plain dishonest to ignore this to make out Labour is some sort of anti-semitic cesspit.
None of this negates the stupidity of Pete Willsman. As a long-time activist and veteran of faction fighting, we should expect more. He has, however, apologised and accepted the necessity for some training around anti-semitism. Rightly so. If, after all, an apology to the Chief Whip is good enough to let Margaret Hodge off further disciplinary measures for her grotesque slander then saying sorry to the general secretary should be fine and dandy too. Gooses and ganders and all that. Though no way should Pete run on the Momentum slate next time - the left can and must do better than this.
But let's accept the premise of the Labour right for the moment. If Willsman is an anti-semite, there's a wee issue. When it comes to postal ballots, be they Labour ones or votes for "proper" elections, everyone who's had anything to do with electoral politics will tell you a large majority get filled out and sent back straight away. In the case of the NEC ballot, the contest opened on 26th July and the Willsman recording did the rounds on the 30th. Are we expected to believe the votes Willsman polled were an endorsement of anti-semitism before the fact? Please, don't insult our intelligence. True, rumours of his comments had done the rounds but they were hardly mass currency. To pretend they were is like expecting left wing members to have preternatural powers of detection, to possess a spidey sense or second sight alert to every whisper, every rumour that does the rounds.
Staying with the Labour right premise, if Labour was riddled with anti-semitism, wouldn't an openly "anti-semitic" candidate be expected to do better rather than significantly worse than his running mates?
Come on, it's poppycock. We know this, you know this. And what makes the whole thing even worse is those running with the attacks on Labour's supposed anti-semitism know it as well. For those segments of the Labour right who do this, it's less a case of political vacuity and more one of moral bankruptcy. The truth, which they still haven't faced up to, is one in which their politics has been soundly rejected. Their preference to leave the fundamentals of the old Thatcherite consensus intact is a woefully inappropriate "left" response to the fall out of the 2008 crash. Of course, if these people were properly rooted in constituencies Labour was founded to represent, if they knew how to struggle politically then they'd be aware of this and perhaps articulate their politics accordingly. Indeed, if we saw a genuine clash of ideas in the Labour Party that would be a good thing, not least because it would be an antidote to its shoddy, ramshackle and oft non-existent efforts at political education. But they don't and they won't. Instead we have the insults, the smears, the lies. Not because the right don't know any better, but because they can't be any better.