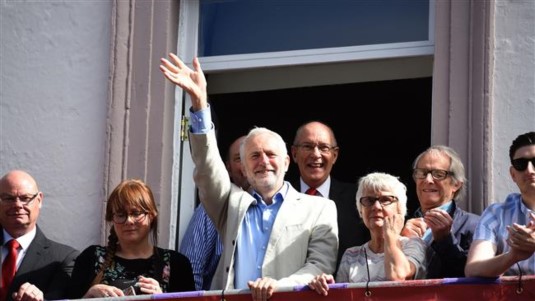 John Rentoul (yes, him again) reckons the left's clean sweep of the NEC elections are bad news for Jeremy Corbyn. By the same token, had Momentum's slate crumpled before the galvanising effort run by Progress and Labour First I suppose this would have been a triumph for Team J Corbz. Anyway, the thesis - if it can be dignified with that title - is these NEC results mean we've passed peak Corbyn because the turnout was down and the Momentum slate won by a narrower margin. He goes on to argue that once mandatory reselection goes through at conference, there are no further wins to fire up the Corbynist base and from here on in the party will get consumed by reselection battles. Our John concedes he might be clutching straws, and for once I agree with him. He is.
There are three good reasons why it's not likel we've hit peak Corbynism yet. Working with John's assumption that Corbyn supporters are motivated by Labour Party internal struggles, there's still plenty to be done. Being totally Westminster-centric, I can see why he might think mandatory reselection is job done, but it ain't. There's the small matter of reforming the deputy leader position. It is more than obvious Tom Watson has lost the confidence of the membership, and his would-be support shrinks by the day as the Labour right freely diminish their own base. There is certainly a mood to see his sinecure replaced by an alternative, gender-balanced arrangement. Of course, Tom would be perfectly entitled to stand for election again if he wished.
But John's assumption is wrong. Corbynism is motivated by a desire to change the world. Changing the party is a necessary accompaniment, and one large numbers of people have become interested in because of the obstructive and high-handed behaviour of sundry MPs and their cheerleaders. There wouldn't have been anywhere near as much of an appetite had the "opposition" accepted the left's leadership and not tried to derail it at every possible turn. It's also worth noting the thirst to change things isn't a fanciful whimsy, a plea for things to be nice. It's rooted in the experience of precarious living, of being denied the chance to own a home, a secure job, an adequate salary, regular hours, a pension pot, or in many cases a job at all. And that's without touching on the threats represented by climate change, the experiences of sexism and racism vis a vis the estabishment's double standards, and the perceived injustice of the super wealthy accelerating away from the rest of us. To put it another way, the structural violence and inequalities that mobilised Corbynism are still there and will continue to power the movement for as long as it responds to it, gives it expression, articulates its interests.
This argument isn't something I've pulled out of my hat. Gaze with wonder upon this thing of beauty. As previously mentioned more times than I care to remember, British politics has polarised with the changing class structure presenting as an age cohort effect that coheres around the two main parties. Labour is responding to the experience of a rising class, to millions of people the old establishment politics never bothered addressing, never mind championing. The Tories can find consolation in the huge numbers of over 65s that support them and as long as they have a greater chance of turning out, the generational class effect is dampened. But the problem is older people have the tendency to die off, the trend of younger people voting is on an upward trajectory, and most worryingly for our Tory friends their class war policies have broken the conservatising effects of growing older. By preventing millions of younger people from getting on the housing ladder and enjoying the living standards their parents enjoyed, so their support for Labour is unlikely to diminish over time. The Tory party is literally dying, and they are the authors of their own demise.
No one is suggesting this is going to be plain sailing. But happily for Labour, as this inexorably works its way through the body politic and provided the party remains wedded to Corbynism, we are far from reaching the peak the likes of John Rentoul are wishing for.