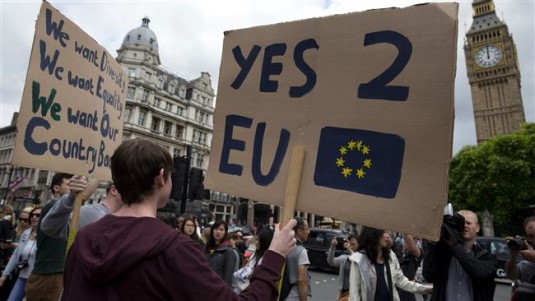 If you're a hard remainer, it's been a good couple of days. Labour's stance on Brexit has tilted a bit more toward a second vote, though without explicitly committing itself to such. And a number of polls are suggesting more are moving toward remain than leave, which is understandable. If the incompetence by which the Tories have gone about negotiating Britain's exit from the EU doesn't give you the jitters, I don't know what will. Yet these are getting clung to like some sort of fetish, as if things are moving in the right direction. No matter how it is caressed and prayed to nothing is going to get the UK out of its Brexit predicament. Certainly shifting Labour's policy and marching on sparsely attended lobbies of party conference won't.
Before you even consider the practicalities of the parliamentary timetable, reading the political runes now, in early Autumn 2018, comes up with two very obvious reasons why Brexit is going to happen.
1. The Tories are in power. Labour are not.
2. There isn't going to be a general election that will change this state of affairs.
Sorry to be rude, but sometimes political realities are. A general election now would be appalling for the Tories. With their party utterly divided and in a worsening condition, a Brexit general election could, if the opposition plays its cards right, destroy their discipline and tear them apart. Which is why Labour are right to call for one, and also why Theresa May isn't about to concede one. Even if everything goes awry and May comes back without a deal, she would rather do that than hand the keys to Number 10 over to Jeremy Corbyn. Or Boris Johnson, for that matter. There will be no flouncing off into the sunset of the after dinner party circuit as per her predecessor - she will cling on to government for dear life, or until a cabal of her own party calls time.
What wouldn't constitute playing our cards right would be a full commitment to a second referendum. Forgive me if I don't put too much store in polling on this (especially YouGov - did you see their Sweden poll?). The issue is if Labour came out for a second referendum, the politics of Brexit enter into a new and potentially dangerous phase. Politically speaking, remain has mobilised - the LibDems have been flooded with new members (sans the corresponding support), their talking points are in the media, and they've taken to the streets. Leave, by way of contrast is overwhelmingly passive and hasn't gone much beyond voting disproportionately for the Tories last year. One of the reasons why they haven't politicised further is because both the main parties accept the overall referendum result. This changes if Labour formally adopts a second referendum: a passive animosity runs the risk of becoming an active antagonism.
Here's why this is an issue. Labour's immediate strategic objective is to break up the Tories' electoral condition. This is tough enough because of the soft political polarisation we've seen, which is underpinned by the political economy they have deliberately cultivated. We saw how it started to flake a bit when May first announced her Chequers position, which was spun by the Brexiteers as soft, long, and anything but strong. The result was a sliver of support falling back to UKIP. If Labour come out hard against Brexit, at best it will firm up that support. May and her media helpers are going to parade themselves as the custodians of Brexit and cast Labour as an arrogant party who does not respect a democratic vote, and is in hock to Brussels. The pot the Tories have stirred about Labour being the tool of foreign powers, the mood music of the scurrilous Michael Foot and Jez-was-Warsaw-Pact smears fits their scheme to make Labour out as an anti-British, if not an outright treasonous organisation. Those who pick up on and are amenable to dog whistles of this kind will draw the necessary conclusions when May blames Labour for undermining "our" negotiations. Stab-in-the-back myth mk II, if you like. One in which the nation is being sold out by a left-liberal-EU establishment. In these fraught times, such a pitch could do extremely well.
It won't end there, though. There is every danger large numbers of leave voters could be mobilised by UKIP, Farage, or a demagogic Tory. Some comrades and remain supporters shrug their shoulders and say so what? Why should Labour allow the far right to dictate its actions? This is a blinkered way of looking at things. Strictly speaking, from a party point of view we should be in the business of making things easier for ourselves and harder for our enemies, not the other way around. But in this case the price is steep. Another referendum means polarising politics in a more poisonous direction, and one in which Labour has disadvantaged itself by setting aside a popular democratic decision. And do you know who will suffer the most? Post-Brexit we saw a surge in racist incidents as well as a rise in hate crime against disabled people gay and trans people, and domestic violence rates went up too. When reaction moves, its bile overflows the trappings of constitutional politics and lashes out at anyone and everything that doesn't fit, or have we forgotten about what happened to Jo Cox already?
Yes, Labour's position is frustrating. Yesterday it was a fudge and today it remains a fudge. This is less the result of tactical genius and one trying to square the circle of the party going this way and that on Brexit. And yet the overall result has proved unsettling to the Tories. Without Labour setting its face against unwinding the referendum, they do not have an external threat and so have no choice but to turn inwards, compounding and multiplying their difficulties. You can understand why folks want Labour to go for the second referendum, but we should not be in the business of throwing Theresa May a lifeline. Nor be cavalier about the cost we're expecting others to soak up. That is why it is a non-starter.