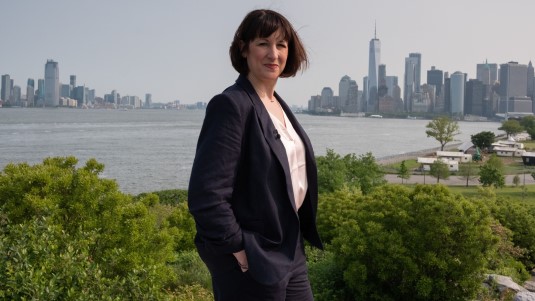 Rachel Reeves hit the headlines last week after flashing her swanky first class pass on the plane to New York. But the reason for her trip was of more political import. Speaking at the Peterson Institute in Washington DC, Reeves outlined what the economics would be like under an incoming Labour government. Again, following Keir Starmer's NHS speech, this was more an exercise on contouring the policy to come rather than promising anything concrete. An approach we'll see repeated on social security, education, and the other "missions" before promises are made ahead of the next election.

What did Reeves have to say for herself? Her speech, which is expanded on in her pamphlet for Labour Together calls her approach "securonomics". This is based on two positions: a recentering of the nation state as the centre for economic policy making, and a move away from the deregulated phase of globalisation to one overseen by greater state management - based on multilateral agreements, and particularly a convergence of and greater cooperation between liberal democratic states.

Praising Joe Biden's economic policies, she approvingly notes that the United States has
A more active state, pursuing a modern industrial strategy, is selecting the areas where America must guarantee its ability to produce what America needs ... Your government is working in partnership with a dynamic open market, where the state does what a government does best. Making and shaping markets that are essential to America's resilience and future prosperity. Meanwhile, the free market does what only it can do - innovating, competing, creating wealth.
Translating this into the UK means "good jobs, decent pay, strong public services and an end to relentless increases in the cost of living." Okay, but how does this differ from the Tories? Aren't they, on face value, for these things as well? Reeves's economics, she argues, differs because it starts with where Britain is and what its strengths are. The model is not the Singapore-on-Thames beloved of the Tories nor the idea of Germany, which used to so beguile George Osborne. Rather, the model is Britain - but better. For Reeves, building on Britain's strengths requires state promotion of green energy, life sciences, professional services, universities, remaining strategic industries, as well as promoting "financial resilience" for every household.

This requires state activism. Reeves talked about industrial strategy and her "green prosperity plan", as well as institutions like a Norway-style "national wealth fund" and the much-vaunted GB Energy, which is often sold as a state-owned renewable energy entity but is in actual fact a repackaging of the Private Finance Initiative - but for green electricity generation. This is also where Starmer's plan to fix public services comes in: Reeves sells the putative programme as the "removal of barriers that hold people back". This is premised on sorting out the NHS, childcare, more vocational education, and employment support "to get people back to work". In this light a Labour government would be working toward easier and better trading relationships with the EU when the trade deal is reviewed in 2025.

The speech got some excited. Martin Kettle for the Graun gushed that this was a vision for social democracy and was a break with Blairite thinking. Stacking in his argument's favour is the idea the politics should shape the economics, though in Reeves's hands state intervention is just technocratic common sense. No need for the socialist gloss as per Tony Crosland. It's economically efficient, and has little do do with social justice which even the Blairites used to invoke for their own purposes. Multilateral cooperation sounds nice, until you look at foreign affairs custom and practice and see it as a realisation of the West (and Japan) pooling their efforts to remain at the top of the global economic tree. And, not mentioned by Kettle but noted here a while back, a move to tripartite industrial governance with the state, business, and the trade unions each having their say about economic policy. Though into this corporatist mix Reeves adds universities as one of the "partners". Interesting.

There are other items in Reeves's speech and pamphlet that do sound decidedly Blairish. She wants to see "dynamic markets" and more competition, which means breaking up concentrations and monopolies. I'll believe that when I see it. She wants some deregulation, such as reform of the planning laws - in line with Starmer's recent desire to see more building on the green belt. There's a promise of reforming corporate governance to tackle the short-termism of shareholder value, and a change to business taxation to encourage longer-term investment. If the latter sounds like a bung ... But perhaps the biggest tell, and one that will assuage the UK's economics establishment is her continued commitment to Bank of England independence. That's going to be music to the City's ears. As a former Bank economist, of course she'll be their woman in Number 11. That, more than anything, says no matter what happens with governance, state strategies, and industrial councils the core relations between the Bank, the Treasury, and the City are going to weather the next Labour government and that the priorities of finance and commercial capital will continue its hegemony over the policy preferences, personnel, and habits of the core state apparatus. To throw things into sharp relief, even someone as awful as Kemi Badenoch favours breaking up this cosy relationship. Then again, even when the Bank was under political control did post-war Labour governments challenge the power of the City, or did their best to cultivate it?

Assuming Labour accomplishes its restructuring of the state (or does it half-arsed, which is more likely given custom and practice), this will open up political opportunities and dangers for the labour movement. Reeves is apparently relaxed with a return to collective bargaining and the extension of workers' rights, but as we saw with post-war trade unionism partial integration into the state incentivises labour movement growth and firmly weds union officialdom to industrial priorities. Let's be clear, it's better for trade unions to be in that position than what we have now. It creates a space for labour movement consolidation and for that reason alone means there's a qualitative difference between Labour and the Tories, but let there be no illusions. What Reevenomics offers is a more favourable terrain for struggle, not a land of milk and honey.

Image Credit