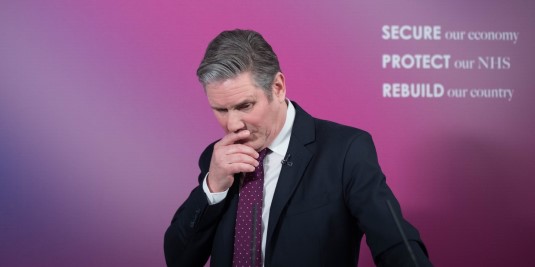 How worried should Labour be about Liz Truss? This is the question former Blair aide John McTernan has asked, and his answer is quite a bit. He thinks strength of character counts in her favour. The journey from pint-sized peacenik through the Liberal Democrats, the bowels of Tory local government, and then from Remain to Leave is, he believes, something the punters can connect with. It makes her look more human. He also argues this means Truss knows how to connect with progressively-minded people as she was once there herself. Her brand of plain speaking is waffle free and "authentic". Truss also has a set of populist-sounding policies. People need cash? Give them tax cuts. Education failing? Build grammar schools so bright pupils can get on, in a manner of speaking. And like Boris Johnson, and to a degree his two predecessors, a bit of anti-elitism is appealing. As the Rish! Sunak campaign are finding out to their cost.

Labour should definitely take Truss very seriously. Keir Starmer can't rely on Truss's gaff magnet to sink her premiership, especially when he's prone to stepping on rakes (the mishandled picket line farce being another example of his clod-hopping leadership), but in my view John's right for the wrong reasons. For one, a lot of senior Labour people put great store in authenticity. Having gone straight from university (usually Oxbridge) into some wonkish non-job and then gifted a parliamentary seat, it's easy to understand why many benefiting from this route to the top feel their rootlessness keenly. Embarrassingly, Keir Starmer often talks about his mum and dad (and occasionally his care worker sister) to burnish his plebeian creds. Our friend Wes Streeting is another example - be prepared to hear about growing up with mum in a council flat many times before his political career ends. But this fetishism of authenticity is complete nonsense. People don't particularly care about politicians' backgrounds. If wealth was a handicap, Sunak would not be a front rank Tory and Jacob Rees-Mogg would be idling at home instead of reposing on the green benches. Relatability is much more important.

Let's consider Truss again. I don't think she comes across as warm or sympathetic, let alone "fun" as per her Tory character references. But like all successful right wingers she has cultivated a "truth telling" persona. She will tell you what you need to hear, not what you want to hear. It's not for nothing that all of her TV debate appearances has her repeating "I know what a woman is" - the Truss version of "it's not racist to talk about immigration." It says here's someone unafraid of ruffling feathers and defying the you're-not-allowed-to-say-that brigade. None of this is true, of course. The one service Sunak's doomed leadership bid is performing is the relentless exposure of how Truss's campaign centres on telling Tory members what they want to hear. Even if her relatability is entirely contrived, in tone and countenance she is better than Starmer and most of the shadow front bench. She hasn't had the Labour media training that makes its politicians sound like they're reading off a script, and has them coming across as robotic, patronising, and nasally insincere.

Truss is aware that her patter isn't coiffured, though this is more of an asset than she supposes. But this is marginal to her appeal. Her semi-official slogan is delivery, delivery, delivery, and she bangs on about the problems she's overcome, the trade deals she's signed, and "standing up to Putin" - an easy job when the Ukrainian army is doing that for you. She's served up the goods as far as the party members are concerned. Sunak, on the other hand, has gone from dishing up the noms with Eat Out to Help Out to cooking an unpalatable main course of tax rises and "socialism". Therefore, it's deeds not words where the electorate will be paying attention. As John notes, reversing the National Insurance increase and cutting the Green Levy puts money into people's pockets. It is not much set against the pain to come, but sets up Truss's government for more intervention and makes it look active. Like all Tories, she is going to try and do as little as possible for as long as possible, but if the politics demands it her delivery mantra could encompass severe regulation, if not outright nationalisation of the energy companies. It would be caveated as a temporary measure and I doubt it would return bills to where they were this time last year, but a move like this is decisive, popular, and would force some put off by Boris Johnson to reassess their relationship to the Tories.

This is the danger for Labour and Starmer's leadership. With a shadow chancellor firmly in hock to Treasury orthodoxy, and therefore City interests, Rachel Reeves's pathetic marginal cut in VAT on fuel is weaker than anything Truss is presently offering. If Starmer is serious about winning an election, and long time readers know I have my doubts, a repeat performance of his non-opposition during the acute phase of the pandemic will not wash. John advises, "... Attack the new Prime Minister and her government, but don't nit-pick. The critique must be based on a vision of hope and a positive project ...". If delivery is her watch word, then Labour must have a better plan to counter it. Yes, that means nationalising energy and imposing price controls - no shilly-shallying with wonkish dithering and tinkering. The moment demands Labour steps up to the plate, and if it does people will listen and the chances of winning in two years moves further up the probability scale.

If John, the Blairite's Blairite is pushing this, and Gordon Brown is likewise agitating for firm action, Starmer's going to have to grasp the nettle. If he doesn't, Truss's Tories are on course for stomping Labour for the fifth time in a row.