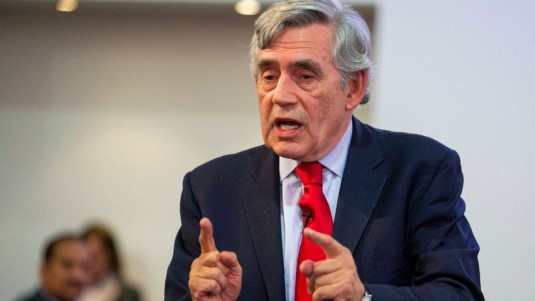 History will probably record that Gordon Brown's decisive action in nationalising the British banking sector and recapitalising the banks gave global capital with an immediate route out of the 2008 stock market crisis and prevented a recession from becoming a depression. That it put rocket boosters under asset price inflation and therefore contributed to our present malaise is something latter day admirers say less about, though having his premiership was cut short by the Tory-Liberal Democrat coalition means he cannot be held fully responsible for this. Dave and Osborne chose not to tackle the issue because it suited Tory electoral interests. But then again, neither did Brown before the sub-prime implosion raised the spectre of 1930s retread.

Nevertheless, as bourgeois politics goes, Brown is good in a crisis because he was good in a crisis. And now we stand at the crossroads of an economic and a political crisis, what Tony Blair affectionately dubbed the great clunking fist is grasping the moment by the jugular. Brown argues for immediate action. An extension of the windfall tax on bumper energy profits before monies are repatriated to foreign owners, and the uprating of Universal Credit now (by an unspecified amount) to meet the October energy price rise. For good measure he throws in a tax on City bonuses, and the closure of loopholes in Rish! Sunak's windfall levy. These measures, Brown reckons, could raise £15bn - enough to give the poorest just under £2,000 per household. Brown also backs it up with the sort of ethical argument entirely missing from Keir Starmer's prospectus: that people have a right to heating, and energy companies should not be profiting from a crisis.

Brown goes on to say he would prefer businesses work with government in holding prices down, and he also calls for a flat rate of pay settlements of between £2,000-£3,000 to stop people from going to the wall while the state doesn't pick up all of the tab. He goes on,

And if the companies cannot meet these new requirements, we should consider all the options we used with the banks in 2009: guaranteed loans, equity financing and, if this fails, as a last resort, operate their essential services from the public sector until the crisis is over.
In other words, temporary nationalisation. And it has struck a chord. 50,000 people have signed a petition within hours of Brown's views being aired, and he's even received unlikely backing from right wing commentators. But what of the policy itself? The Brown plan is preferable to what Ed Davey is touting on behalf of the Lib Dems. He suggests expanding the windfall tax to cover oil companies as well, which could raise some £20bn. This would, with an additional £16bn summoned up from somewhere, then be used to cancel the price rises for all households, leaving the energy bills as they were in April - £1,971/year. There are a couple of problems. The first is this doesn't challenge the pricing mechanism, whereas Brown does. And second, the Davey scheme is conceived as a one off. If the state is going to do a furlough-for-energy-bills to the tune of £36bn this year, what about next year? It seems more logical to nationalise the whole kit and caboodle at their present collective value of £58bn than shelling out that money more than once. And this is without noting that the state gets to determine how much it's willing to compensate share holders for.

But what about nationalisation itself? One doesn't have to sneer to note global wholesale prices aren't going to pay much attention to the nationalisation of energy supply in Britain. Which is why Brown emphasises a package of alternative measures first, while dangling state ownership as a threat to enforce compliance. He is not pretending it's a solution in itself. And, if the last two Labour manifestos are anything to go by, the left would agree. Except that nationalisation is the necessary accompaniment to a range of market intervention measures. One at the top of any list would be the harmonisation of meter and standard tariffs, so the poor are not paying over the odds for electricity. It would allow for infrastructure upgrades, storage capacity, and new energy sources to be brought on stream in a coordinated way. And even better nationalisation is electorally popular. This isn't just because most people think it's a good idea, taking energy out of private ownership gives a good kicking to businesses who are widely despised because they monopolise a necessity and are profiteering off the misery of others.

Labour being Labour, Starmer and his coterie want to be nowhere near this. Brown's suggestions, that are well within the confines of permissible politics, are a step too far. As Jessica Elgot observes, this is not kite flying on behalf of the Labour leadership; these are Brown's suggestions alone. A point reinforced by Steve Reed this morning, in which nationalisation is ruled out. If this is the case, it's difficult to see where Starmer can go on tackling the crisis. With his cost of living speech moved forward to Friday, the coordinates of the big reveal must lie between Sunak's idea of ditching VAT on fuel (which is better than Rachel Reeves's current policy, which only shaves off a fraction of VAT) and Davey's discounted bills. That means it's not in the running before it's even left the gate.

The problem Starmer has is moments like this cannot have a quietest response. Not just because radical action is needed, but because the costs of not doing so are politically prohibitive. Right now Don't Pay UK has signed up a hundred thousand pledges to cancel their energy direct debits, and the union-backed Enough is Enough is galvanising have a quarter of million backing the campaign. An opposition is mobilising, and the Labour leadership are making themselves at best an irrelevance, at worst an obstacle to this movement. And as this will be the number one issue that Liz Truss has to deal with when the Tory leadership contest concludes, she could choose to outflank Labour. Conservatism in this country never got anywhere by being inflexible.

Therefore, Gordon Brown's intervention is inconvenient because he's produced a yardstick by which Starmer's plan will be measured. But that itself does not go far enough. If Starmer can't at the very least match what Brown has proposed, he might as well concede the next election to the incoming Prime Minister now.

Image Credit