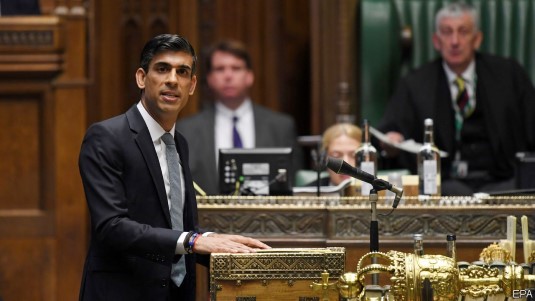 Having served up the second wave of Coronavirus with Eat Out to Help Out, what was dishy Rishi prepping for his Autumn Statement? A few overdone offerings and the familiar warm ups, I'm afraid to say. On this occasion, the doomsters and the gloomsters Boris Johnson used to rail against have taken over the Treasury. The sunlit uplands of
Optimism UK
are overcast and tipping down economic woes. By the end of this year, the GDP will have contracted by over 11% and isn't likely to return to pre-crisis levels until the end of 2022. Unemployment is projected to hit 2.6m early next year too, and by 2025 the economy is going to be three per cent smaller than foecast earlier this year. In all, not good news at all. Difficult to disagree with the chancellor that we're a the beginnings of an economic emergency.
It's important not to let the Tories frame this like some unavoidable disaster. They might not be responsible for Coronavirus, but the government
are
responsible for the
disaster management
itself and the appalling job done of
dealing with the economics
. If that wasn't bad enough, the whispers spraying out of the Treasury and Downing Street have portrayed the chancellor as a fiscal hawk
forced
to fork out to support (ingrate, malingering) workers and businesses. In this Autumn statement, he's lived up to the briefings.
To deal with the emergency, Sunak will freeze public sector salaries for a year. He does not even bother trying to justify it in terms of economic necessity nor cutting spending - it's because many private sector employees have had a tough time. If only dishy Rishi was in a position to do something about it. The lowest paid workers can look forward to a £250 increase, while workers forced to manage on the minimum wage more generally have a princely 19p/hour increase coming. Or £7.41 for the standard 39 hour week. Less generous pensions are also
in the mix
. But worry ye not, Sunak
reannounced
billions to be made available to find people new jobs.
Note
, not support nor create new jobs. And then there is the ever-present bogey of public debt, which in time the Tories will talk up to justify more wage freezes and cuts in the future.
What does this mean? As the new
No Holding Back
project
observes
, buried beneath the funds found for tackling Coronavirus fall out, Tory numbers reveal
cuts
to non-Covid spending versus the "
big spending
" of pre-pandemic Johnsonism. Sneaky. There are other problems not addressed by today's announcement too. The reason why unemployment is projected to peak well
after
the
current measures
expire is because, effectively, once furlough ends in March hundreds of thousands have a dole queue to look forward to. This is a cliff edge entirely if Sunak's design. Want more? How about indebtedness? While the wonks and
court retainers
prattle about the non-event of public debt, personal debt is mounting - just ask the 2.4m self-employed who don't qualify for any support under the Tories' "generous" schemes. Factor in millions who've lost their jobs, had hours reduced, or have had to cut back thanks to furlough, Sunak's plans makes their situation significantly worse.
It's not like the Tories aren't aware of these things happening. It
should be
ABC politics to assume they never push policy in good faith. In the aftermath of the economic crisis and their enthusiastic implementation of austerity, the consequences of Brexit and the chaotic groping toward a deal, and now the Coronavirus calamity the Tories have prioritised what is absolutely core to British capitalism. Not economic growth measured by GDP figures nor the common affairs of the bourgeoisie, to quote a certain
Manifesto
, but their zero sum preservation of class relations. And this truth is reiterated with every policy initiative, crooked deal, and bout of "incompetence". Today's Autumn Statement is no exception. It's an
exemplar
.
Image Credit