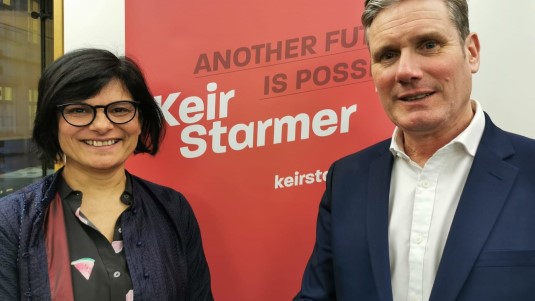 There is a light that never goes out, so sang Morrissey. Unfortunately, there are some that never properly switch on. A case in point is Labour's new shadow housing spox, Thangam Debbonaire. As renting and the rights of tenants is a hot button issue, especially now covid-19 means the return of huge unemployment figures and a dent in incomes for millions more, it would be nice to know Labour is on the side of a core component of its voter coalition. Sadly, where clarity is needed and our people could do with knowing the party is on its side we find equivocation and timidity.
Speaking at a Fabian event on Thursday, Thangham said cancelling rent payments is "un-Labour" and "really regressive". What could she possibly mean? Responding to criticisms of Labour's current position, which grants renters two years to make good any arrears, she said "there are people who are still in work, still able to pay their rent. And if you just cancelled rent, they would also benefit and they don't need to." In other words, it's fair for the poorest to continue struggling with the deleterious impacts this has on mental health and family life in case someone else gets a few extra bob. She even cites herself as one of these people who doesn't deserve rent forgiveness, which is interesting seeing how her London flat is paid for, um, under the MP's expenses scheme. Now, there are practicalities to consider if rent payments were cancelled for some time. The state could, for example, pick up the tab if we're really worried about landlords themselves getting put out into the streets. But whichever way you dice it, this policy isn't is regressive.
Being the forgiving sort, this elementary misunderstanding of what regressive means could be put down to the milieu in which Thangam circulates. There is an overlapping cohort of Labour MPs and centrist opinion who thinks conditionality is progressive and universalism is reactionary and unfair. I'd humbly submit these people have never had to jump through the hoops social security payments demand. Work capability assessments as the hallmark of a civilised society, anyone? In this occasion, there's no overlooking this idiocy. You see, Thangam has form. Far from being "un-Labour", rent strikes were constitutive of the party itself. Perhaps Thangam would like to step into a TARDIS to lecture these malcontents, or better yet get to know some history about the party she affects to represent? Unfortunately, it doesn't end there. In an exchange with Ash Sarkar, Thangam tried to get her expelled from the party - before she had even joined - because "being a communist" means she had to be a member of the Communist Party. And being told once to 'get in the sea' on Twitter circa the time that popular insult was everywhere, she openly and publicly declared this was a death threat. Cynical? Thick? Ignorant? You decide.
Yesterday, a couple of worthies noted Keir Starmer had built a more competent team around him. The significant gaps in Thangam's understanding will see that assumption tested to destruction over the coming months, this can't be heaped at her feet. She's responsible for the gaps in her understanding of the party but she isn't a free agent. Her position on housing policy is the leader's position on housing policy. The question then isn't really why Thangam isn't much cop, but why Labour's position isn't. And the answer is, I'm afraid, Keir Starmer's reasonable reasonableness strategy. He is determined to play politics by the rules in the belief this will net him better press coverage than previous Labour leaders and, obviously, boost his chances at election. Not upsetting the landlord strata defuses an anticipated angle of attack from the likes of the Mail, etc, thereby making it easier to win over Tory voters. That the shadow cabinet contains landlords of its own is entirely coincidental.
Needless to say, this is troubling for the same reasons why Labour couldn't simply carry on facing two ways over Brexit. Labour is dependent on the new working class of immaterial labour. It is disproportionately younger, precarious, locked out of property acquisition and at the sharp end of our systems' myriad inequalities. Corbynism's accomplishment, despite its failings, was to re-orientate Labour toward this rising class and make the party respond to their concerns. However, in the absence of other collective organisations integrating new supporters and voters into the party and the wider labour movement their adherence is uncertain and conditional. And this conditionality, surprise surprise, comes in the form of not doing their interests over. Now, a cynic might look at the super majorities Labour has in the big cities and think we can trade blocks of a few thousand here and there for some nice middle England seats, but it doesn't work like that. A partial demobilisation in the cities of this vote also means partial demobilisations everywhere else. There are renters in the medium sized cities and towns, and immaterial workers in the constituencies Labour has to win back. In other words, triangulation of Blairite vintage is not on the cards. It's impossible.
The question is does Labour's leadership realise this? Paul Mason was a handy ally for Keir to have during the leadership contest, and the hire of Claire Ainsley of The New Working Class fame suggests there's an awareness at the top that the party has to at least nod in the direction of travel established under Jeremy Corbyn. Unfortunately, having dim bulbs anywhere near a crucial brief like housing doesn't speak of the leadership's seriousness and it's this that could cost the party dearly.
Image Credit