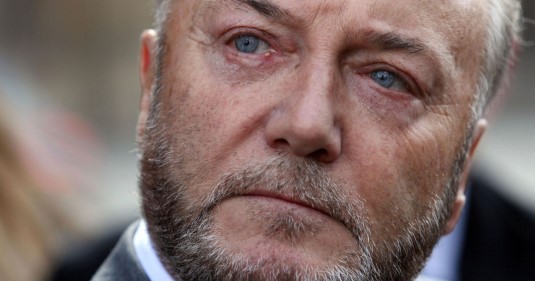 They might have made a powerful team, George Galloway standing for the Brexit Party in Peterborough, but it is not happening. In a tearful tweet transmitted into the ether, the Gorgeous One announced the withdrawal of his prospective candidacy as Nigel Farage the Brexit Party have instead selected Mike Greene, a local Tory businessman who once appeared on Channel 4's egregiously awful The Secret Millionaire. Galloway writes "I tried to persuade @Nigel_Farage to support my candidacy in #Peterborough to emphasise the broad democratic alliance the campaign must be and balance the candidatures of Ms Widdecombe and Ms Rees-Mogg." Silly George. Farage isn't interested in an alliance, he's interested in another ego vehicle.
Actually, no, that doesn't quite capture it. There is some mileage in the himself personally now argument, but not enough to go the full distance. Yes, sure, when the Brexit Party is organised entirely around Farage's person and he is leader, executive committee, and party secretary rolled into one there is no room for a potential rival. As he was occasionally wont to lament, Farage grew to despise the fact he didn't and couldn't run UKIP as a personal fiefdom. Too many fruitcakes and loons, to paraphrase a former Prime Minister, got in the way. Had Farage consented to Galloway's candidacy, there was always a chance his numero uno position would be usurped. A lesson learned from the defection and subsequent career of Douglas Carswell. While he did not seek the limelight in the same way Farage did and does, the fact he was a parliamentarian and the only one UKIP returned in 2015 as Farage crashed and burned for the seventh time sat uneasy. If Galloway, a man not averse to the media spotlight himself, got the Brexit Party ticket and was successful, it would prove too much for Farage and undermine the one-man sovereignty of his project.
Need we mention the politics? Yes, we must. Farage and Galloway might be populists, and they are both anti-EU, but the basis of their opposition is fundamentally different. Farage's politics, as per his sound-a-likes on the Tory benches, is steeped in imperial nostalgia, the faux affectation of plucky Little Englandism, and a heavy dose of libertarian capitalist politics, his project is a class project of turning the clock back and letting the market rip through what's left of the public sector, above all the NHS, and refounding the UK as a global haven for tax dodgers. Sounds idyllic, no? Galloway's opposition however is consistent with old school Bennism and sees the state as the primary vehicle for enacting socialist policies and suppressing the market, in as much as it needs suppressing. The pooled sovereignty of the EU with its neoliberal policies, unelected bankers dictating to elected politicians what they can and can't do, and its rules on state aid aren't just undemocratic, they are fundamental threats to this prospectus. Here then are two perspectives that don't exactly sit easy with one another.
But what about the presence of leftwingers on the Brexit Party's regional lists? You have Claire Fox and Alka Sehgal Cuthbert, James Heartfield and Stuart Waiton, all former members of the Revolutionary Communist Party and associates of its successor organisations, Spiked Online and the Institute of Ideas. Well, they might have caused a bit of bother for all of five minutes for past support of the IRA, though for some reason their Bosnian genocide denialism is yet to trouble the press, but Farage can handle it. Their leftism has long since drained out, filled now by the void of professional contrarianism and their alibiing of every two-bit racist and demagogic gobshite. This is performative radicalism, and I use that term advisedly, of providing 'saying-the-unsayble' filler for impeccably establishment publications like The Spectator as well as their own unreadable and best-avoided websites. Oh yes, and they are funded by well-known friends of revolutionary socialism, the Koch Brothers.
As unprincipled chancers and opportunists, they can turn out the old phraseology when it suits. Naturally, they're Farage's kind of leftist. He thinks it will hook into the lexity-leave voters and provide left cover for his project, allowing him to present his bunch as a broad coalition when, of course, any difference between the Brexit Party's European candidates are incidental and inessential. And in the mean time they will shut up. Now, say what you like about Galloway, he's no one's lapdog. Having Galloway use the Brexit Party to articulate his Lexit vision would not sit easy with Farage's business backers, or for that matter the voters Farage wants to court - former kippers, 'patriotic' Labour leavers, the disintegrating Tory vote - who might remember Galloway as the fellow who saluted Saddam Hussein, was scathing of British military adventures overseas, and minced about the Big Brother set with Pete Burns in a leotard. For his part, if the European elections and after get ugly and we see Farage strike out on wink, wink, nudge nudge racist territory, as he has before, it's not likely Galloway would keep quiet. Could you imagine him saying nothing as Farage moves on to a calculated bout of Islamophobia?
Two big personalities, two sets of ultimately incompatible politics. This is not the stuff of which a populist project can be made. Anti-EU right and left populisms oppose themselves and their particular renderings of the people to the antagonistic other of Brussels bureaucrats and their Westminster satraps determined to undo the outcome of the 2016 referendum. This, however, is not enough when this common opposition has very different bases, and appeals to different sets of punters. Farage's snub of Galloway might be an ego move, but it helps ensure his right wing project remains viable beyond the end of this month.