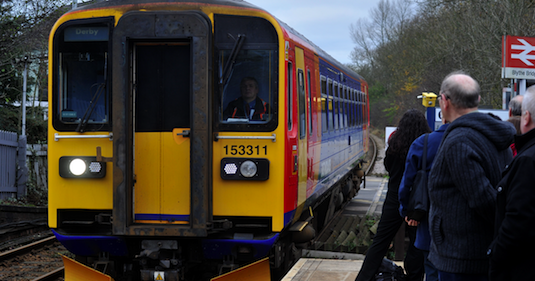 On Twitter a few weeks back, Cllr Dan Jellyman, cabinet cloak room attendant on Stoke-on-Trent City Council invited me to sign a petition pushed by fellow Tory councillor and MP for Stoke South, Jack Brereton. The issue concerns the hourly train service that runs from Crewe to Derby. This also happens to be the train I have the pleasure of commuting to work on nearly every day. The problem with the service is not punctuality (which is nearly always good) but the quality of the stock. More often than not the heating is broken or doesn't work properly, and leaky windows are a persistent annoyance - we're talking torrents here, not the odd drop. However, by far the most egregious problem are the number of carriages. 80% of the time we make do with a single coach. If you can visualise a carriage trundling along the railway you have accurately captured what the service is. Sometimes it's not too bad, but at rush hour it is and if Uttoxeter races are on and the company - East Midlands Trains - have forgot to lay on extra, you're talking dangerous overcrowding.
I'm sure any MP would want to see something done if this was the case in their constituency. As a new honourable member, Jack has taken up an issue the hundreds of people who use the route every day are annoyed about. Nevertheless I turned down Cllr Jellyman's request I lend my signature to Jack's petition, and that wasn't because it was being pushed by a Tory MP. It's because things are about to change.
Derby train station has started a long overdue remodelling of the lines running in and out. Presently there are bottle necks at both ends that limits the station to the entrance of two trains at each end at any given time, which is a bit of a pain when you consider there are six platforms. It can mean a delay to one service often has major knock-on effect on others, and as far as my train is concerned about half the time we have to pull up and wait outside the station for another service to clear the points. By the end of the summer this will be cleared, meaning a cut down in delays as trains no longer have to criss-cross the lines. Also, according to a number of rail workers of my acquaintance, the Crewe-Derby service is due a revamp with extra rolling stock added to it, and the roll out for this is scheduled for around the time the Derby work is completed.
Which brings us back to Jack's petition. He's had coverage on local radio and the local press, and has got the backing of Chris Grayling. Yet it's all a complete waste of time because the extra carriages he is petitioning for are happening anyway.
This begs a couple of questions. Is Jack ignorant of the changes to the service, which is worrying considering his old portfolio at the City Council covered transport. Or are we talking about a cynical stunt in which a song and dance now can be built up into a famous victory party later when the rolling stock is increased? Are we seeing ignorance or cynicism? I'll leave you to be the judge.