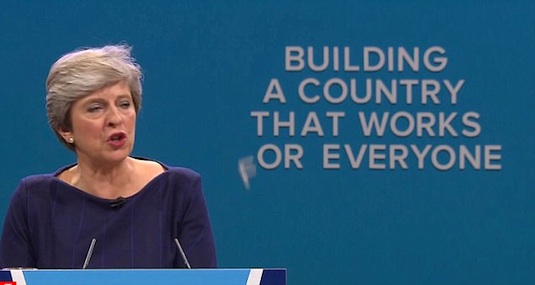 I love it when a Tory shambles comes together. Watching Theresa May's ridiculous cabinet reshuffle unfold on Twitter provided for some wry amusement in-between marking papers. Chris Grayling as party chair, and then 27 seconds later he was dumped for Brandon Lewis. The awful Jeremy Hunt, fresh from the NHS debacle, said no to a move to business and ended up coming out of it with social care added to his portfolio. Or, depending on who you believe, Greg Clark said no to his sacking at BIS, and that meant a fudge for Hunt. Just when the people of Staffordshire Moorlands thought they couldn't see their MP any less, Karen Bradley is moved from culture to Northern Ireland. Sajid Javid stays where he is, but gets a new name for his brief. And there is Justine Greening. May wanted to move her to the DWP and she said no and so quit, ostensibly strengthening the relatively sensible, centrist-bordering awkwards ensconced on the back benches.
To coin a phrase, nothing has changed, nothing has changed. At least in the grand scheme of things. The most odious and despicable of this government went untouched, and remains as much a miserable mess of dysfunction this evening as it was yesterday. The permanent instability on which the government is poised teeters a little, but not threateningly so. Of more interest, and more pertinent to the party's survival, comes the news the Tories have fewer than 70,000 members, at least according to the chair for the Campaign for Conservative Democracy. Putting that in context, that's half-a-million fewer than Labour, almost half the size of the SNP, smaller than the Liberal Democrats and about where the Greens were at the height of their pre-Corbyn surge.
Does this matter? Labour as the party of the 21st century working class needs numbers to represent. Its politics depend on collective mobilisation and the aggregation of the collective interests of millions of people. The Tories, as an elite party, do not. Labour needs big numbers to be able to spend big on campaigning. The Tories do not. With nearly 600,000 members Labour performed the sharpest turn around in political fortunes in modern times, and yet with a smaller, more decrepit operation the Tories managed to form the largest party. Do they even need a political organisation?
In one sense, they don't. It's much easier to be a politician on the right because your political messages and assumptions about the world are transmitted by your powerful media allies. It is, after all, less difficult to blame than explain. Yes, not having members can be a pain. But as long as people can still be found to stand in elections (the Tories fielded more by-election candidates last year than any other party), delivery people can be bought and campaigning outsourced to call centres. So if you were a Conservative, you might find the collapse of the party embarrassing but it doesn't mean curtains. And indeed, it doesn't. But it presents the Tories some severe difficulties that are going to harm their prospects in the long run.
The lack of bodies for instance. By-elections are one thing, but actual elections another. Regardless of membership, there will always be people prepared to vote Conservative. Just as capitalism creates its own gravediggers, it summons squads of cheerleaders too. The problem is if there aren't Tory candidates to vote for, where are those votes going to go? This isn't an abstract question. In Stoke the BNP was able to build its vote support base in wards the Tories couldn't find anyone to stand in. If the mainstream right collapses, so the hard right and far right might fill the gap. The BNP, UKIP, there might yet be a twilight of unlife flickering through their stiffening corpses, and with it the prospect - again - of a semi-viable alternative on the Conservatives' right. And we all know what drastic measures were taken to deal with them last time.
The second problem goes to the heart of their difficulties. Over the last five or so years, this blog has documented the decline of the Tories, and the relationship between this, their decadence, and a certain autonomy from the interests the Tories have traditionally represented, which contributes to their extreme short-termism. The member collapse hasn't affected the transmission belt of anonymous donations via their not-dodgy-at-all dining clubs for spectrum of ruling class riff raff - hedge fund managers, nondoms, "naturalised" oligarchs, ad nauseum - and privileged access for big business and the old media are still there. But two things are wrong. While a small section of British capital has always, for whatever reason, supported Labour, in the 90s and up to the crash New Labour were the go-to party. This cracked the permanent hegemony the Tories had over business, and so just as voters have tended to become more mercenary and choosy about who to support so a large section of formerly Conservative-loyal business has as well. In the grand scheme, it means whole sections of British capital are not regularly and directly feeding their interests into their party.
The second is the absence of a mass base. Parties are expressions of interests, their organisation aggregating the experiences of and articulating policies that speak to masses of voters. Labour's job is to encourage as many of them into active political participation as possible. The Tories are a-okay with them being passive observers and four-yearly ballot scratchers. Minus a mass base feeding in to the associations (even if they are disproportionately petit bourgeois-types, managers and self-styled socially mobile working class people), the party is cut off from and no longer knows how to talk to ordinary people who might be sympathetic to Conservative values. Indeed, as Tim Bale's recent party members' survey shows, Tory activists are out of step with the values motivating other parties, which tend to be more in line with the ever growing cultural trend to social liberalism. There is every danger of the party becoming a sect, and if it cannot represent the interests of capital effectively then capital will start looking elsewhere. Those lovely centrists, for instance, the touchy feely types who are all loved up as far as capital is concerned suddenly start looking like a more attractive proposition versus the growing animus toward the system itself. Ultimately, the utility of the Tories lies in their command of millions of votes, which is jeopardised by their increasing social isolation thanks to the fast diminishing membership.
Can the Tories sort themselves out? One would be foolish to bet against the most successful political party in the democratic world, but it is hard to see how they can turn the situation around and look like an attractive proposition now they're inextricably invested in a political deadlock that puts them fundamentally at odds with a rising generation of voters. Too much to hope I know, but it might just be that we're in the final days of the Conservative Party as we understand it.