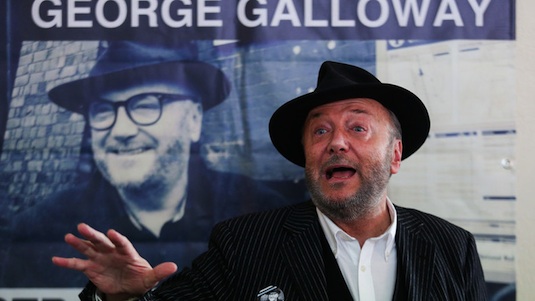 According to the Morning Star, chief Corbyn ally and top Unite mover and shaker, Andrew Murray, has intimated that George Galloway should be allowed to return to the Labour Party. You may recall the Gorgeous One was removed for bringing the party into disrepute after the invasion and occupation of Iraq. Opposition to Blair's ruinous and stupid war was one thing, but exhorting troops to refuse orders and arguing for Iraqis' right to resist gave Blair the pretext to get rid.
The problem many on the left of Labour have with Galloway isn't his anti-war stand per se, though his brand of anti-imperialism, which are often read as apologias for the most appalling regimes is bad enough. No, it's his sexism. Galloway has deeply dubious form in this regard. In his old Daily Record column, some 10 years ago he wrote "Take Kylie Minogue. For a singer she's always been not a bad looker. I voted with the majority for a change when her rear was the year's champion sight. I even bought my woman Kylie's range of underwear." Classy. Then there were his comments in defence of Julian Assange, which went above and beyond with observations like "not everybody needs to be asked prior to each insertion" and "Some people believe that when you go to bed with somebody, take off your clothes, and have sex with them and then fall asleep, you're already in the sex game with them." What about consent? What about the right of a woman to withdraw consent?
And then there was the 2015 General Election, which saw Galloway lose out to Labour's Naz Shah in Bradford West. Readers may remember the campaign was particularly filthy, with Galloway and supporters disputing Naz's claim of being a survivor of forced marriage. Infamously, this led to Galloway waving around a false birth certificate at a hustings that "proved" Naz was married at 16 and not before, a claim that was easily refuted. Well, Galloway did learn the art of dirty politics working his way up through Scottish Labour, so one shouldn't be surprised about this spell in the gutter.
Galloway may now have seen something of a light, attacking the sexist blowback against the appointment of Jodie Whittaker as the new Doctor, for example. But not once has he retracted these comments nor made amends for past behaviour. Therefore I cannot but agree with Emma Burnell who noted how his re-admittance would send an appalling message as the party gets to grip with its own shameful history of harassment and sexual assault.
Then why are we even talking about this? For Andrew Murray, what we're seeing here is some kite flying, a testing of the waters to see the kind of reaction the suggestion of Galloway's return might provoke. And it is what you might expect it to be: a lot of people are pissed off. But who are they, and what would they do? Plenty of Corbyn supporters wouldn't welcome him back but they would, on balance, lump it and carry on. However, for more than a few soft lefties, centrist types and Progress-y right wingers Galloway's re-admittance would be the final straw. Handy from the narrow standpoint of factional argy-bargy.
Handy, but ruinous from the standpoint of the party. I can't speak for Murray, but we all know there is a section of the left for whom the politics of sexism, like anti-racism and homophobia, are so much distractions from the class struggle. That so-called identity politics are an epiphenomenon and are inessential to the building of a new society. They are wrong. Identity politics is not a manifestation of false consciousness or some such horse shit, they're absolutely central to how advanced capitalist societies are organised and class struggle is expressed. Ignore that and readmit a celebrity sexist has

-

been like Galloway, you run the risk of alienating the people who are making Corbynism possible.
So, no. George Galloway shouldn't be readmitted to the Labour Party, and let this idiocy not be raised again.