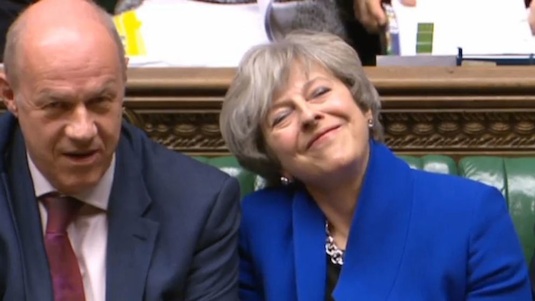 Spare a thought this Christmas for Theresa May. 2017, it was something of a roller coaster. From getting feted as all-powerful and unstoppable, she recklessly gambled on an unnecessary general election and lost. Since then she and the Tory party have put themselves through the political agonies they so richly deserve, their body politic slick with self-inflicted wounds. And yet, despite it all, the Prime Minister remains the Prime Minister. Failure at the election, Brexit preparations shown up to be non-existent, multiple ministerial resignations, this chaotic shambles of an administration has still won plaudits from some. Since sorting the end of the first phase of the negotiations, the commentariat fell over to praise her. Even James O'Brien, centrist hero and LBC's token liberal, thought she had "played a bit of a blinder". Some people are easily impressed. That done and in her pocket, May was suddenly looking more secure. Her delusional view she will lead the Tories into an election five years' hence was looking a little less fanciful.
Therefore the loss of Damian Green, Theresa May's, um, right hand man comes as a blow just as things are starting to look up a bit. Two flagrant breaches of the Ministerial Code, referring to lies told to the press about his knowledge of pornographic material on his computer (he denies having viewed this material himself). He also apologised to Kate Maltby for making her "feel uncomfortable", though I doubt he'll be asking Paul Dacre at the Daily Mail to publicly retract his disgraceful monstering of her.
What damage does this do the Tories? From the outside, probably not a great deal. Arguably, this is a government much sleazier than anything the unlamented John Major years coughed up, but the miasma of sexual harassment and inappropriate work-time habits is unlikely to turn off existing Tory voters given the character of their allegiance. These are disproportionately the sorts to victim blame Maltby for Green's unwanted attentions, see nothing wrong with "advances", and certainly don't think a bit of porn is a sacking matter. Those voters most likely to care are those for whom the Tories are anathema anyway. The sleaze, the denials, the dog piling of an innocent woman by the most toxic rag in the land underscores the contempt with which they are held.
Internally, Green's wandering hands, whether over his office keyboard or, unbidden, over young women, has had the consequence of throwing May's cabinet out of kilter. As we have seen before, May is in position because her would-be adversaries and assassins balance each other out. Her stable core, what you might call the "May-ites" (notwithstanding her own rejection of the Mayism label), has always been thin. Following the election, she could rely on "Handbags" Fallon and Green in the cabinet, and without either she's much reduced. Surrounded by demented Brexiteers and opportunists, as Robert Peston observes, she's forced to rest on the newly-promoted Julian Smith and the underwhelming (and hated) Gavin Williamson. Sadly for May these pair are attached to her for entirely mercenary reasons. They can affect loyalty and true believerism as much as they wish, but the real game is exposure, an indecency limited to self-promotion ahead of any post-Brexit leadership contest. What this means then is no immediate crisis, no festive holiday spent with the Tories tearing themselves new ones.
Still, May is no hostage. As Tory party instability keeps her strangely secure, it gives her a bit of elbow room too. One thing that has impressed establishment types was how May had strength enough to give her friend and key ally the heave-ho. For Peston, this showed "steeliness". It was neither, but count among the impressed those Tory ministers who've spent the last several months gamboling about and issuing ultimatums. Because May was moved to sack her deputy, they can (rightly) interpret that as a warning. In the scheme of Tory scandals Green's bar was low (Boris Johnson and Jeremy Hunt lie as freely as we breathe air), so who knows where May's axe could land? True, the likes of Johnson might think they're unsackable but even he (nor anyone else for that matter, except perhaps Andrea Leadsom) wouldn't want to carry the can for Brexit. And so, while apparently undertaking an act of self-immolation May's offing of Green confers on her a glint of ruthlessness, if not recklessness, and one that might keep her misfitted cabinet in line - for now.