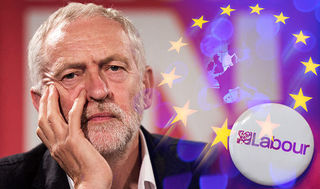 "These are Labour's six tough conditions!" thunders Keir Starmer, shadow Brexit minister. They've been waved about on this, the day Article 50 was finally triggered. Are they going to give the Prime Minister sleepless nights alongside Scottish independence and alleged electoral fraud? Just what are these conditions the party leadership have set the Prime Minister?
They are:
1. Does it ensure a strong and collaborative future relationship with the EU?
2. Does it deliver the "exact same benefits as we currently have as members of the single market and customs union?
3. Does it ensure the fair management of migration in the interests of the economy and communities?
4. Does it defend rights and protections and prevent a race to the bottom?
5. Does it protect national security and our capacity to tackle cross-border crime?
6. Does it deliver for all regions and nations of the UK?
They're all a bit, well, motherhood and apple pie aren't they? As tests go they're as technocratic and politics-lite as they possibly could be. Who on the government benches could come out against aspirations such as these? Labour are more or less saying to Theresa May that "we want Brexit negotiations to be a success", and that's it. I'm sure she's terrified to the depths of her wretched soul.
Still, one shouldn't be too harsh. While Labour have scored some modest process-related successes in the lead up to today, such as the Commons vote on the eventual deal, there isn't an awful lot Labour can do between now and then. The party is not going to agitate for a second referendum. It's not going to steal the LibDems' thunder by explicitly positioning itself as the party of Remain. And not having enough MPs, combined with abysmal poll ratings, means that our party is in a proper pickle. Some MPs might talk about the "moral pressure" the PLP can bring to bear, but this is wistful nonsense. No amount of Select Committee reports or carefully worded criticisms are going to derail them. The Conservative Party can relax and get on with negotiations because we're paralysed, if not a shambles. Because of our parlous state and a Brexit position that has triangulated irrelevance, sad to say May and the three Brexiteers will probably pay the hard Brexit idiocies of the press and the backbenches more heed than anything we say.
It doesn't have to be like this. Labour can seize the initiative.
Presently, Labour is linked to continental social democratic and labour parties through the Progressive Alliance of Socialists and Democrats in the European Parliament. It also has formal links via the Socialist International (yes, the Second International still leads a twilight existence!) and the circuits of Eurowonkdom, the links of the socialist societies, and the ties between Labour-affiliated unions and the counterparts means it too has strong channels and backchannels of communication. Indeed, this evening in the hour long party leader chats with Andrew Neil, Jeremy Corbyn said the party had been talking to its allied parties to help ensure Britain and the EU get a good deal from negotiations.
This is not good enough.
Instead of sitting passively, instead of two years of moaning and the damaging drip-drip obsessing with who's going to succeed Jeremy and when, instead of being reactive, Labour can assume leadership of the issue. We must use our European links and announce it's going to produce its own plan for Brexit, and it will be doing so by having parallel discussions with other centre left European parties. A shadow Brexit negotiation process, if you like. It allows us hold May to account more effectively than thinking up of ways why x, y, z negotiated position is outrageous, and gives us an alternative plan to go to the British people with.
It's about being an effective opposition. We should also do this because if we don't, it's exactly the sort of thing the LibDems or the Greens would do with their smaller federation of European parties. In our case, it could make a difference by helping us recover our polling and stopping the demoralisation and deflation slowly rippling through the party's ranks, and therefore taking power when the next general election comes round. It certainly beats twiddling our thumbs waiting for the government to screw up.
How about it?