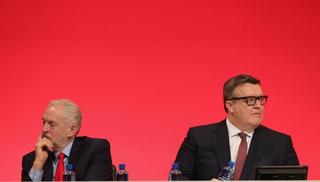 In calling out Jon Lansman and Momentum publicly for the temerity of, you know, organising, Tom Watson has made a fool of himself. Worse than that, in attacking a m

oo

ted alliance between Momentum and Unite he has gone so far as to suggest there is something improper about unions seeking to maximise their influence in the Labour Party. It's only a hop, skip and a jump away from questioning the legitimacy of trade unions acting politically at all, and that's a very dangerous game. Understandably, Len McCluskey has replied in his inimitable style and the war of words continue via social media, while spilling out continually into Unite's own bad-tempered general secretary election, and potentially damaging Labour's own council and mayoral campaigns.
Tom Watson is frequently attacked by Corbyn supporters as disingenuous and hypocritical because, let's make no bones about it, his criticisms of them often are. From the Brownist machinations against His Blairness, to the minor skirmishes with Progress during the Miliband years, and now in the era of Corbynism, Tom has acquired and assiduously cultivated a cloak-and-dagger reputation. He is the fixer to end all fixers, the puppet master that has the party bureaucracy dancing along with his manipulations. While he is responsible and accountable for his actions, Tom is a product and heir to a tradition that has long cast a shadow over the Labour Party, and one coming to its end. I am talking about the old Labour trade union right.
Packing meetings, nobbling selections, stitching up internal elections, blocking and suppressing opponents, elevating bad faith to the status of performance art - all lovingly narrated in Uncle John Golding's The Hammer of the Left - are, or were the old right's stock-in-trade. I say were because while the culture of shenanigans is very much part of the party's make up, it is increasingly getting more difficult to pull off. There are three reasons for this. First, there is much greater visibility than previously. Cases of egregious bad behaviour, especially in these factionally charged times, can get publicity. And lots of it. That damages the party politically, and this behaviour impinges on the second factor: the membership. Typically dismissed as keyboard warriors who've never seen doorsteps outside Google Images, in reality the massive 2015-16 intake are no more or less active than the majority of "old" party card holders. They turn up at meetings. They turn up and campaign. Abuses of democracy and process can serve to mobilise and strengthen their determination to stick with the leader and his programme (after all, that is the basis of Jeremy Corbyn's appeal). In effect, the membership, which remains majority Jez, make the discharge of bureaucratic chicanery more difficult and more expensive, politically, for those who indulge it.
And the last point is the virtual disappearance of the trade union right. The fixers of old had one foot in the PLP and the party machinery, and another in the trade unions. While workplace organisation was much stronger and consequently more militant than present before 1979, its concomitant was a quiescent bureaucracy uninterested in rocking the boat too much in the wider party. While nostalgics write of the transmission belt unions provided from the works' canteen to Westminster's terrace, worker MPs, with some exceptions, packed bureaucratic habits of thought alongside their underwear and Sunday best as they made their journey to Parliament. Likewise trade union officialdom reinforced exactly the same sensibility as they engaged in party structures. Keep things on an even keel, anything for a quiet life. The unions wouldn't intervene too overtly or too consistently in "high politics" provided Labour delivered the policies and in return they were expected to pacify and discipline their memberships at the party's behest. The relationship gave trade union leaders and senior officials direct access to ministers and Number 10, and an input into policy, but led to combustible politics as the 1975-79 Labour government shows. Upon Blair's election as Labour leader in 1994, the relationship became increasingly one-sided as the years wore on. The unions were still expected to rein in industrial action, and in return, well, the Tories will be kept out.
This was an unsustainable situation. Readers may recall from the period of the late 90s on how unions slowly but surely turned left. General secretaries preaching the virtues of "partnership" and cooperation were replaced one-by-one by a clutch of officials collectively dubbed the awkward squad. Politically speaking, they were all well within the envelope of big tent trade unionism but to greater and lesser degrees they took more uncompromising stances with regard to members' interests. This firmed up even further after Brown's defeat and the dawning of the Tory/LibDem coalition. First, most affiliated unions organised (haphazardly, it has to be said) for Ed Miliband and were for the most part later forced by active members into stumping for Jeremy Corbyn. Meanwhile, trade union officialdom has almost been entirely replaced by a layer or organisers who were lay members during the New Labour years and, in some cases, would have participated in disputes Blair and Brown oversaw. This is particularly the case with the Communication Workers' Union and the monomaniacal attempts by a Labour government to soften Royal Mail up for privatisation. The overall result is a shift in trade union bureaucracies and powerful lay committees to range from the soft left to Corbynism in political composition. Only USDAW and wee Community remain largely unaffected.
You can see where this leads. When it comes to affiliated trade union input into Labour, basically the material base for a union-backed Labour right has withered away. Because Blairism, as a variant of liberalism believed its own Third Way waffle and failed to understand the labour movement. It simultaneously set about undermining the electoral coalition it built in the country, while negligently and blindly destroying its own allies on the trade union right in the party. While unions are not monoliths, they are not disposed to be the guarantor of machine politics any longer, especially as it tries and stymies their influence. And so the material base for that has largely shrunk to party positions - lay and staff - elected office, and whatever can me mustered via Labour First, Progress, and the affiliated societies. In this context, more trade union participation represents a threat. Hence the overt hostility shown Len McCluskey, who has long promised more Unite input into the party, is far from an irrational dislike.
Once placed in this context, the anonymous briefings to the press, the moaning at PLP meetings, the compliance unit and its doings, the studied refusal to fight the leadership politically,

the bizarre criticisms levelled at Momentum as a Corbyn proxy and Unite, and the utterly counter-productive behaviour makes sense. They are, effectively, the last gasps of a gravely weakened tradition lacking a discernible way of coming back. If they want to retake the Labour Party and become relevant again, a massive rethink is needed. But for as long as they're unwilling to even understand why there are where they are (apart from one brave and largely unacknowledged exception), they're stuck. If not doomed.