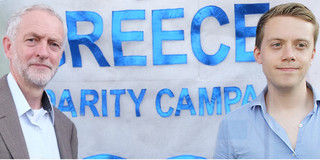 Why has there been a rapid descent in the eyes of many Jeremy Corbyn supporters of Owen Jones? Formerly the favoured son of the British radical left, he finds himself hanging out with Tony Blair and Alastair Campbell in the demonology, and he didn't even have to sex up a dossier to get there. It interests me and disturbs me for a couple of reasons. Interests because his latest missives (here and here) are pretty obvious and should be totally uncontroversial. But, and this is the disturbing bit, for some, they are anything but. What the hell is going on?
Naive cynicism, that's what. This is the "spontaneous" mode of thought entirely appropriate to the age of anti-politics and, you might argue, the logical common sense culmination of our economics. You know what it is, especially if you were out in Stoke, it's jolly old you're-all-the-same-ism. The view that everyone, everyone is self-interested and motivated by ulterior reasons. For example, I write this blog because gizzajob. Owen has criticisms of Corbs because he wants a seat/is paid to by The Graun. I think you get the picture. This belief about hidden agendas isn't just a property of loyal Corbyn supporters. I've seen it assume different forms over the last three or four years in the mutterings of, respectively, UKIP supporters, ScotNats, self-identified Milifandom (remember that?), and our friends over the water for whom Donald Trump is their saviour. It shades into conspiracy theory, but it's something a bit more than that: a bona fide political phenomenon.
From within Corbynism, that is as a trend and movement rather than a body of ideas, there is a correspondence between naive cynicism as a sensibility and the 18 months Jeremy has held the leadership. First, there was the character assassination during the 2015 leadership campaign. Then came more press attacks and sniping in the media from MPs. This was followed by the attempted coup, a summer of flailing ourselves in the full glare of the media, and since then even more bad press and endless speculation about the leadership and eventual succession. For many Jeremy supporters, this is an appalling spectacle and they're absolutely right: no other political leader, perhaps not even Arthur Scargill at the height of the Miners' Strike has faced such levels of hostility. It's one reason why, for instance, I set aside my Corbyn scepticism and voted for him second time round. With this not totally-unjustified siege mentality, more than a few take the view that if you're not defending the leader and the party but raising criticisms of your own, you're not helping. In fact, worse than that, you're part of the amalgam of enemies lining up to put the boot in. In Owen's case, because he's using his Graun slot to raise tricky questions instead of taking on the enemy 100% of the time, he's part of the problem. As is anyone vaguely on the left and not sold on the leadership and its strategy. Even worse, because of Owen's history, presence and prior following, his doubts amount to a red Tory Trojan horse designed to undermine confidence in Corbyn and supplant him. Owen's noted enthusiasm for Clive Lewis is evidence enough that he's not interested in making the project work.
Naive cynicism finds more fuel from the parliamentary party not respecting the will of the members, and it burns with a great deal of resentment. Now, though the briefings and public slaggings off have piped right down, the boycott of front bench positions is still on. And Labour MPs continue to infuriate Jeremy supporters by greeting him with silence every time he bobs up at Prime Minister's Questions, refuse to shout encouragement, barrack the Tories and back him even when, time after time, Theresa May comes off worse. This rubs off on Owen's work because while he criticises the right of the party for not understanding where Corbynism came from in the first place (and, it has to be said, they're still not interested and hope it will simply go away), in their view he doesn't take the PLP to task enough for not fulfilling their obligations. If the party's public representatives did unite behind the leader, if they did all pull in the same direction then our media problems would disappear and people would take a look at Labour's radical policies. The flip side to naive cynicism is naive faith, that everything would be okay if Corbyn and Corbynism was given a chance. Only if that were the case ...
The persistence of naive cynicism among Corbyn's supporters is reinforced by the actions and inactions of others, but its ultimate root lies in the continued immaturity of Corbynism as a movement. Last summer, I wrote about how he was the focal point of a diffuse anti-austerity/left anti-politics sentiment looking for a catalyst to bring it into being, and the adulation and support Jeremy received was symptomatic of a young movement in the process of formation. This, however, was organising from a low base - the tidal wave of support thrust aloft a Labour left that was barely clinging on as Alex Nunns argues - and it was mostly masses of atomised individuals encouraged to join the party by the strength of social media ties. Events have conspired since to disperse the movement. Corbyn supporters have become involved in constituency parties and campaigning activity mostly as individuals or small groups and mixing with old members. This was inevitable and necessary, but without a clear lead from either Momentum (as it became bogged down in internal battles) or strategic guidance from the leader's office about what the left should be doing now, or even attempts from within the left to push political education - something sorely missing from the Labour Party as a whole - the Corbyn movement became stuck. Now fed by an ecology of blogs and spokespeople who coheres it solely as a support group, this does precious little to develop it as a movement that can turn outwards and work around the obstacles presented by a hostile media and recalcitrant political establishment. Because its development is stuck, it's starting to shake to pieces.
It doesn't have to be like this. Naive cynicism is the start of something. It's the most elementary form of rejectionist thinking and is malleable in all kinds of directions. The job of everyone in the labour movement who fancies themselves leftwing is to engage, persuade, develop and push the enthusiasm and energy Corbyn brought into the party, of shaping nascent oppositionism into critically-minded materially-rooted socialist politics. But development requires action from the leadership too, and they will find good advice about what needs to be done - ironically - in the very pieces by Owen that have earned a whirlwind of condemnation.