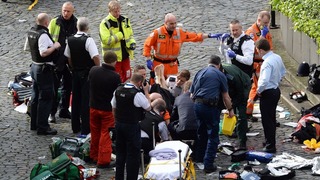 At the time of writing, three people lie dead because of a hate-filled zealot. Whoever this man was and whatever his motivations were, nothing compelled him to drive a four-by-four down the pavement on Westminster Bridge. A grievance, real or imagined, didn't cause him to leave his home with a machete blade this afternoon. His intention to cause a mass casualty event on the day Belgium and Europe remembered last year's callous attacks on Brussels airport and metro was something dreamt, planned for, and worked toward. As his biography is picked apart, we can try and understand the motivations, but doing so is never an excuse in justifying them.
In this case, the security services acted in an exemplary fashion. The ring of steel protecting Parliament did its job, and the attacker was stopped just inside the gate to the grounds, though not before he stabbed and killed a police guard. Given the sudden nature of the attack, it's very difficult to see what else could have been done, though that does not preclude an analysis of the incident.
And, in a very rare instance, I'm going to defend the intelligence services. There is a very good chance the assailant was on a terror watch list. It's quite possible he had been or was presently under surveillance. Inevitably, the questions will be asked why he wasn't detected and/or picked up before now and prevented from undertaking this afternoon's attack. Again, while it's right such issues should be explored, lessons drawn and, if there is a case of egregious carelessness that those responsible be held to account, what really has to be asked is what could have been done differently? Thankfully, we don't have indefinite detention without trial of suspects, but unless there are teams on standby covering the move of every single suspect then the answer has to be very little. Watching someone getting into their car and driving into central London is not immediately suggestive of suspicious activity. There is no way his intent to kill could be inferred before the car mounted the pavement and started accelerating towards passers by. This kind of attack is next to impossible to prevent if someone is so minded to carry it out.
The main political take home from this, however, is despite the three murders and multiple injuries is that the police response acted exactly as it should. Parliament was protected and the attacker prevented from causing even more harm. Thankfully, the mass carnage we saw in Paris, Brussels, and Berlin was avoided because of timely action. The way to ensure, in the medium to long-term, that terror attacks are ultimately fruitless is by preserving what we have. If the reaction from the government is another curtailment of liberty and freedoms, they've won. If it marks a shift away from multiculturalism, with all its problems, to one-size-fits-all, they've won. If it heralds another round of attacks on Muslims, they've won.