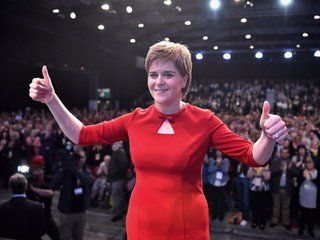 Back in the halcyon times of the UK Left Network discussion list, plenty of participants had bust ups with the grandly over-titled Scottish Republican Socialist Movement - a "movement" with more initials than members, one of the slogans often attending its adherents' contributions was "Britain out of Ireland, Scotland out of Britain". Well, it has to be said, that's not looking anywhere as fanciful as it did 15-16 years ago.
Theresa May must be bitterly cursing Nicola Sturgeon's intervention in the Brexit debate and reminding her of the almighty hash she's making of it. A scant 24 hours earlier, this blog happened to raise the issue that Westminster and its media had seemingly forgotten about, the Scottish dimension to Brexit. Indeed, by all accounts Sturgeon's pledge to put a second independence referendum in motion caught the government completely on the hop. While I don't think too much of her politics - palest pink social justice politics plus independence monomania - Sturgeon is much cannier than the flotsam and jetsam of the Tory elite, and that includes our dear leader. For instance, just check out her lame, not to say hypocritical, reply to the First Minister.
Ever since the UK's first near-death experience at the hands of the Scottish independence referendum result, the SNP have been itching to have a second crack at it. After all independence at whatever price is their party's raison d'etre. Expecting them not to advocate for it, strategise for it, and work toward it is like supposing the Tories would not hand perks and privileges out to the already wealthy. With Holyrood in the party's control and as near as dammit a full roster of Scottish constituencies at Westminster, Sturgeon and the SNP have an opportunity they just cannot pass up. You would have thought the presence of so many Scottish Nationalists in clear view from the Prime Minister's seat might have caused her to take some notice of them. Even Hammond thought they were worth a cheap troll. And yet, for all of May's talk about the preciousness of the United Kingdom, for all her sharey carey nonsense, her determination to seriously weaken British capitalism for the sake of preventing a few tens of thousands of Europeans here, a few tens of thousands of Europeans there coming here to work and contribute was always going to put her on a collision course with the Scottish government. Let there be no doubt. Theresa May is responsible for this mess. It is her, no one else, that has gone out of her way to ignore the pro-EU aspirations of a voting majority of Scots.
As far as Sturgeon is concerned, May's stupidity is a gift. Here we have a clear case of Westminster forcing on Scotland a political reality it did not vote for. The promise set out in The Promise - remember that? - that Scotland is an equal and valued partner in the UK is shown to be demonstrably false. Sturgeon and the SNP have a grievance. And, fortuitously for the pro-independence case, one of the key props of Better Together, EU membership, is going to get wrenched away from them. While it is true an independent Scotland would have to re-apply as soon as it leaves the UK, for the SNP and its hegemonic "inclusive" civic nationalism, it has the advantage of aligning more happily with the liberal utopianism that attends the EU than the backward, little Englandism of Number 10. Scotland does and always will carry out more business with the rest of the UK than the EU, but economic realities these days are trumped, sometimes literally, by nonsense nationalism. All Sturgeon is doing is striking while the iron is hot. The forces of unionism are divided and weak. The much-talked about return of Scottish Toryism is little to crow about, and Scottish Labour virtually used itself up in defending the union last time and is something of a shambles, unfortunately. If not now for the SNP, when?
There's also the small matter of the SNP's immediate interests getting served. Scottish local elections are coming up and, surely, the party can expect to do very well indeed. Even if the results are a mere adjustment in toward Westminster/Holyrood levels of support, the SNP can reasonably expect to net hundreds of seats, mostly at Labour's expense. I don't want to be cynical (who, me?), but throwing independence back into political contention has the happy consequence of obscuring the party's record in government. A less-than-stellar performance on education and an outright refusal to effectively use the powers available to it to ameliorate cuts coming from Westminster immediately spring to mind.
Nevertheless, it could turn out that Sturgeon is doing the rest of the UK a service. An independence referendum isn't likely for a couple of years, and she knows the harder the Brexit the easier the SNP's case will be. May doesn't want to go down in history as an even worse Prime Minister than her predecessor. She doesn't want to be the one nation Tory who sacrificed the UK on the altar of border controls and so, yes, it is possible that Sturgeon's ambush, for all the sound and fury, might force her to moderate her negotiating position and make an independence referendum victory less likely. How delightfully ironic.