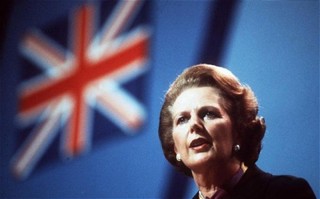 Let's be blunt. I hated Thatcher. I hate her politics. I hate her legacy. So no, I'm not about to mourn her passing or say nice diplomatic things. You knew where you stood with the Iron Lady, so it's only proper you know where you stand with me. Though, let's be truthful too, the Thatcher I grew up under, the Thatcher who left behind a record of no discernible merit whatsoever, died many years ago. Thatcher had long sinced slipped into senility, becoming a frail old woman with little of the person she once was. But as Thatcher declined, as the fog of confusion descended over her faculties she would have felt comforted that hers was a job well done. Regrettably, she did not live to see her "achievements" come crashing down, and she died at the moment the politics that indelibly bears her name is as strong as it ever was. Almost 30 years after her 1983 election triumph, the Coalition government's reheated Thatcherism is battering the poor as it forcibly redistributes resource from those at the bottom to them at the top. Not everything changes. The past isn't always a foreign country.
Thatcher exemplified the class she came from - the nation of shopkeepers - and came to embody the class she married into; big business. By chance, shrewdness, connections, so-called great men and great women can climb the greasy pole. But to become feted and deified as Thatcher is, something else is needed. One needs to be the condensation and repository of the interests, the passions, and aspirations of social movements, class fractions and entire strata that work, flow, and shape societies. Thatcher came to concentrate those interests in her person not by superhuman ability, but through a fortuitous set of circumstances. She was lucky to be at the right place, at the right time when she successfully challenged Edward Heath for the Tory leadership. She was fortunate that a Labour government badly bungled the so-called Winter of Discontent, which handed her the 1979 general election on a platter. She was blessed the Argentine Junta chose to invade the Falklands at just the right point in the electoral cycle. And she was doubly charmed that her opponents - the Labour Party, the labour movement - were divided, split, and walled off in sectional ghettoes. Propitious times for Thatcher. Less than propitious times for the country.
In warfare without and conflict within, the Thatcher myth was carefully midwifed in mainstream politics. Here was a woman unafraid of saying the unsaid, of wrapping herself in the flag and standing up for Britain, whether it be against dictators, terrorists, trade unions, or Europe. She was the strong hand who would lead the country out of stagnation and chaos, restore our pride and Make Britain Great again. And in so doing, she served her class well. Under the guise of a 'popular' capitalism that asset stripped tax payer-owned businesses and utilities, Britain's infrastructure was sold off at bargain basement prices. Council housing got flogged at knock down rates to tenants, ultimately benefiting a burgeoning strata of petty landlords. These two measures - creating a layer of small shareholders, extending the number of property owners - represented Tory attempts to socially engineer enough Conservative voters to return them to power time and again. It didn't pay off, but the consequences of these policies; spiralling energy prices, housing shortages, out-of-control rents, these disasters ultimately lay squarely at her door.
Appropriately, the most divisive of politicians gifted us a divided society. The Britain she found was cut across by class. The Britain she left is scarred by dog-eat-dog paranoia, scapegoating, the twins of fear and despair, and crucially, insecurity. Overt class warfare has given way to the multiplication of points of conflict. Class against class was replaced by all against all. The strangest kind of Tory, she ushered in the era of market fundamentalism at the expense of people's sense of place in the established order. By strategically defeating the labour movement, and, perversely, shackling it in the name of "flexibility", millions upon millions of working people live in a permanent state of insecurity. Short term work, part-time work, low pay, the obscenity of the zero hour contract, all of these are the real children of Thatcher.
This afternoon, Obama and Cameron both have hailed her as an example who will echo down the centuries. I would sooner forget her, but she does need remembering: as a warning to be heeded and a phantom to be exorcised.
But tonight, as her admirers can't help themselves heap tribute on effusive tribute, as the Thatcher family prepare a round of soft soap interviews about their wonderful mummy, my thoughts are with two families who have also known loss and in all likelihood, had that brought back to them today. Davy Jones and Joe Green were killed in the course of the miners' strike almost 30 years ago. They died defending their communities from the ruin Thatcher determinedly visited upon them. On this day it is these two men we should be toasting. And the most effective way of showing our respect is trying our damnedest to bury Thatcherism once and for all.