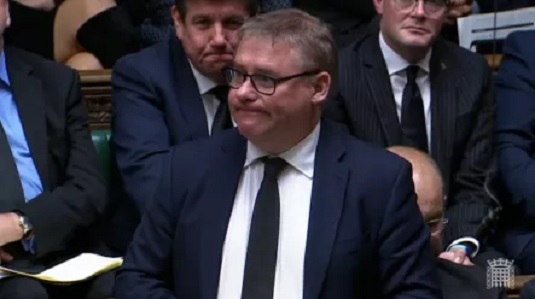 I can't think of a Member of Parliament less suited to deliver a lecture on decency in public life than Mark Francois, but such is the state of politics in 2021. Speaking in the Commons this afternoon as MPs paid tribute to David Amess, he argued we - as in honourable members - must clampdown on social media thanks to their "toxic" character that sees public figures "systematically vilified". I think the MP for Rayleigh and Wickford forgot he might have an interest to declare.

One thing has united both sides of the House since Amess's murder, and that's shameless opportunism. As noted on Friday, Chris Bryant was first out the gate calling for an end to social media anonymity. Despite there being zero suggestion that back and forth on Twitter and Facebook, our MPs' platforms of choice, have any bearing on this case. But never let a crisis go to waste. If there are opportunities for politicians to hold the public to account as opposed to facilitating the reverse, they'll take it.

Consider Francois's miserable contribution. Having the chutzpah to promote social media curbs as "David's Law", he attacked the CEOs for their "inaction", implying the likes of Mark Zuckerberg and Jack Dorsey are somehow responsible for what happened to his colleague. He said,

So let's put, if I may be so presumptuous, David's law onto the statute book, the essence of which would be that while people in public life must remain open to legitimate criticism, they can no longer be vilified or their families subject to the most horrendous abuse, especially from people who hide behind a cloak of anonymity with the connivance of the social media companies for profit.
Pretty gross, but MPs are pushing at an open door. According to polling data from July, 78% of punters believe anonymous accounts should not be allowed, with either one's identity displayed on a profile or at least disclosed to the operating platform. Unsurprisingly there's a clear age gradient to the numbers, with those least likely to be on or understand social media most enthusiastic about the measure while those using it the most, i.e. the young, are much less keen. Despite them being many more times, and particularly for young women, likely to be on the receiving end of the abuse and anonymous trolling Francois was wailing about.

How serious are MPs about be-kind-online provisions? They've shown no interest in the hate the press stir up. We're not necessarily talking about the hit jobs done on usual suspect leftwing MPs, above all Jeremy Corbyn, for example. But others too who've earned the Tory papers' ire, such as erstwhile Conservative MPs. This, as even the dogs in the street know, is nothing compared to the violent language and hate stirred up against the usual tabloid targets and scapegoats: single mums, black people, the unemployed, Muslims, travellers, refugees, trans people. Entirely coincidentally, according to Jim Waterson the press have negotiated an opt out from the forthcoming Tory Online Harms Bill, ensuring their anonymous contributors to comments aren't governed by the same provisions. Of course they have. And yet with galloping LGBTQ hate crime stats against a backdrop of vilification of trans people and their allies, it's rare to see concerns voiced about the linkage between press hate and violence on the green benches. Particularly on the government's side.

We should have no shame for saying what this is. MPs, including the self-declared "best friend" of the deceased, are using a murder of one of their own to build a head of steam for more authoritarian legislation. If passed it won't curb abuse, most of which comes from easily identifiable accounts anyway, but it will drive marginalised people who have very good reasons to conceal their identities - a point so obvious that even Labour are making it. But what it will do is increase the costs of social media doing business while protecting the press - among the Tories' chief institutional supports - from the same standards. In other words, it's a move designed to attack the free-floating exchange of ideas, opinion, and yes fruity language and sharp irreverence they (rightly) believe is undermining their foundations, and buttress those who buttress them 90% of the time. For all the talk of propriety and respect, there's few things more disrespectful than exploiting a murdered MP for tawdry self-interest.

Image Credit