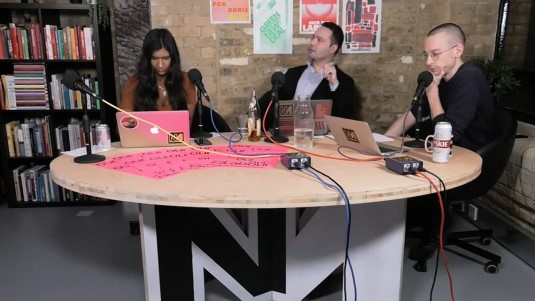 Social media is the class war in cyberspace. Here are two dispatches from the battle front, one relatively major, the other almost insignificant, but both revealing in stark terms the unaccountable power overseeing our networks.

Flashpoint one: Without explanation, YouTube deleted Novara Media's channel. As their statement notes, Novara are a vital part of the news ecosystem in this country and cover stories and issues that the mainstream media pass by. They are also regulated by IMPRESS which, although voluntary, has more bite than the toothless Independent Press Standards Organisation which most of the papers are signed up to. Happily, the channel has been restored and, rightly, the comrades are demanding an explanation about how the decision to delete was arrived at and why it was rescinded. Also worth noting Novara received more rhetorical support from select right wingers than elements of the Labour Party, some of whom revelled in gloating.

Flashpoint two: Without explanation, a post on this place was unpublished for "violating community standards". I could understand if it was one of my increasingly exacerbated and uncomplimentary takes on Keir Starmer, but it wasn't. The article in question was a piece of pop sociology about buying Twitter followers that has been carried on this site for nearly eight years. And just like Novara, without warning or explanation it came back.

In both cases, it's likely the actions taken by Google's minion companies were algorithmic in character. Something about Novara's output triggered the bear trap of instant deletion. Mine probably was the rejection of a spam comment advertising, you guessed it, Twitter followers left on the post critiquing the absurd practice. But ultimately we do not know. Chances are the restoration of Novara's channel required human intervention. In my low level case, who the hell knows?

As if it needed demonstrating, private ownership of media infrastructure is incompatible with democratic principles. True, no one has to sign up to the platforms that increasingly dominate our lives, but they are crucial for the reproduction of personhood in advanced capitalist societies in the 21st century. Who goes online just to read websites any more? According to internet marketing outfit Global Web Index, some 57.6% of traffic is on the platforms, and this is only likely to increase with time. They provide the architecture for "free", and they ponce off the data avatars they construct from millions of people clicking and sharing this and that, up to and including the mining of content of posts and videos produced by us. It's capital at its most parasitic and cloyingly dependent on the social capacities of human beings. Therefore, in a way the platforms are indifferent to the character of content. Incel manifestos, paeans to Richard Whiteley, photos of dinner, selfies on the bus, it's all data to be harvested, processed, and used to sell targeted advertising. At this level there are no qualitative differences. It's digitised reductionism, of taking social relationships connecting through the interwebs and crunching them up to spread billions of profitable granules on the platforms' bottom line.

In response to criticisms and the arbitrary power they wield, most platforms have appeal functions and pretend concern for the health of democratic debate. But without any due process or independent oversight, it's piffle more often than not. As Novara have rightly observed, if they were smaller and didn't attract backing from across the political spectrum would they be back so quickly or stuck in limbo for longer? This underlines the perils of depending on these firms, he writes fully aware this site exists at Google's sufferance. Building leftist institutions to organise our politics must involve developing our own digital infrastructure so there's always something to fall back on if the plug gets pulled. The revolution won't be tweeted. And politically, every opportunity we get our movements need to push for the break up of social media ownership and platform democratisation. We need social media, and therefore we have to understand its political economy and have strategies not just for using it, but overcoming and absorbing it.