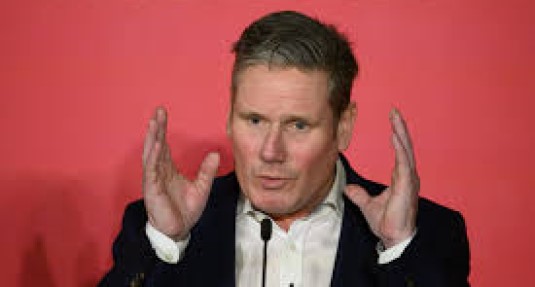 What a terrible reckoning for Labour. Hartlepool gone and the Tories winning big right across England. With thousands of results due to come in over the weekend, no one is expecting a late bloom in Keir Starmer's favour. The news this morning was grim, and it's going to stay grim as the ballots are tallied and results declared. The question then, and one sure to stump the pundits for a while, is how has this come to pass. Why are the Tories surging 11 years into the most disastrous government since the Second World War? Here are some points for guiding analysis.

1. With the polarisation of politics after 2016, Labour enters every set of second order elections in England at a disadvantage. As explained last weekend, the class cohort divide which resolves itself as a stark age divide means the Tories have a significant advantage. Not only do older people disproportionately support them, they are much more likely to come out and vote than younger people. If anything, this is exacerbated in elections that "don't matter". Turn out is always lower, but dips even lower among younger cohorts.

2. Given differential turn out is well known, what is Labour going to do about it? What is the party doing to encourage its natural support to stump up at the polling station or post them votes? How did they go about it this time? Or, to be more accurate, given the mountains of data churned out month by month on voting intentions why does the party not even realise this is something it has to do?

3. Tory corruption and the body piling comment came too late to impact on the votes. As did yesterday's Airfix patriotism off the coast of Jersey. With record numbers of postal votes cast for second order elections, a good chunk of those who might have changed their mind about voting Tory had already cast their ballots.

4. If Jeremy Corbyn's Labour can do better in Hartlepool in 2017 and 2019, and not as badly in local elections between 2016 and 2019 than Keir Starmer's Labour, then Thursday's results have very little to do with Jeremy Corbyn. More relevant is how Labour "under new leadership" turned around Labour's polling following Keir's election, and by December were level-pegging with the Tories before collapsing back down again. If there was any truth to the vaccine bounce, his personal ratings wouldn't be cratering as well.

5. On Hartlepool specifically, the loss here had more to do with the party's entitled attitude toward the seat than anything else. As Jill Mortimer, the newly-minted Tory MP for the seat rightly observed, her victory was a protest against Labour Party complacency, of a feeling the town has been completely taken for granted and was previously served by MPs who simply marked time. The result had nothing to do with the timing of the election, which is a pitiful excuse that does not stand up to scrutiny.

6. Again, Hartlepool, Keir Starmer and David Evans have to take responsibility for choosing the worst possible candidate and the worst possible method for selecting him. Turns out putting up six-time second referendum voter Dr Paul Williams and banging on about the NHS in the hope no one would notice wasn't a good idea. Fancy that. And we had the absurd stitch-up, which just so happened to dominate headlines in the local paper in the crucial first days of the campaign. This simply reinforced Tory messaging in the constituency. Keir might as well have gift wrapped Hartlepool and handed it over to Boris Johnson.

7. Where did Labour escape a battering? Wales and Manchester spring to mind. Why? Because the party had a record to stand on (warts and all), offered recognisably Labourist policies instead of waffling in front of a flag, and over the last year have had occasion to oppose the Tory government.

8. When the far left do terribly in elections, which is nearly every time they venture into them, the incredibly poor result is always spun as "at least we put down a marker." In 2021, Keir Starmer's Labour have reimagined this as "We've won the right to be listened to."

9. Compounding the disadvantages faced by Labour going into these elections, the party's national messaging has been nowhere. Pointedly going on about sleaze sounds like 90s nostalgia night at the pub karaoke, a line of attack repeating the lyrics without emotion and sounding out of tune with the times. Talking about the NHS but refusing to offer anything positive, not even supporting nurses' pay claims, is a sign of a clapped out leadership bereft of ideas. And awkwardly, unconvincingly attacking the Tories from the right, "Starmerism" went out of its way to put distance between itself and the absolute dangers of the left. Labour strategy has specifically gone for the imagined older, home-owning, socially conservative patriotic Labour voter. And said voter is uninterested because said voter is an endangered species.

10. What are the chances of this being a teachable moment for Labour? With the likes of Steve Reed and Peter Mandelson blaming "the party" as opposed to the leader or the strategy, the odds aren't looking good. Six years on from Labour's evisceration in Scotland, no analysis has been ventured by them, no lessons learned. 2017's uptick in Labour's fortunes - an election that must be buried at all costs, nothing to be seen here. And 2019: an awful result to be sure, but no consideration of how the party still clung on to over 10 million votes. Only a trend as stupid, factional and myopic as Labour's right could look at their organisation's recent electoral performances and conclude there is nothing useful there to learn about. These people are simply not serious.