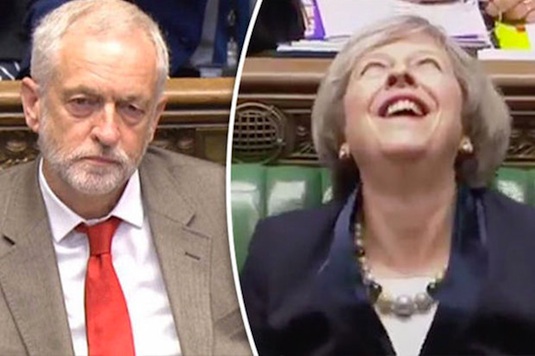 Theresa May fails at politics. What some of us knew a few months ago is now common currency, thanks to the worst campaign in modern times and plunging the Tories into a hole so big they haven't even found the sides yet. And she carries on blundering along. Cosying up to the man you derided as useless and a terrorist sympathiser is a terrible look. With hope it will shake loose softer Tory voters, versus those clinging on because Labour's social democratic programme is a prelude to fully expropriated propertyless communism.
Luckily for Theresa May, even the most desperate political position has some options. Though surely the one saying 'speedy, early retirement' must look more beguiling as the days pass. Still, there is an opportunity to take back some ground and, unwittingly, it's our friends Chuka Umunna and Yvette Cooper showing how this is possible. For Chuka, he's finally found a leadership role by palling with Anna Soubry and sundry others in their new All-Party Parliamentary Group on EU Relations. After his silly and pointless rebel amendment on single market membership, the latest ruse sees an attempted usurpation of Keir Stamer to position himself as Labour's leading voice on Brexit. On this, it's likely he can count on most of the Labour MPs who backed him previously, though the recent talk of deselection could temper some honourable members' enthusiasm for the single market.
And then there's Yvette's speech at the Fabians at the weekend where, you may recall she called for more cross-party collaboration on Brexit. She didn't say much except that Labour input would be crucial if Britain is to get a good deal. As I have previously said, this is potentially catastrophic. Having Labour joining with the Tories in taking Britain out of the EU, and being complicit in the baleful economic consequences sure to follow is suicidal. That doesn't mean Labour should be aloof from the negotiations, but its job is to scrutinise the government and use Parliament to knock the sharp edges off their haphazard and shortsighted negotiating strategy. Labour has to be seen to stand up to protect the interests of our people, and in 2022 or whenever go to the country with a plan for clearing up after Brexit and reforging these islands anew.
You can almost hear the "country first, not party!" crowd squealing, as if politics is just about grubbing for votes. Labour is undergoing a process of recomposition that has not only saved the party, but can change politics here for the better permanently and give impetus to movements of the new socialism elsewhere. The fate of this movement, this coming into political consciousness of millions of people is, quite frankly, more important than Brexit. Putting Labour at the negotiating table could risk an unraveling of this still-tentative and fragile process and undo everything that has been done. That is going to suit some, of course, but their inheritance would be a desiccated husk, a fate similar to the last two years of Scottish Labour but this time with no hope of coming back.
Nevertheless, the willingness of our leading would-be leaders to work across the House on something more than an episodic basis offers the Tories an olive branch. Desperation has forced May to make an offer to Labour and the other parties, but just as jumping feet first into Brexit negotiations is not in our interest, sharing a stinking wallow adjacent to the Tories absolutely suits them. And, if things get tricky as the negotiations proceed, those around May in possession of sufficient low cunning know if a Brexit "crisis" plus a soft "unity" offer was made over Jeremy Corbyn's head to the Chukas, the Yvettes, and/or their supporters, they might find some willing takers, particularly among the anti-Corbyn die-hards who keep threatening retirement and by-elections.
What would have been a preposterous suggestion immediately after the election is now a possible trick May's beleaguered team might think has legs, thanks mainly to two of the PLP's bestest and brightest.